'Dalawa ang girlfriend ko. Gusto niyo ako maging presidente? Kailangan niyo malaman ang pagkatao ko,' says Duterte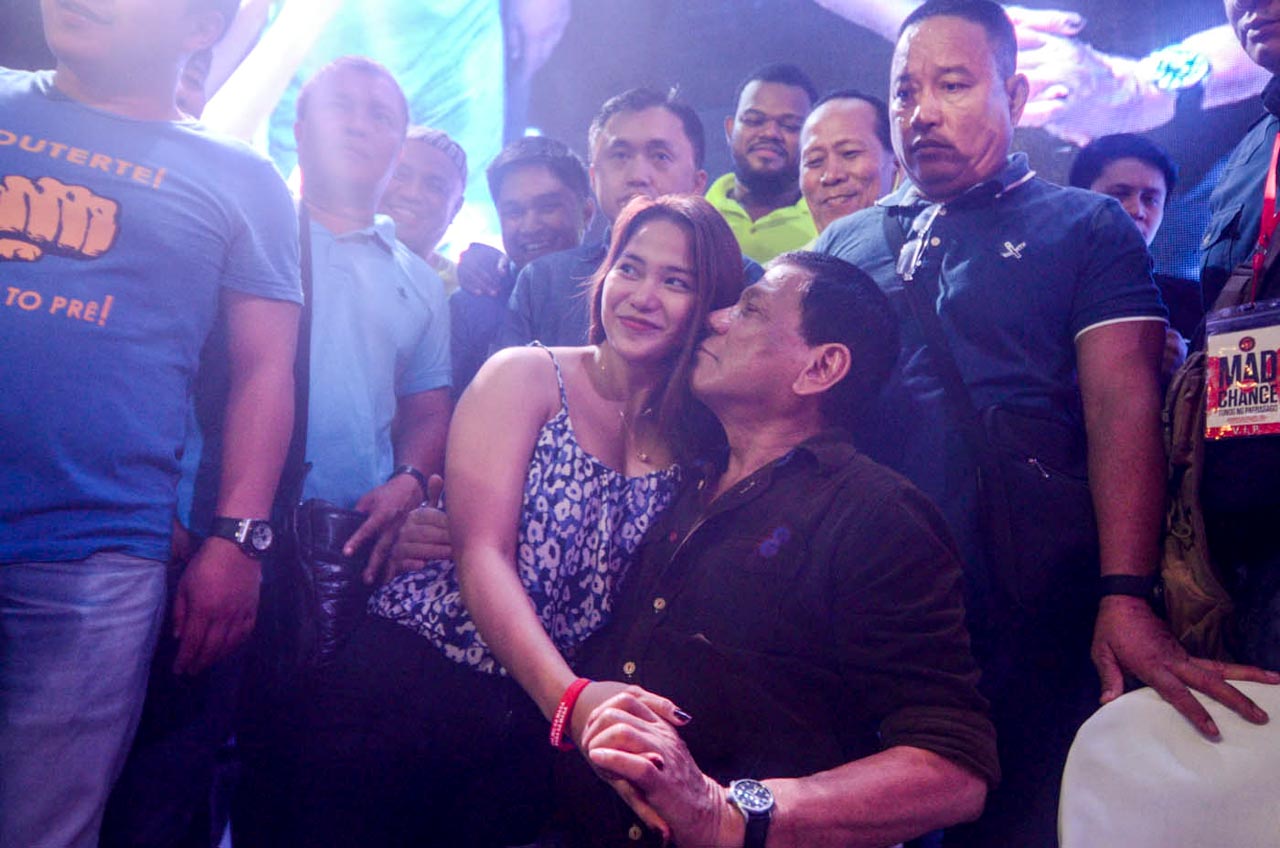 MANILA, Philippines – Far from shying away from criticism of his womanizing, Rodrigo Duterte gave a vivid account of his exploits during a concert on Sunday, November 29, in Taguig City.
"Kung sabihin ninyo, 'Ano bang credentials mo? Ano bang pakita mo sa Pilipinas, Duterte? Balita namin babaero ka.' Tama. May asawa ako, may pangalawang asawa ako," he told thousands of supporters. 
(If you ask me, 'What are your credentials? What can you show the Philippines? We heard you are a womanizer.' That's correct. I have a wife, I have a second wife.) 
He said his second wife is a nurse from Bulacan whom he impregnated during his frequent trips to the United States when he was still a congressman.
Duterte also shared that aside from two wives, he has two girlfriends.
"Dalawa ang girlfriend ko. Gusto niyo ako maging presidente? Kailangan niyo malaman ang pagkatao ko." 
(I have two girlfriends. You want me for president? You need to know who I really am.)
The younger of the two works in the cosmetics department of a mall in Davao City. The other is a cashier. Of her he said, "Medyo matanda na pero mas maganda (A bit older but she's more beautiful)."
'Short time' only 
Duterte emphasized that he doesn't spend government money in order to take care of his girlfriends. (READ: 22 things to know about 'Duterte Harry')
In fact, he joked that he can only afford to give them a rented room in a boarding house that costs P1,500 a month.
Duterte also said his younger girlfriend wanted him to get her a secondhand car from Honda since he's close to the owner of the Davao City branch. 
But the mayor thumbed down the request: "Sabi ko 'wag na. Tutal ano naman ang biyahe natin sa buhay nating dalawa? Sunduin kita doon sa boarding house mo, pasok tayo ng motel, short time lang naman." 
(I said, no more. What are the trips we take anyway? I just pick you up from your boarding house, we go inside a motel, it's only 'short time.') 
Duterte elaborated further, saying that at 70 years old, he can no longer perform as well in bed.
"Noon nung bata pa ako, overnight, medyo magastos yun. Noong matanda na ako, short time, kasi napaka-short na talaga ang panahon ko. Pagkatapos ng isang kilat 'yun na 'yun. No more. Kung walang Viagra, hirap pa."
(When I was young, I could do overnight, which is more expensive. When I got old, I could do 'short time' only because I have such a short time left. After one erection, that's it. No more. Without Viagra, it's even more difficult.)
Getting elected into the Palace won't stop him from entertaining women.
"Buksan ko ang libro ng Malacañang. Kung may magagandang naghihintay diyan sa labas, buksan ko 'yung pinto ng kwarto ko," he said.
(I will open all the books of Malacañang. If there are beautiful women waiting outside, I will open the door to my room.)
Objectifying women?
His candor was greeted with cheers from the crowd who had endured hours of waiting just to see him. Many among the crowd were women. 
But not everyone found him amusing. 
On social media, some netizens reacted negatively to his statements.
"Ugh!!!!!" said @katpadi as she reacted to this reporter's tweet on Duterte opening his bedroom door in Malacañang to beautiful women.
To the same tweet, @tricialogy said "PUTANG INA????? ITO YUNG GUSTO NIYO????" (Son of a bitch???? This is who you want????)
Reacting to Duterte's statements about renting out boarding house rooms for his girlfriends, @imlosingmyky said: "Sobrang bastos niyo po at baba ng tingin sa babae. Mahiya ka naman po kahit konti." (You are so insulting and condescending to women. Be embarrassed, even just a bit.)
Duterte has never hesitated to show his fondness for women.
During public events, he never fails to "flirt" with a female member of the audience. He has jokingly proposed marriage to reporters and has asked for kisses on the cheek from supporters. 
Asked about criticism for such behavior, Duterte told reporters after the concert: "That would not deter me. That's my happiness. If you don't want me as president because I have 4 or 5 women, then you vote for one of the other candidates."
Yet he is also known for his gender-sensitive policies in Davao City.
Women's rights advocate Irene Santiago has told Rappler's Maria Ressa that Duterte has done much to empower women in his hometown.
For one, Duterte was a staunch supporter of the Reproductive Health Bill while it languished in Congress. Under his leadership, Davao City Hall started providing free contraceptives to women in 2012.
Recently, posts containing supposed statements of his first wife, Elizabeth Zimmerman, saying Duterte's womanizing destroyed their marriage, have been circulating on social media.
Though a Rappler report confirms she filed for annulment on these grounds, Zimmerman has dismissed the social media posts, saying she and Duterte remain friends. – Rappler.com