He spends a chunk of his first speech in front of Metro Manila voters explaining his plans for trains, airports, seaports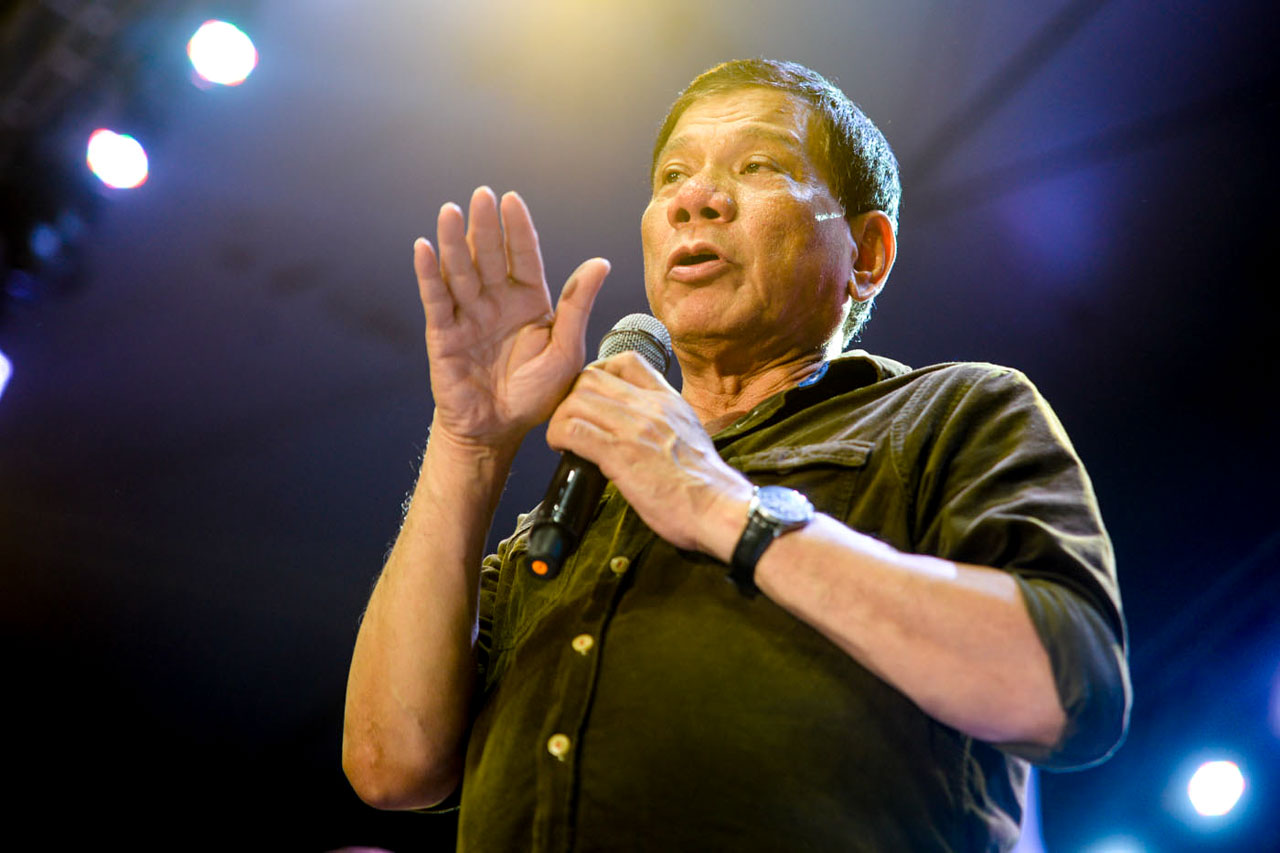 MANILA, Philippines – Delayed flights, "carmageddon" on EDSA, endless lines of waiting passengers in train stations – Rodrigo Duterte says he's familiar with the litany of transportation problems in Metro Manila. 
The Davao City mayor told thousands of supporters in a November 29 concert that improving the transportation infrastructure of the mega-city would be among his priorities if he becomes president. (READ: Metro Manila has 'worst traffic on Earth' – Waze)
Duterte, who arrived two hours late at the concert due to a delayed flight, said these transportation woes have brought only suffering to citizens and have compromised ease of doing business.
He said Metro Manila lacks a good airport, seaport, and inter-city transportation infrastructure. 
On seaports, trucks
Sympathizing with businessmen who use the Manila port, he said: "Ang pantalan, if you are a trader na palabas mo ang iyong goods or papasok, you would want the cheapest, the fastest, and walang istorbo maipasok kaagad. Eh paano mo maipasok, naka-parking lang diyan ilang araw na. Siguro ang mga driver dalawa na ang patay sa kakahintay."
(For the port, if you are a trader with goods going in and out, you would want the cheapest, the fastest, and no disturbances, so they can be brought in right away. How do you do that when the trucks have been parked for several days? Probably two drivers are dead just waiting.)
The only solution, said Duterte, would be to transfer the port further south on Luzon island.
"You'll just have to disperse. Transfer at the earliest possible time in Batangas or somewhere there," he said.
The concentration of activities at the Manila port is a major contributing factor to traffic in Metro Manila, with trucks going all over the mega-city to and from the port.
On airports
As for airport infrastructure, Duterte said the Ninoy Aquino International Airport (NAIA) can no longer handle the current number of flights. (READ: NAIA among 'high-risk' airports in Asia-Pacific – global airlines)
"All the airplanes going to Manila are concentrated there so how can you arrive on time when at any given time there are about 30 passenger airplanes waiting to make the final approach to land? There's no infrastructure," he said.
His solution would be to make more use of Clark International Airport as an alternative airport and then build a fast train to deliver goods and commuters to Metro Manila.
"You have to have a fast train with two points of entry somewhere in Metro Manila that is not too crowded," he elaborated.
On traffic jams
Duterte also said traffic on EDSA and everywhere else in the metro is because of "daily transactions of motor vehicles" and policies like number coding which merely encourage rich families to buy more cars.
To ease traffic jams, he said he would improve public transportation by buying 30 or 50 more train carriages. This way, people would not have to endure long lines. (READ: On the MRT: A capacity conundrum)
If that's not enough, he has previously said that he intends to put up a new train line that will run along Pasig River, the only thoroughfare not embroiled in rights-of-way claims. 
But for these major overhauls, he said the government would need money.
He proposes borrowing P60 billion from another country or international agency.
"I will not hold the money. I will create a high commission. They will be the ones to handle the money," he said. 
Borrowing money for government projects is nothing new. He said the late dictator Ferdinand Marcos Sr also borrowed some money from foreign entities.
"Maghiram ako ng pera kagaya kay Marcos. Panahon ni Marcos napaka-ganda ng bayang ito, kaya lang, Martial Law (I will borrow money like Marcos. In Marcos' time, this country was beautiful, but Martial Law happened.)," he said.
The Sunday concert meant to promote Duterte's tandem with Senator Alan Peter Cayetano was the mayor's first public event in Metro Manila since he filed his candidacy through a representative last Friday, November 27. 
He said he is going around the country because he believes support for him "is weak all over the Philippines." – Rappler.com