But LP spokesman Representative Edgar Erice downplays reports that party members are jumping ship to support Davao Mayor Rodrigo Duterte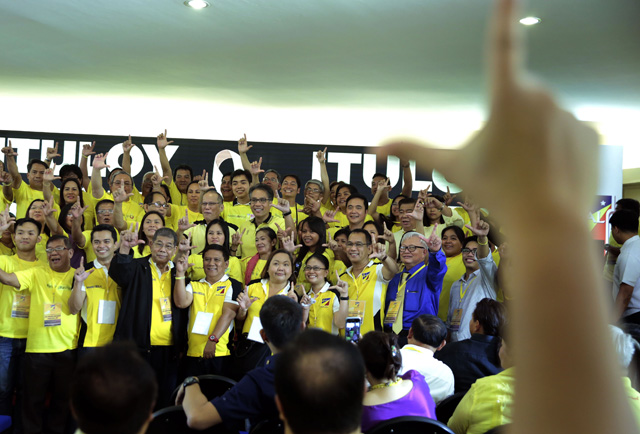 MANILA, Philippines – "Propaganda lang 'to eh (It's just propaganda)."
Liberal Party spokesman and Caloocan Representative Edgar Erice dismissed talk of party members abandoning the party's standard-bearer in favor of Davao Mayor Rodrigo Duterte on Monday, November 30, saying the talk was just "propaganda."
"Nangyari na before, during the announcement of Senator [Grace] Poe. Sinabi maraming LP mag-jujump ship pero wala naman. Ngayon naman, maraming LP pupunta kay Duterte pero wala namang significant number or name na sinasabi sila," Erice told reporters at the party headquarters in Cubao, Quezon City.
(It happened before, when Senator Grace Poe announced she was running for president. They said a lot of LP members would jump ship but nobody did. Now they're saying a lot of LP members will ally with Duterte but no significant numbers or names are being said.)
At the same time, however, Erice said that party members planning to support other candidates should just leave. 
"Nananawagan rin ako [doon sa] mga LP: kung susuporta kayo ng ibang kandidato, dapat magbitiw sa Liberal Party dahil isa sa mga sinumpaan namin bilang mga miyembro ng Liberal Party ay ipanalo ang aming mga kandidato," Erice said.
(I call on our LP members: if you're supporting other candidates, it's time you leave the party because one of our oaths is to make sure our candidates win.)
The LP has Manuel Roxas II as its standard-bearer and Camarines Sur Representative Leni Robredo as its vice presidential bet. Its 12-person line-up, meanwhile, is composed of 6 party members and 6 allies of the ruling party.
All out for Duterte?
A handful of LP allies in Mindanao have talked about the likelihood of changing allegiances now that the Davao mayor finally decided to gun for the highest elective post. Duterte is the only presidential aspirant from Mindanao in a race of at least 5 leading candidates. (READ: LP defections for Duterte? 'That's how democracy works,' says Roxas)
Both Roxas and Erice, in separate interviews, said none of the LP members in Mindanao have expressed to them plans of jumping ship.
"Political propaganda lang ito. Kasi alam mo, unlike their parties, talagang mabibilang mo sa sa daliri ang mga miyembro. Kami talagang mahihirapan dahil [we have] thousands of members," quipped Erice.
(It's just political propaganda. Unlike them, whose members can be counted using your fingers, we in the LP will have a difficult time because we have thousands of members.)
The LP is the country's ruling party. President Benigno Aquino III is the chairman of the party.
Pundits have speculated that a Duterte candidacy would affect Roxas' numbers the most. Duterte is the strongest presidential bet in Mindanao, based on recent surveys, and is also supposedly strong in Metro Manila, if a privately-commissioned survey is to be believed.
Roxas, meanwhile, is weak in Mindanao according to latest surveys but is the leading candidate in the Visayas. The LP standard-bearer traces his roots to two provinces in the area – Capiz on his father's side and Negros Occidental on his mother's side. (READ: Roxas' pitch to mayors in Iloilo: I'll give you a Visayas president)
But while Duterte has been Davao mayor for over two decades, he traces his roots to Maasin, Southern Leyte.
"Of course at this point, wala namang runaway winner eh so makaka-apekto, di lang natin alam kung paano makaka-apekto ang pagpasok niya (We don't have a runaway winner so Duterte may affect the landscape but we don't know how)," said Erice.
Taking a jab at the months-long "Duterteserye," or Duterte's flip-flopping on a presidential run, Erice added: "It's not over until it's over. Nagbabago ang utak ni mayor, mahirap i-predict. Baka bukas naman ay ayaw na niya (His mind changes all the time, it's hard to predict. Maybe tomorrow, he'll change his mind again.)" 
Duterte did not file his Certificate of Candidacy (COC) for president during the week the Commission on Elections (Comelec) set for its filing. Instead, back in October, he filed his COC as re-electionist mayor of Davao.
The Davao mayor intends on being the substitute candidate for PDP-Laban standard-bearer Martin Diño, who has since withdrawn his candidacy. The validity of Diño's candidacy is also being questioned. 
Davao 4th worse in crime? 
Erice also criticized Duterte's peace and order track record  as "hyped," saying that if the country's crime index in 2014 is to be made as basis, Davao was the 4th highest when it came to reported crime incidents. 
Citing data from the Philippine National Police, Erice showed reporters data that indicated Davao trailed Quezon City, Manila, and Zamboanga City in terms of crimes reported.
Davao has a population of over 1.5 million, according to the latest government data while Quezon City, which had the most reported crime incidents, has over 2.8 million residents. According to data presented by Erice, Davao recorded over 18,000 crime incidents in 2014. 
"Paano magiging pinakatahimik kung #4 sa mga insidente ng krimen ang Davao City? Bakit sa dami ng pinatay ay pang-apat pa rin sa pinakamaraming krimen ang Davao City (How is Davao City the most peaceful city in the country when they're #4 in terms of crime incidents? How come despite all the kilings, Davao is still ranked #4)?" said Erice, who added that Caloocan City, which he represents, only ranked 12. 
Caloocan has roughly the same population as Davao. 
"Bakit naman kailangan i-point out ito? Ngayon lang siguro kailangan pag-usapan dahil gusto maging pangulo eh at sinasabi niya na isa sa kanyang number one advocacy ay crime solution," said Erice when asked why this data did not become public earlier. (Why do we need to point this out? Now might be a good time to talk about it because he wants to be president and he's saying that his number one advocacy is crime solution.) – Rappler.com