The word war between the friends turned rivals is heating up
MANILA, Philippines – The gloves are off. 
An incensed Manuel Roxas II went off-character on Monday, December 14, when asked to react about presidential rival Davao City Mayor Rodrigo Duterte's claim that Roxas is not a graduate of the University of Pennsylvania Wharton School, contrary to his claims. 
"You claim to have graduated from Wharton School of Economics. That is a myth. You did not graduate [from] Wharton, Mr. Roxas. Wala doon sa listahan na ikaw naka-kumpleto ng 4 years or 5 years for a degree. Tanungin mo ang Wharton (You aren't on the list of those who completed a 4- or 5-year degree. You ask Wharton)," Duterte said in his "Gikan Sa Masa, Para Sa Masa" episode on Sunday, December 13.
Said Roxas on Monday, December 14, in a chance interview with reporters: "Kung hindi totoo ang Wharton degree ko, sampalin mo ako. Hindi ako iiwas o iilag. Pero kung totoo ang Wharton degree ko, sasampalin kita. O ayan. Ang bilis mong magsalita na hindi mo alam eh."
(If my Wharton degree is a lie, he can slap me. I won't avoid it. But if it's true that I have a Wharton degree, I'll slap him. There. He finds it so easy to say things that he doesn't know.)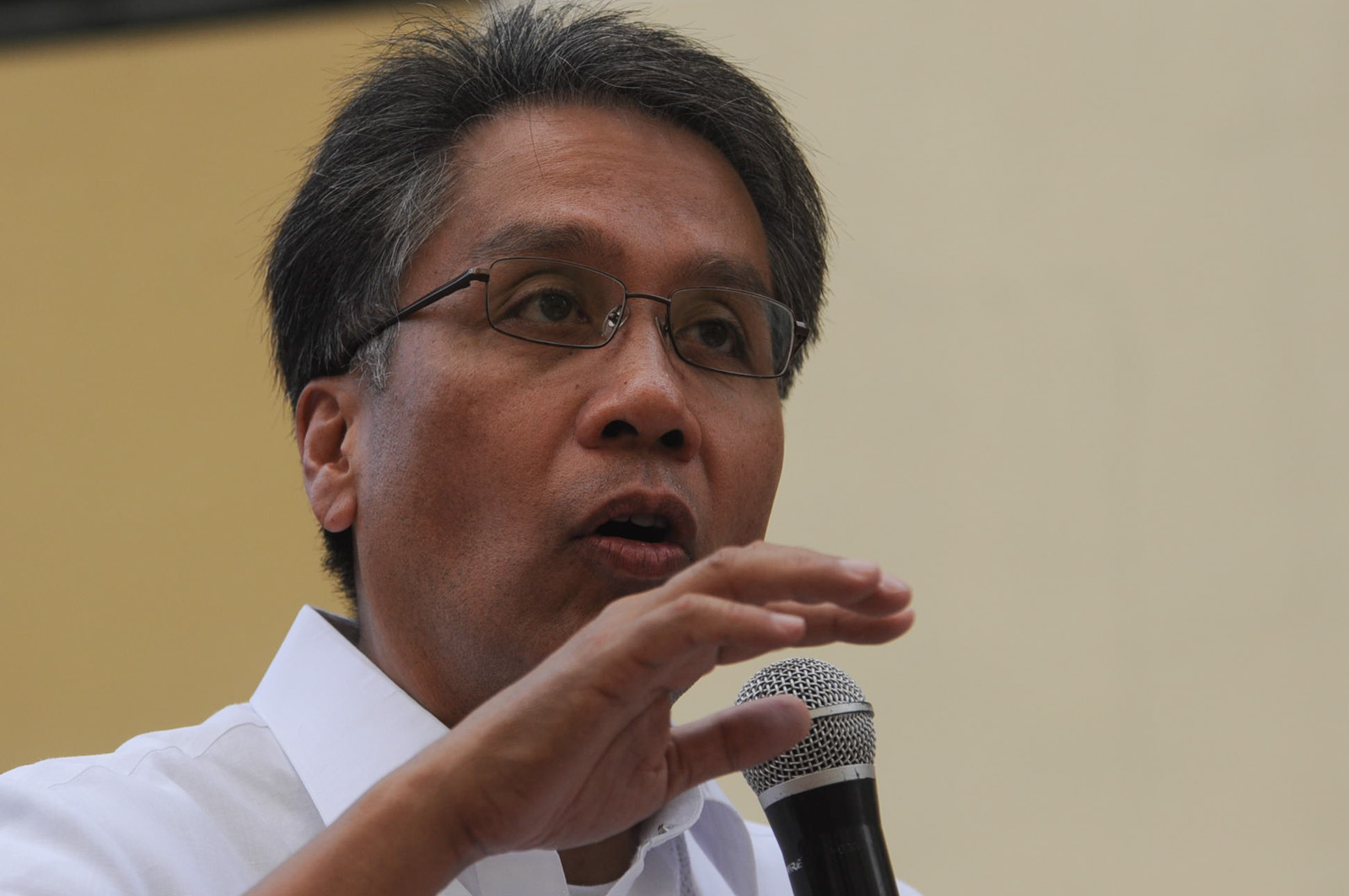 The exchange is the latest in a word war between Roxas and Duterte, who once considered each other friends. 
It began on Friday, December 11, following a forum in Quezon City, where Roxas said it was a "myth" that Davao City was the most peaceful in the country. Citing data from the Philippine National Police (PNP), Roxas said Davao ranked 4th highest in crime incidents in the country in 2014.
Duterte retaliated hours after during an event in Taguig City, detailing Roxas' supposed lackluster performance as interior chief in the aftermath of Super Typhoon Yolanda (Haiyan). 
"Pag-magkita kami sa isang kanto dito sa kampanya, sampalin ko yang gagong yan," the Philippine Star quoted Duterte as saying after his "exposé" on Roxas.  
(If we see each other during the campaign trail, I'll slap that idiot.)  
Roxas also reacted to Duterte's "threat," egging on the tough-talking Davao mayor to do it sooner than later.  
"Sampalin niya ako, punta siya dito. Kundi, punta ako Davao, sampalin niya ako sa airport. Tingnan natin. Ang mahirap kay Mayor Digong Duterte, nasanay siya sa one-man rule, nasanay siya na kung hindi niya nakukuha ang gusto niya, kung may nagsasabi sa kanya ng katotohanan ay mananampal nalang siya o pagbubuhatan niya ng kamay. Subukan natin, tingnan natin," he told reporters.  
(He can come here and slap me. Or I can go to Davao, he can slap me at the airport. Let's see. That's what's difficult about Mayor Digong Duterte, he's used to a one-man rule. He's just turning to force whenever he doesn't get what he wants or when he's told the truth. Let's see.) 
In the latest "Gikan Sa Masa, Para Sa Masa" episode, Duterte criticized Roxas for saying that Davao wasn't the safest city, pointing out that it wasn't for the LP standard-bearer to make those claims. "It is for the Davaoeños to say what this is all about," added Duterte.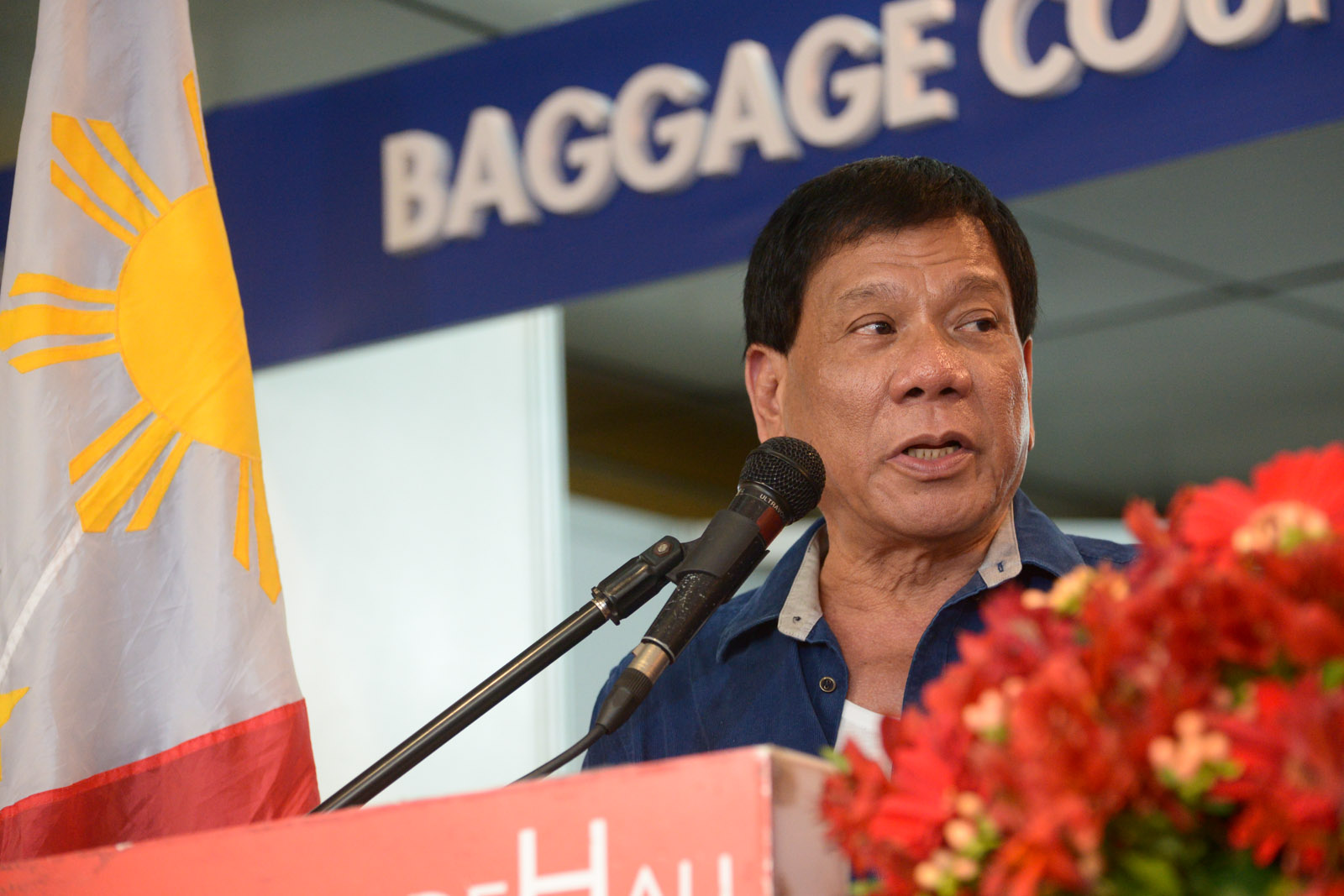 Survey in Camp Crame? 
Duterte went on the offensive against Roxas, reminding him that administrative oversight of the PNP, including the Davao police, was part of his job as former Department of the Interior and Local Government (DILG) secretary. 
"Ikaw yung may hawak ng pulis. Bakit hindi mo (expletive) sa Davao? Either nabola ka ng pulis mo or you were treated by trash by the police. Magpa-survey ka sa Crame, kung manalo ka, kakampanyahan kita," said Duterte. 
(The police were under you. Why didn't you chastise Davao? It's either you were fooled by the police or they treated you like trash. Have a survey conducted in Crame. If you win, I'll campaign for you.)  
On Monday, Roxas reminded Duterte that as chairman of the Davao region's Peace and Order Council, he had the discretion to pick the city and regional police chiefs. He also reminded the Davao mayor that the police force are protectors, and not hitmen. 
In a previous interview with Rappler, Duterte said he would tap the police and military as the "backbone" of his planned dictatorship.
"'Yan ang mga uri ng pag-iisip na karahasan, ng kabigatan ng kamay na wala nang lugar sa ating lipunan. 'Yan 'yung madilim na nakaraan (That's the kind of thinking that has no place in our society. That's part of the dark past)," Roxas said.  
Friendly past
Words exchanged between Roxas and Duterte have not always been so heated. The two know each other from their times as members of Congress – Roxas as Capiz representative and Duterte as Davao City's representative.  
Duterte, in an interview on "Gikan Sa Masa, Para Sa Masa," said it was Roxas who started it all, when the latter allegedly spread cancer rumors against the Davao mayor. Duterte has long insisted Roxas' camp was behind the "black propaganda," a claim the LP and Roxas have denied.  
Despite attempts to cut Duterte since they were running out of time, the Davao mayor went on to berate Roxas: "Ah pati 'yung sa Yolanda (There's also Yolanda). I was there day 2. Mr Roxas, you cannot handle stress that I can tell the Filipino people. He cannot handle stress, nagtatatala (he kept yapping)."
Roxas also had strong words for his former friend, who campaigned for him heavily in 2010 when he ran for vice president. "Alam mo Digong, ang turing ko sa iyo, kaibigan. Nirespeto kita, pinahalagahan ko ang aking pagkakaibigan sa iyo, pero mabuti na rin lang na nakita na natin ang katotohanan ng pagkatao mo," he said.  
(You know, Digong, I treated you as a friend. I respected you, I valued our friendship, but it's good that we see you for who you really are.)
Duterte, according to a survey privately commissioned by a Davao-based supporter, leads the latest nationwide surveys. Roxas, meanwhile, is 2nd, 3rd or tied with other candidates in nation-wide surveys commissioned for public consumption. – Rappler.com