'Galit ako sa mga taong akala nila sila lang ang kapangyarihan dito sa bansa natin. Kaya kung hindi ka pa nakakaharap ng iyong katapat, Digong, nandito ako. Hindi kita aatrasan,' says Mar Roxas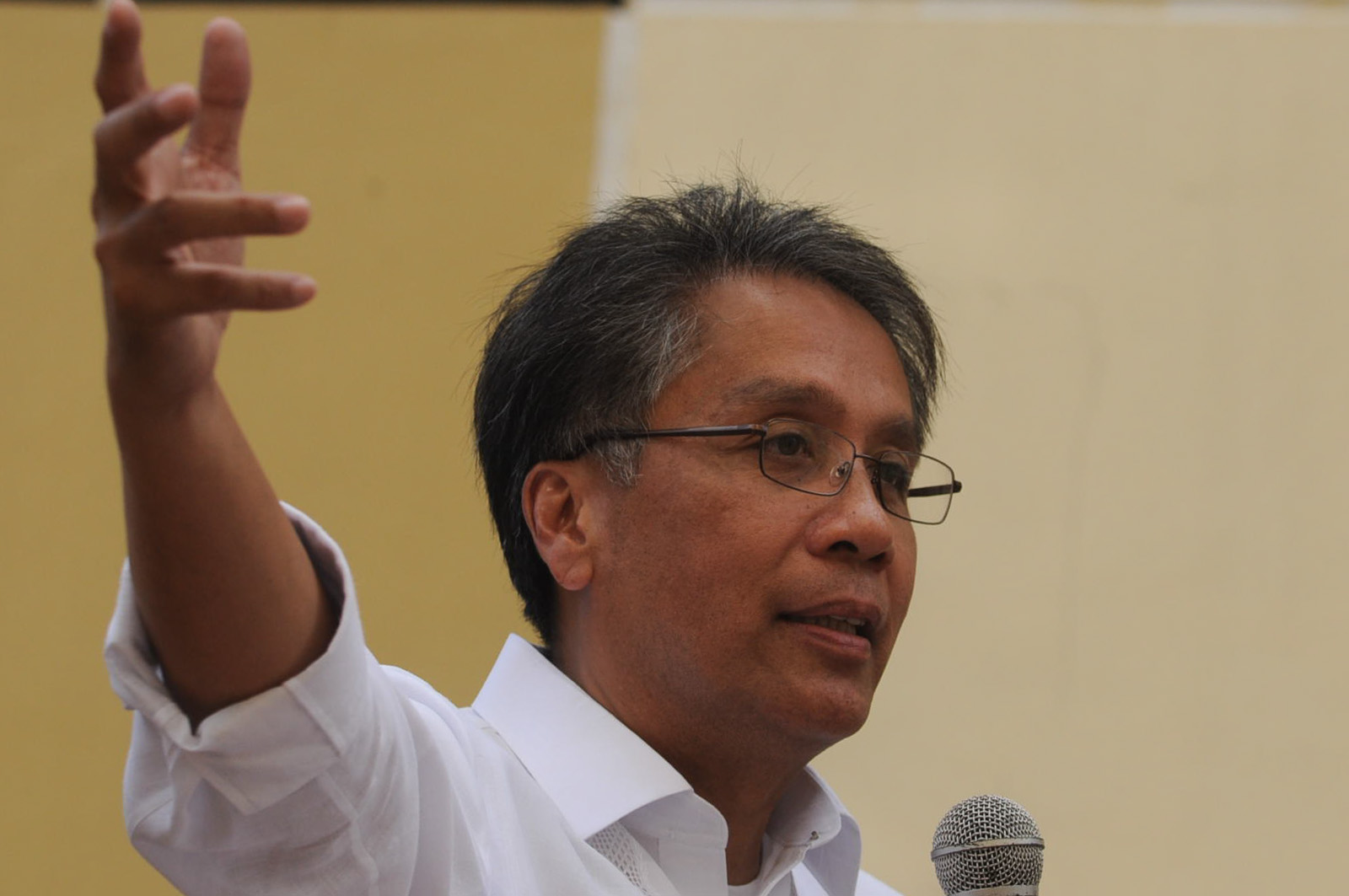 MANILA, Philippines – He admitted to letting his emotions get the best of him and being "dismayed at himself," but Liberal Party (LP) standard-bearer Manuel Roxas did not apologize for what he sees as a fight against "bullies" who are used to always getting their way.
In an interview with reporters on Tuesday, December 15, at the LP headquarters in Quezon City, Roxas was asked about criticism following a heated word war between himself and presidential aspirant Davao City Mayor Rodrigo Duterte.
Online and offline, people pointed out how the exchange of tirades dumbed down electoral discussion and focused on personalities instead of plans for governance.
"Siguro, hindi ako nakapagpigil. Ako rin mismo parang nadidismaya ako sa sarili ko na na-distract ako. Tayo po ay nais nating iahon ang ating bansa. Tumatakbo ako sa pagkapangulo dahil itong mga bully, itong mga nagsasamantala, itong mga humahadlang sa mga kaginhawahan ng ating mga kababayan – sila ang dapat na labanan. At talaga namang lalabanan natin sila," Roxas said.
(I guess I wasn't able to control myself. I'm kind of dismayed at myself too because I allowed myself to be distracted. We want to improve our country. I'm running for president because these bullies, these opportunists, these people who are hindering the progress of our fellowmen – they need to be stopped. And I'm ready to fight them.)
The LP standard-bearer, who was endorsed by President Benigno Aquino III, tried to steer the conversation away from the so-called "slap challenge" between the two, pointing out that talk about his supposedly non-existent college degree and slapping does nothing for the country's 100 million Filipinos.
"Alam niyo, itong tigas-tigasan, itong siga-siga, bumenta na 'yan eh; gasgas na 'yan. Ako galit ako sa bully. Galit ako sa mga nagsasamantalaga. Galit ako sa mga naghahari-hari. Galit ako sa mga mabibigat ang kamay. Galit ako sa mga taong akala nila sila lang ang kapangyarihan dito sa bansa natin. Kaya kung hindi ka pa nakakaharap ng iyong katapat, Digong, nandito ako. Hindi kita aatrasan," said Roxas.
(This machismo, acting like a bully, that's old already; that's been done before. I'm angry at bullies. I'm angry at those who take advantage of the situation, I'm angry at those who act like kings. I'm angry at those who are quick to turn to violence. I am angry at people who think they're the only ones with power in the country. So if you haven't found your match yet, Digong, here I am. I won't back down.)
Still, Roxas went on to "challenge" Duterte to a physical showdown, a fistfistfight, if need be.
"Sampalan, anong kinalaman niyan sa 100 million Pilipino? Anong kinalaman niyan sa kung ano ang kinahihinatnan ng ating bansa? Sa dami ng problema na hinaharap ng ating bansa, ikaw nauuwi ka sa kung ano anong mga kalokohan. Gawin mo nalang kung gusto mong gawin, diba? Sampalan? Bakit pa sampalan? Pambabae 'yan. Suntukan na lang," added Roxas.
(A slap fight? What does that have to do with 100 million Filipinos? What does that have to do with where we want our country to do? Of all the problems our country is facing, he talks about this tomfoolery. Do what you want to do, right? Slapping each other? That's for women. Let's settle this with a fist-fight.)
Pressed by reporters on whether he meant it when he dared Duterte to slap him should his Wharton education turn out to be fake, Roxas said: "And dami niyang sinabi pero hindi naman niya pinaninindigan ang mga sinasabi niya. Dakdak lang nang dakdak eh. Talk talk talk talk talk. Kung gentleman ka, sasabihin mo, 'I was mistaken, I'm sorry.' Eh pinipilit pa rin niya ang maling pananaw niya, eh di hayaan na lang natin. Wala nang mas bulag kaysa sa nagbubulag-bulagan."
(He says a lot of things but he can't stand by them. He keeps on talking. Talk talk talk talk talk. If he's a gentleman, he should know when to say, 'I was mistaken, I'm sorry.' But he's still insisting on his wrong views, so let him be. Nobody can be blinder than someone who pretends to be blind.)
On Tuesday, Duterte insisted on his position that Roxas had lied about his Wharton degree. (READ: Duterte To Roxas: 'UPenn graduate ka, and not Wharton!')
Friends to foes
The word war began on Friday, December 11, after Roxas said it was a "myth" that Davao City was the safest in the country. Citing data from the Philippine National Police (PNP), which he used to administer as interior secretary, Roxas said Davao had the 4th highest crime incidents in the country in 2014.
Duterte retaliated hours later by saying Roxas could not handle stress, pointing out his supposed incompetence as interior secretary in the aftermath of Super Typhoon Yolanda (Haiyan) in Eastern Visayas. Following his tirades against Roxas, Duterte said he would slap Roxas should they cross paths during the campaign.
The Davao mayor also alleged Roxas' Wharton education, where he graduated with a degree in Economics, was a "myth."
Roxas shot back on Monday, December 14, by egging Duterte to deliver on his "threat." He went one step further by challenging the mayor to a pseudo-slap "bet" should he prove that his Wharton degree was genuine.
Speaking to reporters again on Tuesday, Roxas said Duterte was all "talk." He even gave his full home address after the Davao mayor said he was ready to go to Roxas' home in Cubao, Quezon City, to slap him, as the local official had promised.
But for Duterte, all gloves came off when Roxas supposedly spread "black propaganda" against him. Duterte accused Roxas, or at least people in his camp, of spreading rumors that he had cancer. The LP and Roxas have denied the allegations.
On Tuesday, Roxas said he was ready to take a lie detector test to prove that he was not involved with Philip Lustre, who reportedly wrote that he had cancer.
"Hindi ko na alam kung anong patunay pa. Eto, magpa-lie detector [ako], hindi naman niya tatanggapin, sasabihin niyang hindi admissible in court. Ang punto ko rito, ako, isang marangal na tao. Hindi ako gumagawa ng ganoong bagay. Sinabi ko na na wala akong kinalaman, tanggapin niya. Ayaw niyang tanggapin eh di sorry na lang. Pero malinis ang konsensiya ko na wala akong kinalaman sa kung anong black propaganda na sinabi niya," said Roxas.
(I don't know what else I can say to prove this. I can undergo a lie detector test but Duterte will say that's not admissible in court. My point is, I'm a person with integrity. I don't do those things. I'm saying I have nothing do with this but he won't accept that so sorry. But my conscience is clean that I have nothing to do with the black propaganda he's accusing me of.)
Prior to the verbal exchange, Roxas referred to Duterte as his "good friend." They were both members of Congress in the late 1990s, when Roxas was Capiz representative and Duterte, Davao City representative. Duterte even campaigned for Roxas in 2010 when the latter ran for vice president.
That's all in the past.
Asked if this would be the last time he would address allegations like Duterte's, Roxas said while he would "focus on the issues," he would not back down from people who spread misinformation.
On Tuesday, Roxas also met with LP leaders and party allies from Mindanao, who pledged to support the LP standard-bearer's candidacy, even with the Davao mayor in the presidential contest. – Rappler.com