The tandem urges other candidates to sign the document to signify their commitment to transparency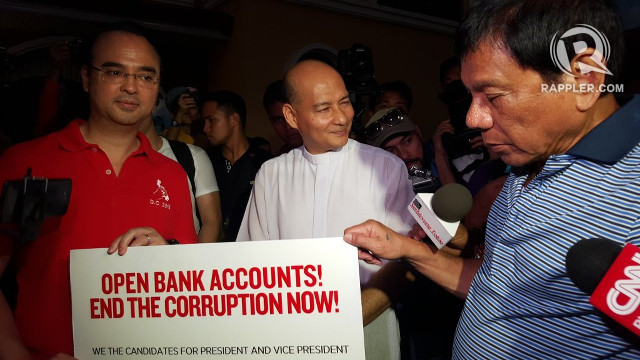 TACLOBAN CITY, Philippines – The tandem of Rodrigo Duterte and Alan Peter Cayetano signed a manifesto allowing their bank accounts to be scrutinized by the public.
Cayetano showed media the manifesto during a dialogue with Super Typhoon Yolanda survivors in Tacloban City on Monday, March 14.
The manifesto, printed on a piece of cardboard, declares that the presidential and vice-presidential candidates who sign it "pledge to open all our bank accounts in local and foreign currencies both here and abroad in the interest of transparency and accountability."
Both Cayetano and Duterte have signed the document. The space above the names of other candidates remain blank as of this writing.
Asked why he signed the manifesto, Duterte told reporters: "So that the people will know how much is our worth, if we have bank secrets, deposits."
And what if other candidates refuse to sign?
"Ewan ko (I don't know. That is for the people to decide. I cannot be judgmental, bahala kayo (it's up to you). Basta ako, ready ako anytime (I am ready anytime)," he said.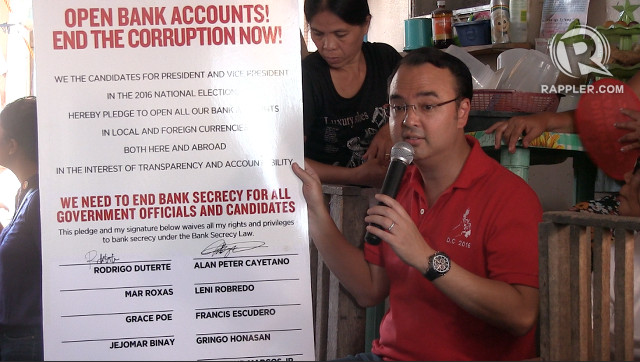 Cayetano explained that candidates waiving their rights to keep the details of their bank accounts secret will help government agencies crack down on corruption.
"This means the Ombudsman, DOJ (Department of Justice), COA (Commission on Audit), when they investigate, there is just a process but politicians can't say their bank accounts are secret," said the senator.
He said that dummy bank accounts are ways through which abusive government officials can hide their illegally amassed wealth. Properties like yachts or land can easily be traced, while the Anti-Money Laundering Act has made it difficult to spirit money away to foreign banks.
"This document will be sent to other candidates and if they all sign, whoever wins in 2016, you can be assured that the Ombudsman and DOJ will have a weapon," the vice-presidential bet told the Yolanda survivors.
This is not the first call for transparency coming from candidates.
Similar calls have come from other candidates like Senators Miriam Defensor-Santiago and Francis "Chiz" Escudero, and former interior secretary Mar Roxas since the issue on political ad spending and the Commission on Audit report on Jejomar Binay's involvement in the overpricing of a Makati City building.
Roxas has said he is open to a lifestyle check, while Binay has challenged his rivals to allow the Anti-Money Laundering Council to examine their bank accounts. – Rappler.com