(UPDATED) This year's batch of overseas Filipino voters – the biggest in history – can cast their votes until 5 pm on May 9, Philippine time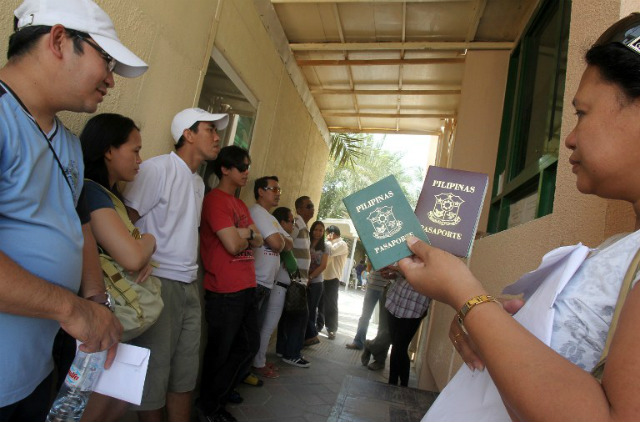 MANILA, Philippines (UPDATED) – Described as game changers, around 1.38 million overseas Filipino workers (OFWs) began to vote on Saturday, April 9, in a month-long exercise to choose the Philippines' next leaders, including its president.
"They have 30 days within which to vote, and we would like to encourage our overseas Filipinos to take advantage, to exercise their right of suffrage," Commission on Elections (Comelec) Chairman Andres Bautista said in a news conference Saturday.
Bautista said Filipinos, after all, "recognize the big impact" that overseas Filipino workers (OFWs) have made on the country's economy.
"So they deserve to be heard," Bautista said. "And we would like to hear what hey think in respect of who we should elect as our leaders this 2016."
In a statement, the Philippine Department of Foreign Affairs (DFA) said 1,376,067 overseas Filipinos can vote in this year's elections.
This is the first time since 2004, the start of overseas voting, that the number of overseas voters has breached the one-million mark. (READ: What you need to know about overseas absentee voters)
'Definite game changer,' DFA says
The Comelec said overseas voting begins at 8 am on April 9, following the timezone of the host country. 
It ends at 5 pm, Philippine time, on May 9, the only day when Filipinos based in the Philippines can cast their votes.
DFA's head for overseas voting, Undersecretary Rafael Seguis, said it "is not a stretch to surmise that each overseas Filipino can influence the vote of at least 3 family members." This is because overseas Filipinos "are considered to be their families' breadwinners."
"Thus, the 1.3 million active registered overseas voters are roughly equivalent to 5.2 million votes. This is a definite game changer for Philippine politics," Seguis said. 
Of the total number of overseas voters, the DFA said 1.12 million voters in 30 posts will vote using machines, while 183 voters in 52 posts will vote manually. 
The DFA has suspended overseas voting in Baghdad, Damascus, and Tripoli because the Philippine government has ordered the mandatory evacuation of Filipinos there.
The DFA has advised registered overseas Filipino voters to "coordinate with the nearest Philippine Foreign Service Post or Manila Economic and Cultural Office on the voting procedures." 
The agency also urged overseas voters to visit www.dfa-oavs.gov.ph or www.comelec.gov.ph for more information. – Rappler.com