Among the candidates, Senator Francis Escudero suffers the biggest dip in voter preference less than a month before the elections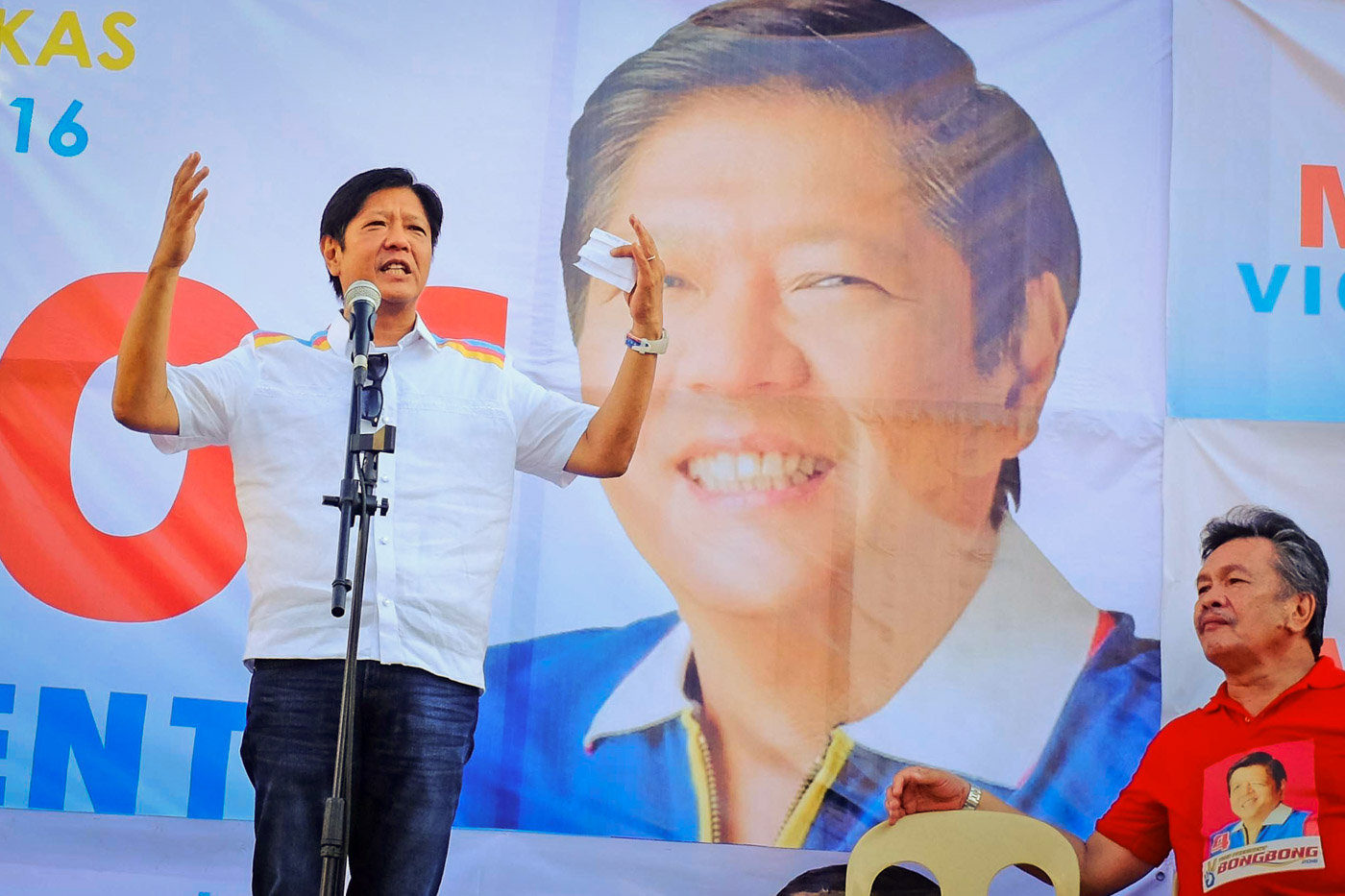 MANILA, Philippines – Senator Ferdinand "Bongbong" Marcos Jr led other vice presidential candidates in the latest survey of Pulse Asia Research, Incorporated released on Tuesday, April 26.
Voter preference for Marcos improved to 29% – up by 4 percentage points – in the Pulse Asia's Pulso ng Bayan nationwide survey conducted among 1,800 registered voters from April 16 to 20.
Administration presidential candidate Leni Robredo was second with 24%, a 1-percentage point improvement over her rating in Pulse Asia's March 15-20 survey.
Senator Francis "Chiz" Escudero, at third place, suffered the biggest dip in ratings with 18%, down 5 percentage points from his 23% voter rating in March.
Senator Alan Peter Cayetano's rating improved by 2 percentage points to 16%, while Senators Gregorio "Gringo" Honasan II and Antonio "Sonny" Trillanes IV had lower ratings of 4% and 3%, respectively, both down by 2 percentage points.
With just weeks before the May 9 elections, indecision among voters on their vice presidential candidate widened to 7% from 4% in March.
Pulse Asia's nationwide survey has a ± 2.3% error margin at the 95% confidence level.
In the presidential race, Davao City Mayor Rodrigo Duterte remained at top spot, according to the same survey.
Top picks by region, socioeconomic class
Marcos remained the top choice of voters in Metro Manila and the rest of Luzon, with voter ratings of 39% (up by 3 percentage points) and 37% (up by 6 percentage points), respectively.
Robredo is the favored candidate in the Visayas (33%), while Cayetano continued to lead in Mindanao with 34%, a 5-percentage point improvement.
Marcos and Robredo are the top picks of the well-off Class ABC, at 36% and 32%, respectively; and Class D at 30% and 25%, respectively.
Four candidates have the same support levels in the poorest Class E – Cayetano (23%), Marcos (22%), Robredo (21%), and Senator Escudero (18%). Among them  Cayetano enjoyed the biggest surge of support among Class E, a 14-percentage point increase.
The latest survey results also showed Robredo enjoying an 8-percentage point surge among voters in Metro Manila, or to 20% from 12%; and among Class ABC where her numbers jumped by 17 percentage points, or to 32% from 15%.
Among geographical locations, Escudero's rating had the biggest cut in Metro Manila, a 14-percentage point erosion; and in the Visayas, 7 percentage points. Among socioeconomic classes, he suffered the biggest blow in Class ABC – a 22-percentage point plunge to 4% from 26% in March.
Subnational estimates for the geographic areas covered in the survey have the following error margins at 95% confidence level: ± 6.5% for Metro Manila, ± 3.5% for the rest of Luzon, ± 5.2% for Visayas and ± 4.7% for Mindanao.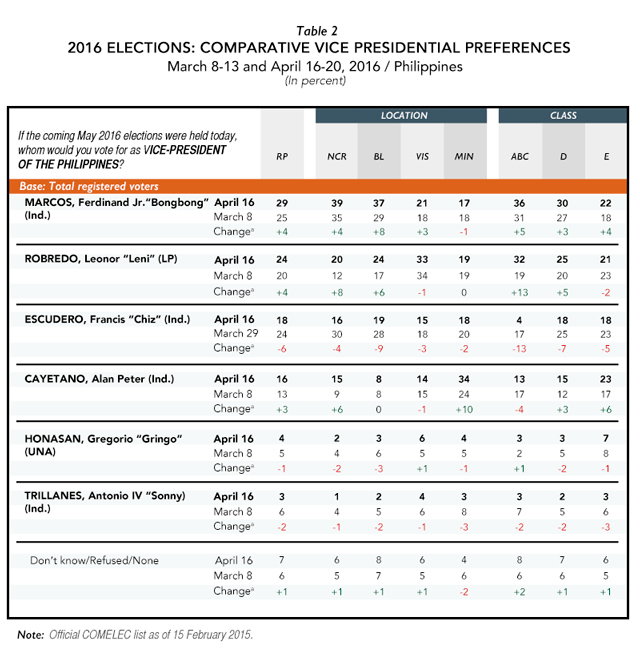 Escudero continued to be the top alternative candidate of voters (27%) in case their favored bet dropped out of the race. Robredo (15%), Marcos (14%), and Cayetano (14%) shared second place.
"Of those with a first choice for vice-president, 20% are not inclined to vote for another candidate should their original candidate end up not continuing his/her vice- presidential bid," Holmes said.
During and before the survey period, among the major events were Commission on Elections (Comelec)-organized vice presidential debate on April 10, and another debate for the candidates organized by ABS-CBN on April 17.
The first debate was attended by all 6 candidates, but Honasan and Marcos skipped the second one.
At the second debate, Marcos' partymates – Cayetano and Trillanes – attacked him in his absence.  In the first debate, Cayetano targeted Marcos, in particular. (READ: Cayetano hits Marcos: Your family stole $10 billion and Cayetano, Marcos clash in debate)
Senatorial race
Pulse Asia president Ronald Holmes said that with just weeks before the elections,"Filipino registered voters are identifying a mean of 8 and a median of 8 of the candidates they are electing to the Senate (i.e., out of a maximum of 12 candidates)."
There are no surprises in the latest survey results on senatorial candidates as the pack continued to be led by Senator Vicente Sotto III with 53.8% voter preference, placing him at 1st to 2nd places.
Senate President Franklin M. Drilon was a close second with 49.2%, at 1st to 3rd places.
Thirteen of the 50 candidates have a statistical chance of winning. The others are:
Former senator Francis Pangilinan (46.4%, 2nd to 3rd places)
Former senator Panfilo M. Lacson (39.1%, 4th to 9th places)
Former senator Juan Miguel Zubiri (39.0%, 4th to 9th places)
Sarangani Representative Manny Pacquiao (38.5%, 4th to 10th places)
Senator Sergio R. Osmeña III (37.9%, 4th to 12th places)
Former Akbayan party-list representative Risa Hontiveros (36.3%, 4th to 13th places)
Senator Ralph Recto (34.9%, 4th to 13th places)
Former Senator Richard Gordon (34.1%, 6th to 13th places)
Valenzuela City Representative Sherwin T. Gatchalian (33.8%, 7th to 13th places)
Former TESDA chief Director General Emmanuel Villanueva (33.7%, 7th to 13th places)
Former justice secretary Leila de Lima (32.3%, 8th to 13th places) 
Among the other major issues during the survey period were the controversial rape joke of presidential candidate Rodrigo Duterte at a campaign rally, which sparked public outrage, the Supreme Court decision affirming its ruling to allow presidential candidate Grace Poe to run on May 9.
During the period, the anti-graft court Sandiganbayan granted bail to pork scam mastermind Janet Lim Napoles, but only for plunder charges stemming from two cases of former congressmen who were also granted bail. She remained in jail  serving a life term for illegal detention, and faces graft and plunder charges involving other lawmakers' cases.
Other major news were the victory of Pacquiao over Timothy Bradley Jr, the start of joint US-Philippine patrols in the West Philippine Sea (South China Sea), and the Philippine visit of US Defense Secretary Ashton Carter to observe the annual PH-US joint military exercises. – Rappler.com