Resigning in 2011 was 'not retreating' but 'advancing in another direction,' that is, a clear and clean victory in 2013
MANILA, Philippines – He sure was going to run again. Juan Miguel "Migz" Zubiri indicated as much when he resigned his Senate post in August 2011 over allegations that he benefitted from wholesale cheating carried out by his party in the 2007 polls.
"Let me just emphasize to my detractors, as I paraphrase a quote from General Douglas Macarthur, that: I am not actually retreating; I am merely advancing in another direction," he said toward the end of his speech on the Senate floor.
So he is back on the campaign trail—with principals who were on the opposite side of the fence in his political past, with a solid record from his interrupted "first" term, and with the allegedly cheated candidate, sitting senator Koko Pimentel, milking the controversy dry as they both seek "re-election."
"Being innocent with the heavy charges, I said I'd rather give it back to the people and seek a fresh mandate," Zubiri, who is running under the opposition United Nationalist Alliance (UNA), told Rappler.
This time, he wants an unquestionable, untainted victory.
'Green' boy from Bukidnon
Zubiri, an agriculturist by education, first tried his hand at politics in 1998 after working on his father's congressional staff. He won to represent Bukidnon's 3rd district, while the old man, Jose Maria Zubiri Jr, went on to become governor of the province.
In the House of Representatives, Zubiri became one of the "Spice Boys," a gang of 6 thirtysomething lawmakers, all from the former ruling Lakas party, who keenly opposed the administration of President Joseph Estrada, and actively worked for his impeachment.
When Estrada was ousted in January 2001 and Lakas's adopted daughter Vice President Gloria Arroyo assumed the presidency, 3 of the Spice Boys were given Cabinet positions. Zubiri was among the 3 others who continued in elective posts.
In his 3 straight terms in the House, he authored, among other laws, like the Biofuels Act, the Wildlife Conservation Act, and the Comprehensive Dangerous Drug Act (see full list below).
During this time, he also made sure the allocation of his pork barrel was aligned with well-planned programs and projects of the provincial government that would have long-term benefits for the poor.
Bukidnon, for instance, has been recognized by the United Nations for its health services program. Its provincial hospital has equipment at par with St. Luke's, he says, and the province has a Medicare program that's similar to Canada, Australia, Italy, and Spain—the patients don't pay for anything at the government hospital. More than half of the provinces in the country have sent representatives to study Bukidnon's socialized medical services model.
Zubiri was media-savvy for a neophyte lawmaker, inviting teasing remarks from colleagues about his penchant for commenting on every other issue to land in the news.
The media presence—and, to an extent, his very public former romantic relationship with popular actress Vina Morales—seemed to have worked to boost his awareness rating on the national level.
Contested numbers
He won the last Senate seat in 2007. Well, sort of.
Zubiri was proclaimed by the Commission on Election as the 12th senator with a total of 11,001,730. Pimentel, who missed the last winning slot by only 18,372 votes, filed a protest.
Pimentel contested votes in the province in Maguindanao, where the Arroyo administration's Team Unity ticket scored a questionable 12-0 sweep. Zubiri filed a counter-protest, claiming he was cheated in Metro Manila.
In a report, Newsbreak cited how Zubiri defeated Pimentel convincingly in the region—in fact, the entire island—where they both came from. While Zubiri was No. 1 in all but one province in Northern Mindanao, Pimentel only landed from the 5th to the 12th slots, according to results published by the Comelec.
In the whole of Mindanao, according to Comelec figures,  Zubiri got 388,190 more votes than Pimentel. Zubiri got 2,941,974 votes while Pimentel got 2,553,784. Mindanao consists of six regions.
At the time, data collected by Newsbreak from political parties and election watchdogs doing quick counts also showed that there were highly improbable number of votes being credited to Pimentel in some parts of Metro Manila toward the end of the canvassing period.
Monthly pre-election surveys conducted by the Social Weather Stations nationwide, from February to May 2007, also showed Zubiri's ranking consistenly improved, from 17th to 9th, which made winning likely. Pimentel, on the other hand, was stagnant at 13th to 14th.
Things came to a head, however, in 2011. Zaldy Ampatuan, the governor of the Autonomous Region in Muslim Mindanao during the 2007 elections, and ex-Maguindanao election supervisor Lintang Bedol "confirmed" that opposition candidates were cheated to favor Zubiri.
The supposed confirmation came in July, at the time when Ampatuan was reported to be in backroom negotiations with the Aquino government to spare him of the multiple murder charges that he and his other relatives were facing for the massacre of 52 persons in Maguindanao prior to the 2010 elections. Bedol, for his part, was being dragged into an electoral sabotage case against former President Gloria Arroyo.
Zubiri, noting that "the trial by publicity has begun," resigned on August 3, "without admitting any fault and with my vehement denial of the alleged electoral fraud hurled against me."
Citing his family's 30 years in politics untainted by poll fraud, he said: "No amount of power, position, or wealth is worth sacrificing one's honor and integrity."
'Figment of Koko's imagination'
The following day, Aug 4, 2011, Zubiri instructed his lawyers to withdraw his counter-protest from the Senate Electoral Tribunal, although the review of the ballots were set to end months later yet.
As a result, the SET did not examine anymore the ballots from places in Metro Manila where Zubiri claimed Pimentel cheated him.
Examining only the "384,680 ballots as well as Election Returns (ER) from Pimentel's protested precints," and correcting the Statement of Votes based on that, "the Tribunal disclosed that Pimentel obtained 258,166 more votes than Zubiri in the contested senatorial race," the SET said in its website. Pimentel got 10,989,786 votes, while Zubiri got 10,640,620.
Pimentel was proclaimed senator a week later, to serve the remainder of the term. He is now running for re-election.
But while Zubiri looks ahead, Pimentel is adamant in haunting him with the ghost of 2007. Now chair of the Senate committee on electoral reform, Pimentel alleges that election paraphernalia for cheating operations were brought to Zubiri's Bukidnon warehouse. 
"It's a figment of his imagination. Maybe that's one thing Koko has to relax on. He has to stop imagining things. I believe he's just trying to use it as a campaign strategy but it might backfire on him," Zubiri said.
He added: "I made the ultimate sacrifice for him to sit in his position. If not, I'd still be the senator now…but he still harbors hatred and all sorts of ill feelings towards me."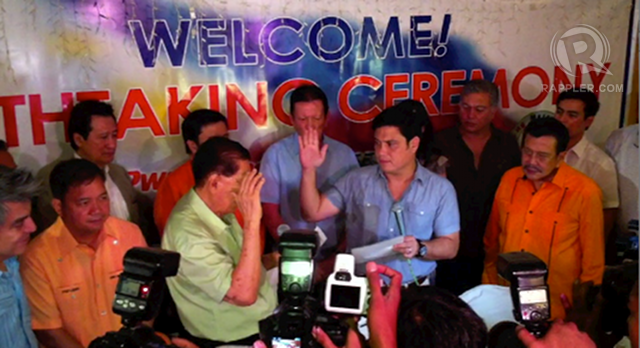 Suicide or master stroke?
Most political observers said Zubiri's resignation was political suicide, but strategists and operators who have worked on the ground over many elections said it was a master stroke. Filipino voters are turned off by politicians who are "kapit-tuko" (clinging) on their posts, they say, but are impressed by those who make graceful and dignified exits.
Even leaders of the parties that would eventually comprise UNA noticed that. Over time, they made efforts to recruit him to their side—the first was Senate Pro Tempore Jinggoy Estrada of the Pwersa ng Masang Pilipino (PMP), and then Vice President Jejomar Binay of PDP-Laban.
There was a confluence of events. Zubiri had resigned from Lakas in 2010 after the party that he served for more than a decade declared Bukidnon a "free zone," allowing party mates to contest the candidacy of the Zubiris and their local allies.
"But I have nothing against the former President GMA. She's my ninang (godmother)…. That's politics, we move on."
That is why, he says, it is not fair that his being a former ally of President Arroyo is being used against him by some camps. "Let's be fair, the Speaker of the House, the Majority Floor Leader, they were my bosses in Lakas. Let's not name names… Kung gagawin natin iyan, we'll be looking at the last 20 years and we'll just be so frustrated with how many times people have changed parties. What's important I think is what your advocacies, what your plans and programs."
Zubiri joined PMP in 2012, and thus was included in the UNA slate. It did not sit well with Pimentel, who is with PDP-Laban, an UNA partner. Pimentel is running as guest candidate of the administration Liberal Party, but refuses to relinquish the presidency of PDP-Laban despite Binay having taken it over.
'Erap is a gracious man'
While Pimentel resents Zubiri, Estrada cleared him of wrongdoing. "If he (Migz) was part of cheating, then he should have been imprisoned too," the former President said when he welcomed Zubiri to PMP.  
In his oath-taking, Zubiri apologized to Estrada. He told Rappler: "He was such a gracious man. Let's face it. He was jailed, he spent time in jail, he was pardoned. What else can you ask from the man?"
Estrada jokes that his new party mate is much like him. "Kung ako deposed president, siya deposed senator." (If I am a deposed president, he is a deposed senator.)
Zubiri says he feels comfortable in PMP and UNA, where his personal advocacies are in synch with the party's pro-masses platform.
Before his 6-year term was cut short in the Senate, he was pushing his environment advocacy. The youngest to become Senate Majority Leader at 39, he passed the Renewable Energy Act, Organic Agriculture Act, and Disaster Risk Management Act. He also led probes into the First Philippine Industrial Corp leak in Makati, and the illegal poaching of corals and marine resources.
This, Zubiri said, was the reason he announced a comeback the day he resigned. "I felt sayang naman ang kakayahan natin na maituloy sana ang ipinaglalaban nating adhikain o advocacy para sa bayan." (I felt it's a shame not to use our ability to continue our advocacy for the country.)
Waiting for the boxing
Now Zubiri is campaigning on a platform he admits may be controversial and expensive but he believes it will be effective. He plans to replicate Bukidnon's No Balance Billing Program, offering poor patients 100% health care coverage. He is against privatizing government hospitals.
He is also pushing for a Food for School program, mandating public elementary and high schools to give students free breakfast and lunch. He sees it as a "parallel effort" to the Aquino government's Conditional Cash Transfer program.
"This is a good anti-poverty measure. The kids will not anymore be out of school youth. We will beat malnutrition, and we will source the food from local farmers."
Zubiri also plans to push for the passage of the national land use bill, the forest preservation bill, and long-term infrastructure for irrigation.
He has been going around the country in preparation for the campaign for a year now, and this seems to have paid off, placing him 8th-12th in recent surveys.
"I'm exhausted, physically and emotionally, and it's not even the campaign season yet, so I can't wait for this campaign to be over, to be honest," Zubiri said.
"I just want ika nga, second win na lang. Kung nasa boxing pa, last two rounds na lang and we'll go slugging out the last two rounds and listen to the decision." – Rappler.com 
FAST FACTS

Senate Designations:
Former Senate Majority Leader
Former Chairman, Committee on Environment and Natural Resources;
Committee on Cooperatives
Former Chairman, Joint Congressional Oversight Committee on the Ecological Solid Waste Management Act; Joint Congressional Committee on Clean Air Act; Joint Congressional Oversight Committee on Cooperatives
Political Party:
Pwersa ng Masang Pilipino – United Nationalist Alliance
Age on Election Day (May 13, 2013): 45

Senate terms: 1 (2007-2011)

Pork barrel released (2009-2011): P142,100,000
*Source: www.dbm.gov.ph

Survey ranking: 8th-12th (Pulse Asia, November 2012 survey)

Education:
Master's in Environment and Natural Resources Management, University of the Philippines Open University (2011)
Bachelor of Science in Agri-Business Management, University of the Philippines in Los Baños (1990)
Professional Background:
Representative, 3rd District of Bukidnon (1998-2007)
Legislative staff chief, then Bukidnon Rep Jose Maria R Zubiri Jr (1995-1998)
General Manager, Zubros Agri Inc. (1990-1995)
*Source: i-site.ph

Bills passed:
Renewable Energy Act of 2008 (co-sponsor, author)
Biofuels Act of 2006 (author)
Philippine Cooperative Code of 2008 (sponsor, author)
Organic Agriculture Act of 2010 (sponsor, author)
Wildlife Conservation and Protection Act (principal author)
Philippine Disaster Risk Management Act (co-sponsor, author)
Comprehensive Dangerous Drugs Act of 2002 (principal author)
Home Development Mutual Fund Law of 2009 (principal author, co-sponsor)
Rent Control Act of 2009 (principal author, co-sponsor)
Mindanao Development Authority Act of 2010 (principal author, co-sponsor)
National Commission on Muslim Filipinos Act of 2009 (sponsor, author)
Magna Carta for Homeowners and Homeowners' Associations (sponsor, author)
Condonation of Penalties on Delinquent Social Security Contributions (principal author, co-sponsor)
Socialized and Low-cost Housing Loan Condonation Program (sponsor, author)
Declaring Arnis as the National Martial Art and Sport (sponsor, author)
UP Charter Amendments (author)
National Service Training Program (principal author)
Armed Forces of the Philippines Rate Pay Base Increase (principal author)
New Charter of the Philippine Red Cross (co-sponsor, author)
New Charter of the Girl Scouts of the Philippines (author)
Declaring July 27 of Every Year as Araw ng Iglesia ni Cristo and as special
Working Holiday (co-sponsor, author)
Declaring Eidul Adha as a National Holiday (co-sponsor, author)
Establishing the Philippine Tax Academy (sponsor)
Granting Income Tax Exemption to Local Water Districts (co-sponsor, co-author)
Free Patents Act (author)
Cheaper Medicines Act (author)
Philippine Act on Crimes against International Humanitarian Law (author)
Strengthening the Literacy Coordinating Council (co-sponsor)
Personal Equity and Retirement Account (PERA) Act of 2008 (author)
Individual Income Tax Rate Exemption Law (author)
*Source: www.migzzubiri.org and Senate website

Advocacies:
Health
Education
Environment
Food security
Peace and development
Relatives in Government:
Father: Bukidnon Vice Governor Jose Maria R Zubiri Jr
Brother: Bukidnon 3rd District Rep Jose F Zubiri III
Cousin: Malaybalay City, Bukidnon Mayor Ignacio W Zubiri