But UNA says Escudero is 'making up stories'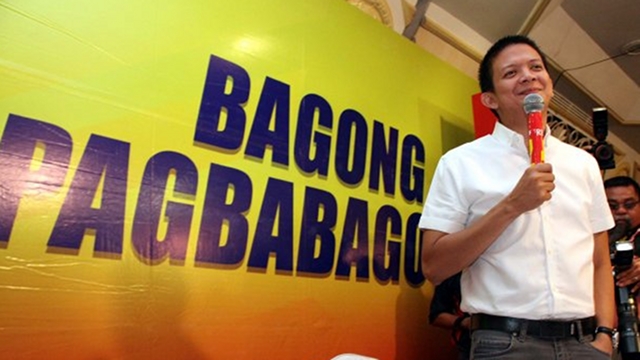 MANILA, Philippines – Is the opposition senatorial slate United Nationalist Alliance (UNA) doing more than just junking survey leaders Senator Francis "Chiz" Escudero, Senator Loren Legarda, and former censors chief Grace Poe?
Escudero said he has information that UNA stalwart former President Joseph Estrada may also be campaigning against him.  
"Balita namin maliban sa paglaglag sa akin ni Pangulong Estrada nangangampanya rin daw siya laban sa akin. Bagaman sa iba, hindi ko alam (We got information that aside from junking me in the slate, President Estrada is also campaigning against me. Although I don't know about the others)," Escudero told reporters in Davao City Wednesday night, March 6.
"May balita kaming nangyayari iyon pero karapatan niya iyon. Hindi naman namin kayang pilitin siya na mangampanya pabor sa kahit sinumang kandidato at kalayaan niya gawin iyon sa sinumang hindi niya ninanais o hindi niya gusto," he added. (We have news that it's happening. But that's his right. We can't force him to campaign in our favor so any candidate has the right to do that to someone he likes or doesn't like).
But Escudero said he has no plans to talk to Estrada about it. 
"Hindi na siguro. Noong nagkaroon ng issue kaugnay nitong UNA, magkakaibigan naman kami pero pinili nila na makipag-usap sa amin sa pamamagitan ng media. Siguro iyon ang paraan na gusto nilang gawin. Iginagalang ko iyon at tinatanggap ko iyon (I don't think I will. The last time UNA had issues about us, they chose to talk through the media even though we're all friends. Perhaps that is what they want. I will respect it.)," Escudero said.
Not fair

The move of Estrada and Vice President Jejomar Binay – UNA's "kings" – to junk him as a common candidate was a surprise, he said. But he thinks it's all politics. 
"Hindi naman siguro nila pwedeng ipasa kaninuman ang bagay na iyon. Kaya nga kings ang tawag hindi ba? Hindi naman pwedeng ang alipores ang magdesisyon. Kaya nga king daw sila di ba," he said. (I don't think the decision to junk us could have been passed on to someone else. That's why they're called kings right? It's not as if one of the servants can make that decision.)
But Escudero did have some frustrations to air regarding UNA.
Escudero said it was unfair for Binay to feel betrayed that he did not choose UNA because he (Binay) helped Escudero in previous campaigns. He also expressed hope that UNA would stop attacking him and the former common candidates.
"Sana kung ilalaglag nila kami, ilalaglag na lang nila kami. Huwag na silang magsalita o magbitiw ng mga masasakit na salita dahil baka bumalik din sa kanila ang mga salitang sinasabi nila," he said. (If they want to drop us, then drop us. But they shouldn't be speaking badly about us or saying painful things because they might end up eating their words.)
As an example, he said UNA accused them of turning their backs on the late former presidential candidate Fernando Poe Jr, a close friend of Estrada. 
"Excuse me po pero si Loren Legarda ang vice president ni FPJ, ako ang tagapagsalita ni FPJ, at si Grace ay anak ni FPJ. Kami ang tinanggal nila at kami ang tumalikod sa layunin ni FPJ? Hindi naman siguro tama iyon," he added. (Excuse me but Loren Legarda was FPJ's vice presidential candidate. I was his spokesperson and Grace is his daughter. They junked us and we were the ones who turned our backs on FPJ? I don't think that's right). 
'We don't even talk about them'
UNA secretary-general Toby Tiangco scoffed at Escudero's accusation that Estrada has been campaigning against him.
"Ni hindi namin siya napag-uusapan. Ni hindi naba-banggit ang pangalan niya (We don't even talk about him, nor mention his name)," Tiangco told Rappler.
"I was with Erap in Cebu, CDO, I was with him in airplanes, we talk every day on the phone and there was no mention of his name… How can he assume we talk about them?" 
He also clarified it wasn't Estrada or Binay who decided to drop the 3. Tiangco said it was his own decision, after he was given authority to speak to supporters and make his own judgment depending on their sentiments. He said when he decided to drop Legarda, Poe and Escudero, he did not even consult any of the UNA leaders.
Tiangco added, "No one said they left FPJ." Instead, he said he questioned why he and the others joined Team PNoy. "What I said was they sided with those who cheated FPJ… Chiz being his spokesperson, Grace being his daughter and Loren being his vice president. I don't understand why they went with LP (Liberal Party) who criticized FPJ, who sided with Gloria (Macapagal-Arroyo) in 2004… but no one ever said they left FPJ. We just don't understand why," he said.
Tiangco also accused Escudero of "making up stories" in order to be talked about.
"They liked it when they were being fought over by both parties because their names filled the headlines," he said. "Now they'll get media mileage. They're just calling for attention." – Natashya Gutierrez/Rappler.com