The Davao City mayor also tells OFWs in Hong Kong not to be influenced by popularity surveys in deciding who to vote for in 2016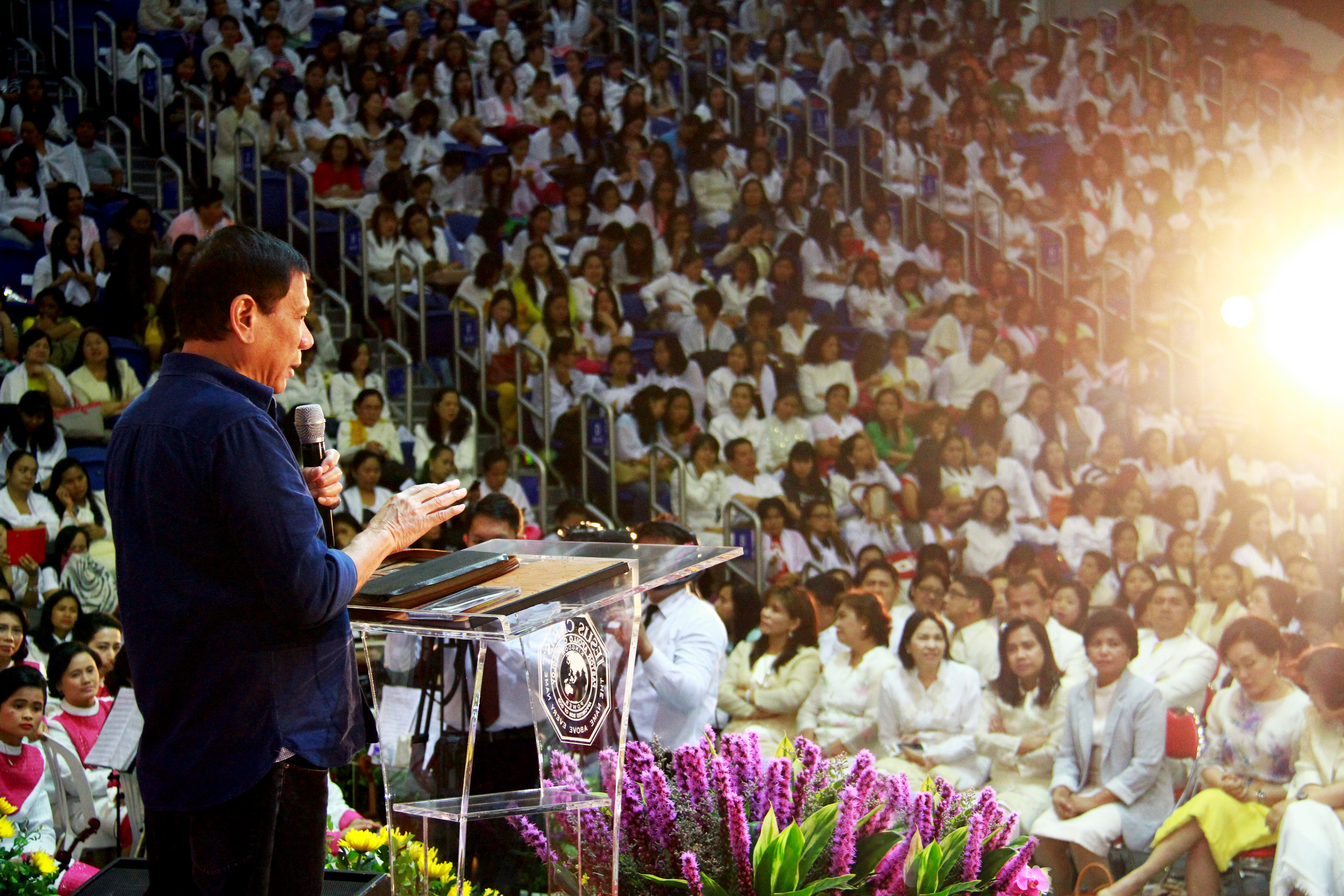 MANILA, Philippines – In the first overseas leg of his so-called "listening tour," Davao Mayor Rodrigo Duterte told thousands of Filipino workers in Hong Kong that, should he run for president and win in 2016, there will be no room for him to fail.
He also reminded some 5,000 overseas Filipino workers (OFWs) gathered at the Southern Stadium in Wan Chai on Sunday, May 17, not to be influenced by popularity surveys in choosing the next chief executive of the country.
"If ever I run for president, I cannot afford to be a failure after my 6 years in office. So if it His will for me to run, then God help me," Duterte was quoted in a statement sent out Monday by the Kingdom of Jesus Christ movement, which is headed by his good friend Pastor Apollo Quiboloy.
The Davao City mayor spoke to a crowd of about 5,000 OFWs, who attended a concert organized by Quiboloy, a Davao-based international TV preacher who has been Duterte's friend even before he became mayor.
Duterte placed 3rd in the latest survey on possible presidential contenders preferred by voters. It was the first time his name was included in the polls, and he tied with the very popular former President Joseph Estrada.
"Do not ever rely on surveys. What we should look for is who can solve our country's problems, particularly on illegal drugs and criminality," Duterte told the crowd.
Ironically, sources tell Rappler that the Duterte's camp is waiting for the results of the June survey to decide whether he will push through with his presidential bid.
Courting OFW support
Known for his iron-fist approach to criminality, Duterte said his administration's fight against illegal drugs in the last 20 years was both to protect young people from becoming drug abusers and from becoming victims of drug addicts. These young people, he stressed, are children of OFWs.
"OFWs around the world leave home in order to eke out a living only to go back home with children lost to drug addiction," he said.
OFWs are allowed to vote for national positions. More than their votes, however, they are courted by politicians for their influence on the votes of immediate and extended families back in the Philippines.
Mixed signals
The mayor of Davao had been sending mixed signals about his presidential bid. While always saying he has no intention of seeking the highest post in government, he goes around the provinces, holding forums on why federalism would solve the country's peace and order problems. 
He has also issued statements on how he would deal with the pressing national issues – including how to deal with China in our maritime dispute over at the South China Sea.
His supporters have also been distributing campaign stickers, while one of his political handlers has told Rappler it's the presidency or nothing for Duterte.
If he runs for president, Duterte is expected to share the support base of Vice President Jejomar Binay, local government units. Some quarters see him as the Liberal Party's wild card bet, in case the survey ratings of the ruling party's presumed standard-bearer, Interior Secretary Manuel Roxas II, don't improve.
Senator Miriam Santiago, who considers running for president again, has said Duterte is among her choices for a running mate.
Quiboloy's dream
During the Hong Kong event, Duterte recalled that his good friend Quiboloy told him of a dream 17 years ago that they were playing golf in Malacañang, the presidential palace.
"I already forgot about that dream until this year," Duterte said.
The preacher replied: "Who would have thought that, 17 years later, we would talk about the possibility of him (Duterte) being the next president? But still, the final decision is his to make." – with a report from Miriam Grace Go/Rappler