(1st UPDATE) According to law experts, Duterte's claim is untrue – there is nothing in the Constitution or in tradition that says vice presidents enjoy immunity
President Rodrigo Duterte said his possible vice presidential bid in 2022 is to protect him from being held legally accountable for wrongdoing, claiming the position gives him immunity from suit.
"Sabi ng batas, kung bise presidente ka, may immunity ka. Eh 'di tatakbo na lang ako ng bise presidente. After that, tatatkbo ako ng bise presidente," he said on Saturday, July 17, during a PDP-Laban assembly that discussed the 2022 elections.
(The law says, if you are vice president, you have immunity. Then I will just run for vice president. After that, I will run for vice president.)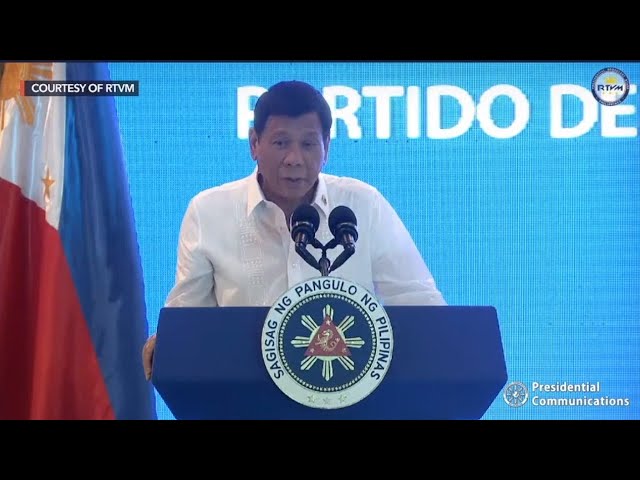 However, back when former vice president Jejomar Binay claimed he was immune from suit while he faced a plunder case, constitutional law expert Pacifico Agabin had said the Constitution does not guarantee the vice president's immunity.
"It's only the president who is immune [from suit], and that is based on tradition because he is busy handling affairs of the state. But that cannot be said for the vice president," Agabin said then.
Mel Sta. Maria, dean of the Far Eastern University Institute of Law, and former Supreme Court spokesperson Ted Te echoed Agabin's sentiments in recent tweets.
The PDP-Laban members present on Saturday cheered and applauded when Duterte spoke of him consecutively running for vice president.
Duterte mentions ICC
Duterte's remarks on vice presidential immunity from suit was triggered by his outrage at critics like retired Supreme Court justice Antonio Carpio and former senator Antonio Trillanes IV.
He accused them of trying to "scare" him with threats of legal cases. But he reserved his longest rant for the International Criminal Court (ICC), which is set to decide whether or not to formally open an investigation into his controversial campaign against illegal drugs.
"If they insist on trying me on the basis of that wrong statute which we appended illegally because there was no publication, I would go to the Constitution which says that no person shall be deprived of life, liberty, or property without due process of law, so I will transfer that phrase in my case – I was deprived of a due process," said Duterte.
The President has long insisted that the ICC cannot investigate or try him because the Philippines was supposedly never a member of the court. The Philippines ratified its membership into the ICC in 2011, with no less than Duterte spokesperson Harry Roque then recognizing and even praising the Aquino administration for the move.
"They can never acquire jurisdiction over my person, not in a million years," said Duterte, leaving little doubt that his 2022 plans will factor in ICC developments.
The ICC pre-trial chamber may announce its decision on a formal investigation into the drug war in September or October, the month when politicians must file their candidacies for the 2022 elections.
The investigation phase could include the issuance of arrest warrants by the court, potentially covering Duterte.
Personal interest
Ironically, just a few sentences later, Duterte told PDP-Laban members not to use the party for personal interest.
"I am urging all our party officials and members to remain focused on our mission of uplifting the quality of life of the Filipino people…. Let us not be blinded by our own ambitions and let us not allow this party to be used for personal interest," said Duterte, reading from a prepared statement.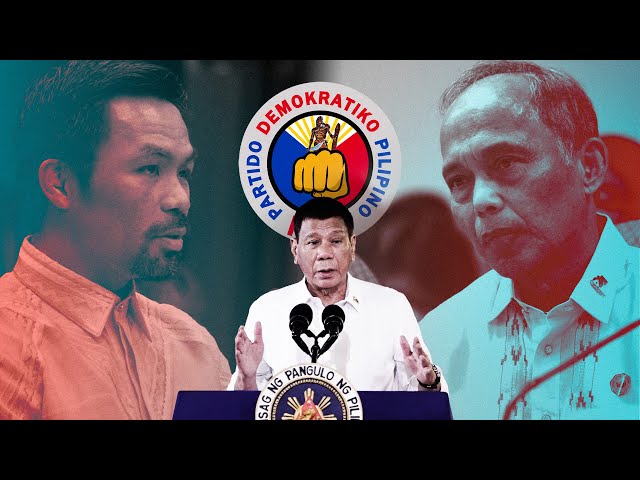 In the same speech, the President, a possible vice presidential contender, made light of the role of a vice president.
"The job of the vice president is to lie down in his official residence and wait hanggang mamatay siya (until he dies)," said Duterte.
During his term, Duterte eased Vice President Leni Robredo from the Cabinet and isolated her from his government.
He has said he fears being elected as vice president if the elected president is not an ally. But experts have said Duterte also wants an ally for president to ensure him protection from legal cases after he steps down as Chief Executive. – Rappler.com