This is AI generated summarization, which may have errors. For context, always refer to the full article.
(1st UPDATE) Reports sent by eagle-eyed netizens so far show that the practice benefits mostly allies of President Rodrigo Duterte
A number of Facebook and Twitter accounts with large followings have changed names to promote potential candidates in the 2022 Philippine elections, information crowdsourced by Rappler shows.
Several readers sent Rappler screenshots of and links to Facebook pages and groups, as well as Twitter accounts, which recently changed their display names to promote possible candidates in the upcoming national and local elections.
So far, the accounts that members of our community have spotted are mostly endorsing allies of President Rodrigo Duterte.
Among the politicians endorsed by these initiatives are Davao City Mayor Sara Duterte, Cabinet Secretary Karlo Nograles, and reelectionist Senator Sherwin Gatchalian. We've also spotted a five-year-old account now promoting Senator Grace Poe.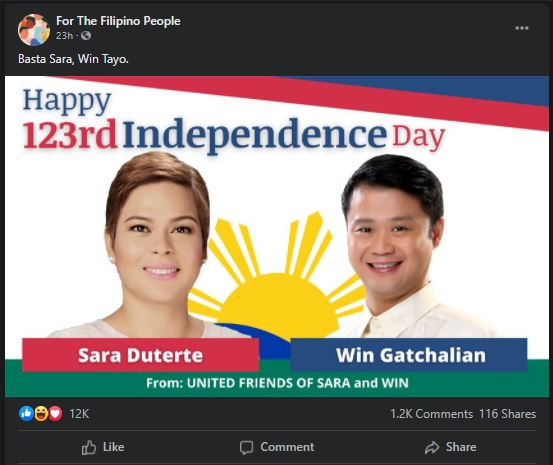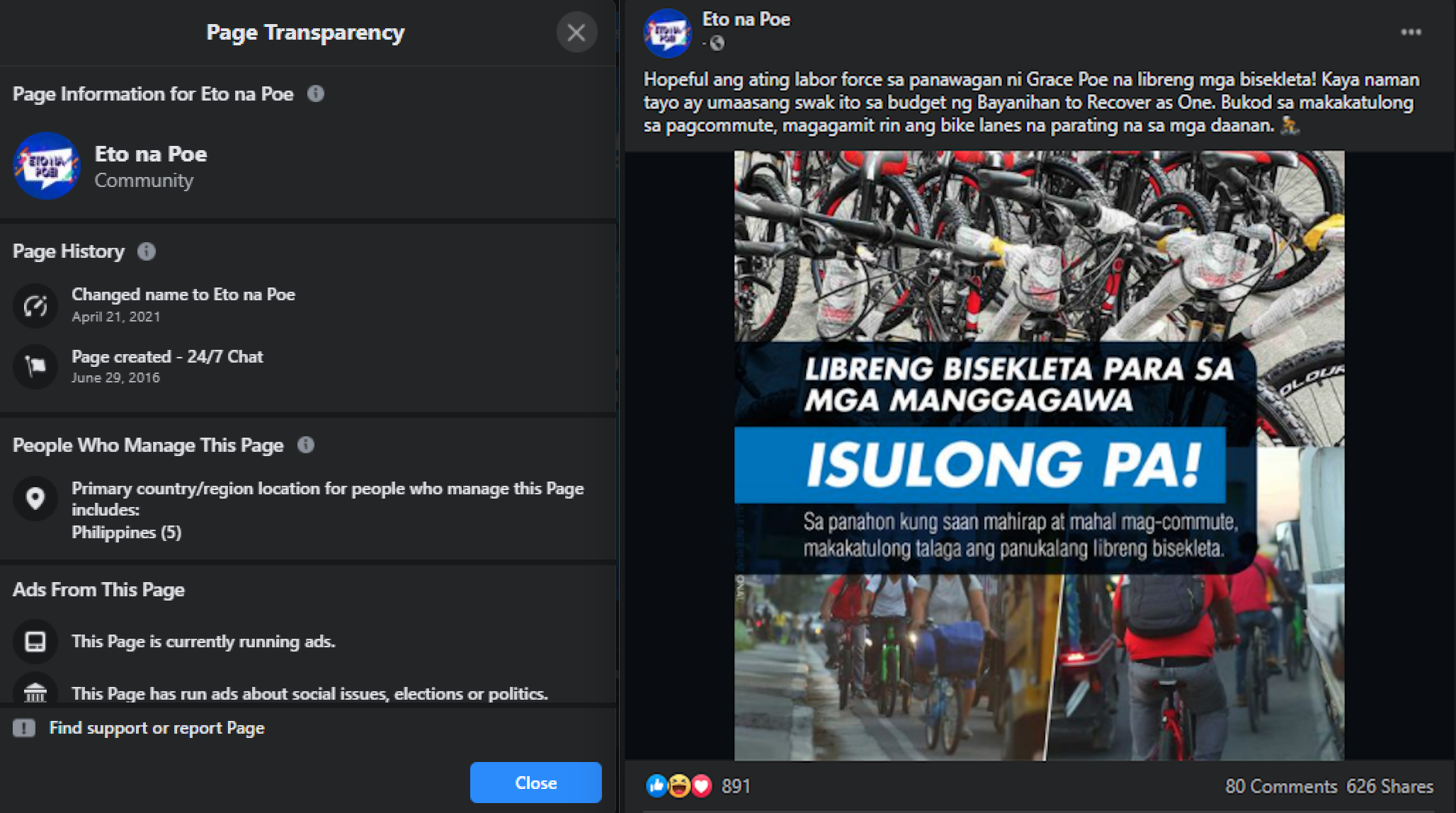 Other screenshots showed Facebook pages whose display names do not explicitly mention any candidate, but have begun posting photos and videos of politicians, including Taguig City-Pateros 1st District Representative Alan Peter Cayetano and, again, Senator Gatchalian.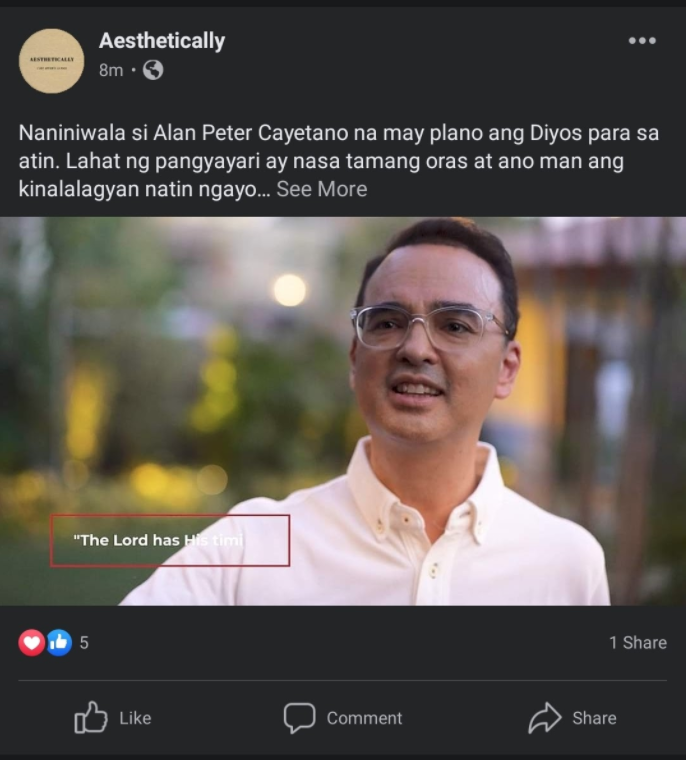 Some of the accounts were previously named after other politicians and are now endorsing another candidate. For example, a Facebook group had four names promoting then-presidential assistant Bong Go since 2018, before it was renamed to promote Sara Duterte starting 2019.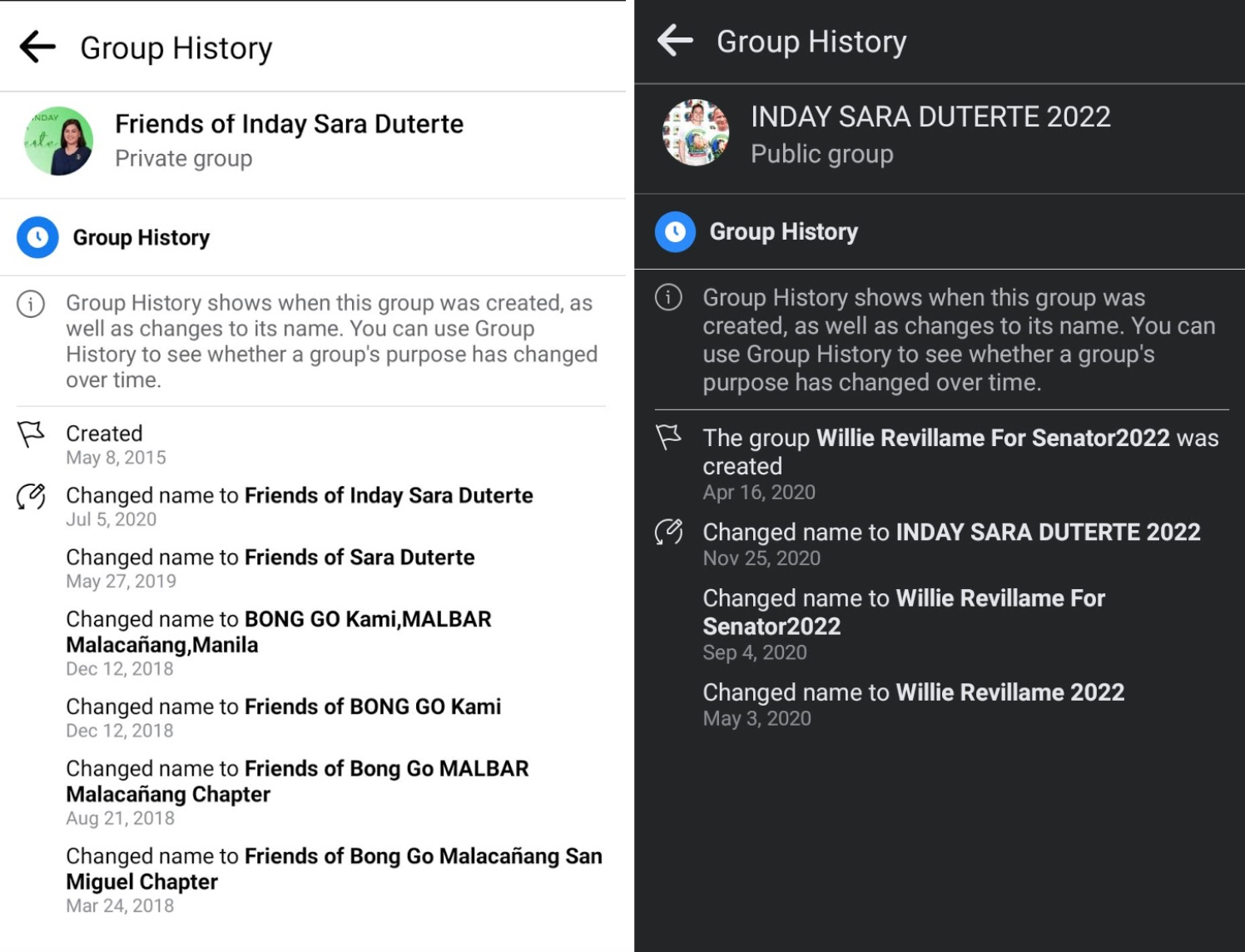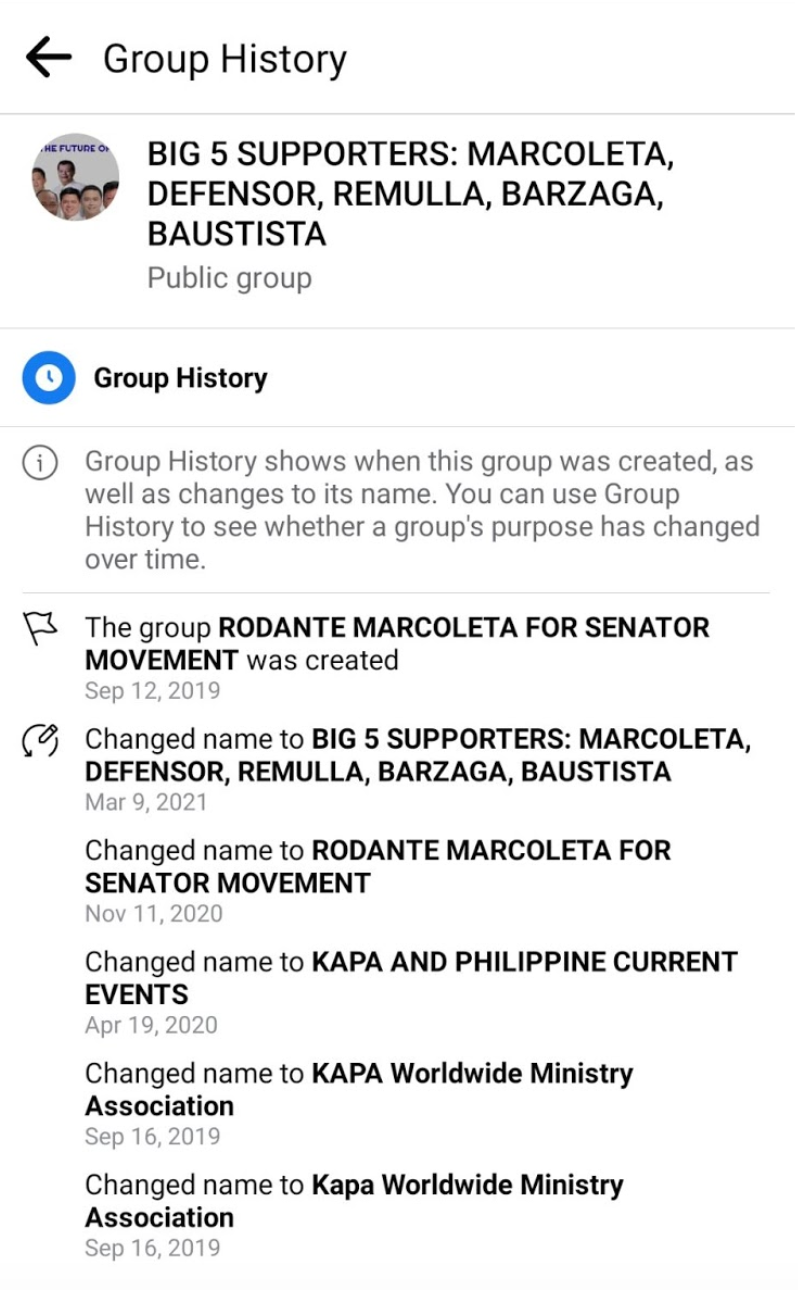 The aforementioned Facebook groups and pages are still up and running, while the Twitter accounts which endorsed Nograles have since been taken down.
Due to the dangers posed by the coronavirus pandemic, politicians have significantly shifted to campaigning using online platforms. Facebook is the second most popular social media website in the country, with 96.8% of internet users aged 16 to 64 on the platform. Twitter ranks fifth on the list, with about 62.7% of internet users from the same age range.
Activities like these have prompted the Commission on Elections (Comelec) to revisit its guidelines for online campaigning. In a Rappler Talk interview, Comelec spokesperson James Jimenez said the poll body's focus would be to ensure a level playing field amid the limited in-person campaigning.
"The challenge is to take a free platform and one that's been maximized within the hilt of its potential by some candidates, and to make it accessible at that same level to less well-funded candidates," Jimenez said.
Jimenez also said Comelec is open to partnering with tech professionals to ensure a "clean election."
Politicians aspiring for elective positions will be filing their certificates of candidacies (COCs) from October 1 to 8, 2021. (See Comelec's calendar of activities.)
This is not the first time politicians were endorsed ahead of the filing of COCs. Sara Duterte has been featured in tarpaulins posted in different parts of the country, as well as in text messages from unknown numbers blasted to random users.
Twitter: 'Protecting health of public conversation'
In an email to Rappler, a Twitter spokesperson said the accounts promoting Nograles had been suspended for violating the platform's manipulation and spam policy. The company said it consistently ensures posts on the platform are authentic and healthy by aggressively enforcing its existing policies.
The company also said it "look[s] forward" to working with relevant stakeholders and entities in "protecting the health of public conversation" as the 2022 Philippine election nears.
Twitter also said it continues to combat attempts related to state-backed information operations. Whenever the company identifies an information operation on the platform and is able to confidently attribute it to government-linked actors, it shares its comprehensive research on its public archive.
Rappler has also reached out to Facebook for comment, but has not received a reply as of writing. – Rappler.com