This is AI generated summarization, which may have errors. For context, always refer to the full article.
The move is seen to further divide the squabbling Mangudadatus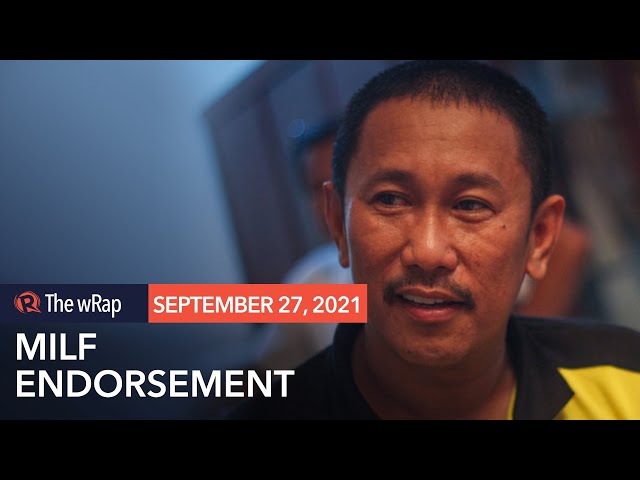 Bangsamoro Autonomous Region in Muslim Mindanao (BARMM) chief minister Murad Ebrahim on Sunday, September 26, endorsed Esmael "Toto" Mangudadatu, current Maguindanao 2nd District Representative, for governor of the province in the May 2022 elections.
The move leads to a repeat of the 2019 fight gubernatorial fight between the Mangudadatus.
The incumbent governor who won the 2019 race and is seeking reelection, Mariam Sangki Mangudadatu, is a relative of Toto; she defeated in that election Toto's younger brother, Freddie Mangudadatu.
This time around, Toto Mangudadatu, who was inducted by Murad to the United Bangsamoro Justice Party (UBJP), the official political party of the erstwhile rebel movement Moro Islamic Liberation Front (MILF), will run for governor against the incumbent – a post he first won in 2010 and held for three terms until 2019.
Also endorsed by Murad was former representative Sandra Sema, who is running for Maguindanao vice governor in 2022. Sema is the wife of Muslimin Sema, a former rebel leader of the Moro National Liberation Front.
The endorsements were made during a small ceremony at the Astana Darul Jambangan inside the Bangsamoro compound in Cotabato City on Sunday.
Like Mangundadatu, Sema actively campaigned for the Bangsamoro Organic Law, a culmination of the peace process with the MILF that paved the way for its rule of BARMM. Sema also supported the extension of the MILF-led Bangsamoro Transition Authority from 2022 to 2025.
Murad also endorsed the reelection bid of Maguindanao 1st District Representative Ronnie Sinsuat.
The Murad-Toto Mangudadatu camp has not yet named a bet for Maguindanao's 2nd district, which Toto will be vacating.
"These officials have shown their consistent support. The UBJP pledged to mobilize all of its resources and strength to ensure that these officials will win," BARMM Minister of Local Government Naguib Sinarimbo said.
He said the UBJP will field candidates for every elective post in Maguindanao and Cotabato City.
Maguindanao is one of the five BARMM provinces. The region also has three cities: Cotabato, Marawi, and Lamitan in Basilan.
Warring clan
The Mangudadatus' power rose following the involvement of the rival Ampatuan clan in the infamous Maguindanao massacre which killed Toto's wife, two sisters and 55 journalists and other civilians.
But the new power clan is bitterly divided, and Murad's endorsements are seen to further aggravate these divisions.
Incumbent Governor Mangudadatu has picked Fatima Ainee Sinsuat as her running mate under her Family Alliance group.
Sinsuat is the wife of incumbent Maguindanao Vice Governor Lester Sinsuat who will run for mayor in Datu Odin Sinsuat town in Maguindanao.
The Family Alliance is also fielding Paglas town Mayor Ibrahim "Tong" Paglas as candidate for congressman in the 2nd District of Maguindanao, and Sittie Shahara Ibrahim-Mastura in the 1st District. – Rappler.com
Froilan Gallardo is a Mindanao-based journalist and an awardee of the Aries Rufo Journalism Fellowship