The pandemic has made it harder for Filipinos abroad to commute to diplomatic posts to register. 'Overseas voting has been around for a while now, why can't they make it easier?' asks a 1Sambayan convenor in Canada.
Hundreds of thousands of overseas Filipinos are set to cast their ballots in the high-stakes 2022 Philippine elections. This election would determine who would take care of their loved ones at home, where thousands of coronavirus cases still emerge daily.
Filipinos in the Philippines and abroad originally had until September 30 to register to vote, but after clamor, President Rodrigo Duterte signed a law extending voters' registration for 30 more days.
The law made no distinction between local and overseas voting, yet overseas voter registration (OVR) ended two weeks earlier, on October 14. The Commission on Elections (Comelec) said it was because of the "unique circumstances" of overseas voting, which begins a month ahead of election day in the Philippines.
The voting period for overseas Filipinos will be from April 10 to May 9, 2022.
But with lockdown restrictions, the limited number of diplomatic posts where qualified voters can register, the priority to stay safe and healthy in a global pandemic, and the fact that not all employers would give them a day off to vote, not all who want to vote will be able to do so in 2022.
These are the stories of Filipinos abroad who hoped to take part in the next elections. Some were successful, while others can only bank on their countrymen to vote wisely.
Waiting for hours
While plenty of qualified overseas Filipinos were able to register to vote, the limited personnel, the need for personal appearances, and consulate policies still made it a difficult experience.
Mark Rivera, a security supervisor, works six days a week in a big luxury hotel in Dubai. "Kung [one day] lang kasi off, iisipin na lang magpahinga (If you have just a day off, you'd think of spending it to get some rest)," he said.
Mark had also put off registering because of COVID-19 fears. But even when he decided to set aside time to register as the end of September neared, he said there were no more slots in the consulate's online booking system.
Originally resigned to the unlikely chance at registering, Mark was relieved at the government's decision to extend voter registration. He opted to walk in on October 13, the second to the last day.
He and a long line of Filipinos queued outside the consulate for hours in the summer heat. Mark began queueing around 2 pm, and finished registering at 7 pm.
"Midnight na natapos sa haba ng pila – 'yung iba sa ibang emirates pa nakatira. May mga nahilo at di na nakakain," said Mark. (The registration ended at midnight because the line was so long – the others were based in other emirates. There were some who became light-headed and were not able to eat.)
"They apologized to us when we got inside. But I think they can do better in the future for our countrymen here abroad," Mark added in a mix of English and Filipino.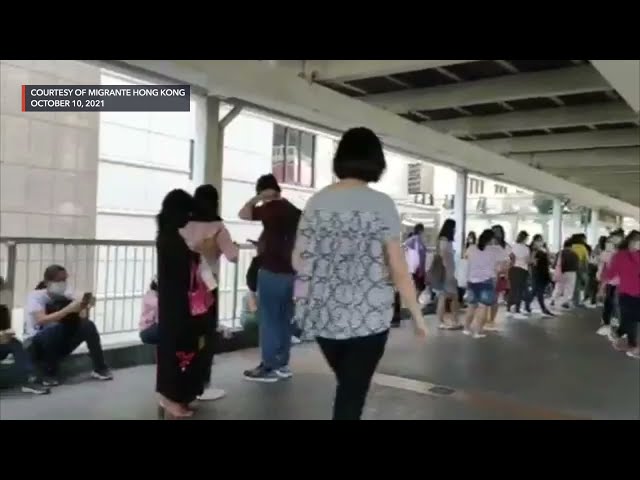 There were also long lines in Hong Kong, where the consulate estimates some 2,000 lined up on October 14, the last day. According to the consulate, some had begun queueing the night before.
The lines stretched from the United Centre lobby, to Admiralty Bridge, and forked down to the Admiralty station of the Mass Transit Railway. The lines were so long that Hong Kong police advised the consulate to ask people to disburse.
"To prevent further build-up of people, the police even guarded the end of the line until the last person was inside the building. So we had to do the cut-off earlier than we would've wanted. Had there been no intervention from the police, we may have been able to make adjustments and accommodate more," the consulate told Rappler in an email.
Some Filipinos, the consulate said, were not in line and clustered at the taxi drop-off area near the entrance to the United Centre. "They were also chanting and some were unruly, prompting the police to press us harder to ask people to leave."
Scolded
Over in Taiwan, an overseas Filipino worker posted on October 13 a now-viral video on TikTok showing an altercation between what appeared to be an employee of the Manila Economic and Cultural Office (MECO) and OFWs who walked in to register, despite the policy of scheduling an appointment.
"Kung hindi kayo tatahimik, kung hindi kayo makikinig sa aking paliwanag, iiwanan ko kayo. Kasalanan 'nyo rin 'yan," the personnel said. (If you don't keep quiet, if you don't listen to my explanation, I will leave you. It's your fault.)
The personnel explained that they announced voter registration as early as December 16, 2019, a month before the first COVID-19 case was recorded in Taiwan. Taiwan was seen to have handled the outbreak well in 2020, and only locked down after a surge in 2021.
Still, an OFW asked, "Kasalanan ba namin kung ngayon lang kami may time (Is it our fault if we were only able to make time now)?"
The personnel accused the Filipinos of "going to beerhouses and swimming" in the past year. One Filipino asked, what about us, who never went bar-hopping and swimming? The employee again blamed them for never using their time to register.
"Wala pong time. May boss po kami," another said. (There was no time, sir. We have bosses to report to.)
Rappler reached out to the MECO for their side on what happened in the TikTok video, but they have not responded.
The TikTok user posted a succeeding video, saying all of them were able to register that day.
Adapting to rules
In Chicago, USA, university student Ria Bonjoc was looking forward to voting in her very first overseas election.
The Philippine consulate in Chicago was only open on weekdays, when she would be at school, from 9 am to 3 pm. The consulate's hours stayed the same even when registration was extended until October 14. If they were open just three hours longer, Ria could have made it.
"I will admit, though, that in the past two weeks, closer to the deadline, registering completely slipped out of my mind as it was midterms, so all I was focusing on was my exams," she said.
Different posts, however, took steps to accommodate more qualified voters.
When the consulate in Hong Kong observed a surge in the number of registration applications towards the end of August, it began operating on Saturdays, and extended the working hours of its employees. 
The consulate said they would close "very late at night or up to early morning, for as long as there are registrants waiting." They also adjusted other services to better accommodate registration applicants, and gave special consideration to senior citizens, persons with disabilities, and pregnant women.
In New York, Consulate General Elmer Cato also dealt with a line that stretched along the corner of the consulate on busy 5th Avenue. They stayed open until midnight of October 14 so that they could accommodate the Filipinos who waited hours to register.
Advocates in Canada were dissatisfied with the limited reach of the posts in Canada. While there were at least nine field registration events across the country, 1Sambayan Canada convenor Erie Maestro said the still-limited access to registration was "procedural injustice," leading to the "disenfranchisement" of the Filipino voter community.
In 2020, Canada had restrictions on inter-provincial travel, causing three consular outreaches to get cancelled.
Maestro said some members of the Filipino community were migrant workers in remote areas who would need to forego work and pay just to commute to the diplomatic posts.
"​​Ang tagal-tagal na nito eh (Overseas voting has been around for a while now), why can't they make it easier?" she said.
Maestro, together with other Filipino groups, wrote a letter to the Comelec, urging for an extension of OVR, the revision of rules for personal appearance, and more outreach services.
At this point in August, President Duterte had not signed the extension law yet, and so the Comelec told them there would be no extension. They also cited the legal basis of personal appearances for biometrics capture, and listed the country-wide field registration activities.
Maestro shared to Rappler the idea of how the Department of Foreign Affairs collects biometrics during passport applications, and could just share its data with the Comelec so that Filipinos would no longer need to make personal appearances.
"That is a question of agencies not collaborating with each other so that the Filipino would have it easy in terms of registering," Maestro said.
Did they not think to adapt to the global pandemic? You're talking about rules when you should actually be thinking about voters.
Erie Maestro, Filipino in Canada
Energy towards voter education
The list of flaws in the overseas voter system can go on and on. Toronto-based quality control lab technician Lui Queaño was disappointed when he was not able to secure his dual citizenship, a prerequisite for registration, because his consulate did not schedule his oath taking before the registration period ended.
Meanwhile, culinary student and part-time worker Jared (not his real name) was unable to register as he was caught up settling in Mississauga amid his recent move from the Philippines to Canada in August. Mississauga is right next to Toronto on the map, but the Toronto consulate is a two-hour drive away from his workplace in Mississauga.
Still, the two remain hopeful. Voting is not the only thing Filipinos can do to participate in genuine change.
"Wala akong tigil sa pag-educate sa mga kababayan on social media, lalo na laban sa pagbabalik ng Marcos at sa pagnanais ni Duterte sa kapangyarihan," said Queaño.
(I don't stop educating my countrymen on social media, especially against the return of the Marcoses and the thirst of Duterte for power.)
For Jared, the fight continues in spreading facts to those around him, especially his relatives who are registered to vote. "I will continue to fight the spread of fake news among my circle," he said.
On October 18, the Comelec said it would tackle appeals to extend overseas voter registration in select areas. With a week left before the registration period officially closes under the law, overseas Filipinos can only hope it will be enough. – Rappler.com