The senator says Duterte's programs are 'inscribed in [his] heart'
What will a Philippines look like under a Ronald dela Rosa presidency? Not much different from what it's like under his "idol" and longtime boss, President Rodrigo Duterte.
"Of course. That's a main consideration why the party nominated me to become the standard-bearer," said Dela Rosa in a media interview on Monday, October 11, when asked if he'd continue the programs of Duterte, including the controversial "war on drugs."
Dela Rosa filed his candidacy for president under the Alfonso Cusi-led wing of the ruling PDP-Laban.
The former police general, Duterte's first pick to lead his bloody campaign against illegal drugs, said Duterte's programs are "inscribed in [his] heart." When asked to provide more details, however, the senator said it's "too early" in the campaign.
But at least one thing is certain – Oplan Tokhang, among the programs and policies under Duterte's bloody campaign against drugs, is pushing through.
"Of course! Of course tuloy 'yan. But of course hindi naman tayo magbibingi-bingihan sa mga suggestions on how to make it work very good. Kailangan natin i-consider mga recommendations, kung meron tayong kailangan baguhin as far as policies are concerned. So kung baga, mag-a-adjust tayo to the changing times," he said.
(Of course! Of course we'd continue that. But of course, we will not be deaf to suggestions on how to make it work very [well]. We need to consider the recommendations, if we need to change anything as far as policies are concerned. We should adjust to the changing times.)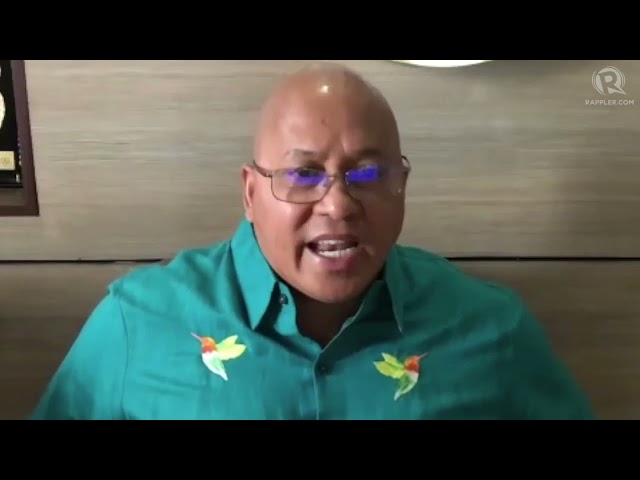 Dela Rosa's initial 2022 promise – to continue Duterte's policies – isn't surprising for an administration candidate. "Continuity" was precisely the promise of the Liberal Party's "RoRo" tandem in 2016. Mar Roxas lost to Duterte while Leni Robredo won the vice presidency by a hairline over Ferdinand "Bongbong" Marcos Jr., the son and namesake of the dictator.
Senator Bong Go, long-time Duterte aide, promised the same thing when he filed his candidacy on October 2.
Tokhang?
Tokhang – a portmanteau of the Bisaya words "toktok" (to knock) and "hangyo" (to plead) – is a program Dela Rosa founded when he was police chief of Davao city. It's supposed to be a campaign where police officers ask suspected drug personalities to surrender. In practice, however, "tokhang" became shorthand for extrajudicial killings, both at the hands of the police and unidentified vigilantes.
The so-called "war on drugs" was the centerpiece of Duterte's 2016 run, when he promised to eliminate drugs in three to six months. Duterte has less than a year left in his term and the "drug war" – in its many iterations – persists.
The "drug war" has also been paused and tweaked several times under Dela Rosa's time as PNP chief – mostly in response to controversies, such as the killing of a South Korean businessman.
The International Criminal Court (ICC) pre-trial chamber recently announced they've decided to greenlight a probe into the "war on drugs," as well as alleged extrajudicial killings during Duterte's time as Davao mayor and vice mayor. Dela Rosa is mentioned in the ICC pre-trial chamber's 41-page decision.
Malacañang has vowed not to cooperate in the probe.
Dela Rosa is the latest entry in a presidential race with a long cast of characters. Most of his would-be 2022 rivals are either against the drug war totally or want to tweak aspects of it:
Senator Manny Pacquiao, who leads the PDP-Laban faction that the Cusi group wants deemed "illegitimate," was supportive of the "drug war" in the beginning, but changed his stance after the killing of Kian delos Santos, a teen who was killed point-blank by cops in the guise of an anti-drug operation.
Bongbong Marcos, whose family supported Duterte's 2016 run, said he'd also continue the "drug war" with focus on prevention. He said ICC investigators may come to the country but only as "tourists."
Former PNP chief Senator Ping Lacson would get rid of tokhang and focus on prevention strategies.
Manila Mayor Isko Moreno said the "drug war" would continue, but "in a different manner, under the blanket of existing laws and rights." He is also open to rejoining the International Criminal Court.
Labor leader Leody de Guzman, among the first of the 2022 candidates to bare his platform, is against both the "war on drugs" and the country's withdrawal from the ICC.
De facto opposition leader and Vice President Robredo has been against the bloody campaign against illegal drugs ever since. She's also said that it's the country's "international obligation" to cooperate with the probe.
Dela Rosa found out about – and immediately agreed to – the Cusi faction's decision to field him as president only two hours before the deadline for the filing of candidacies in the 2022 elections. Cusi, who is also energy secretary, had apparently only told him of the party's decision only at 3 pm.
While insisting that he's heading into the presidential race to win, Dela Rosa has openly said he's willing to back out of the race should presidential daughter Sara Duterte change her mind and run for president instead. – Rappler.com