This is AI generated summarization, which may have errors. For context, always refer to the full article.
The Octa Research Group revises its original projections of 2,400 daily cases in Metro Manila by March 26
Due to the faster spread of COVID-19 in the National Capital Region in recent days, the Octa Research Group revised its projections of new confirmed daily cases of COVID-19 in Metro Manila in its March 12 report, saying that it could now exceed 4,000 infections per day by end of March.
The group earlier estimated in February that the caseload in the region could reach 2,400 cases per day by March 26.
"In the February 17 report, the number of new COVID-19 cases in NCR was projected to reach 2,000 on March 22. It appears that the current trend is faster, as the region tallied nearly 2,000 cases on March 11, 11 days earlier than projected," the Octa Research Group said in its March 12 report.
The group said this makes Metro Manila a high-risk region.
The Octa Research Group used a higher reproduction rate in its new estimates, from 1.6 in the original projections to the current rate at 1.86. The reproduction rate is the number of people that one COVID-19 positive case can infect. (Experts recommended keeping this below 1 for the pandemic to remain within manageable levels.)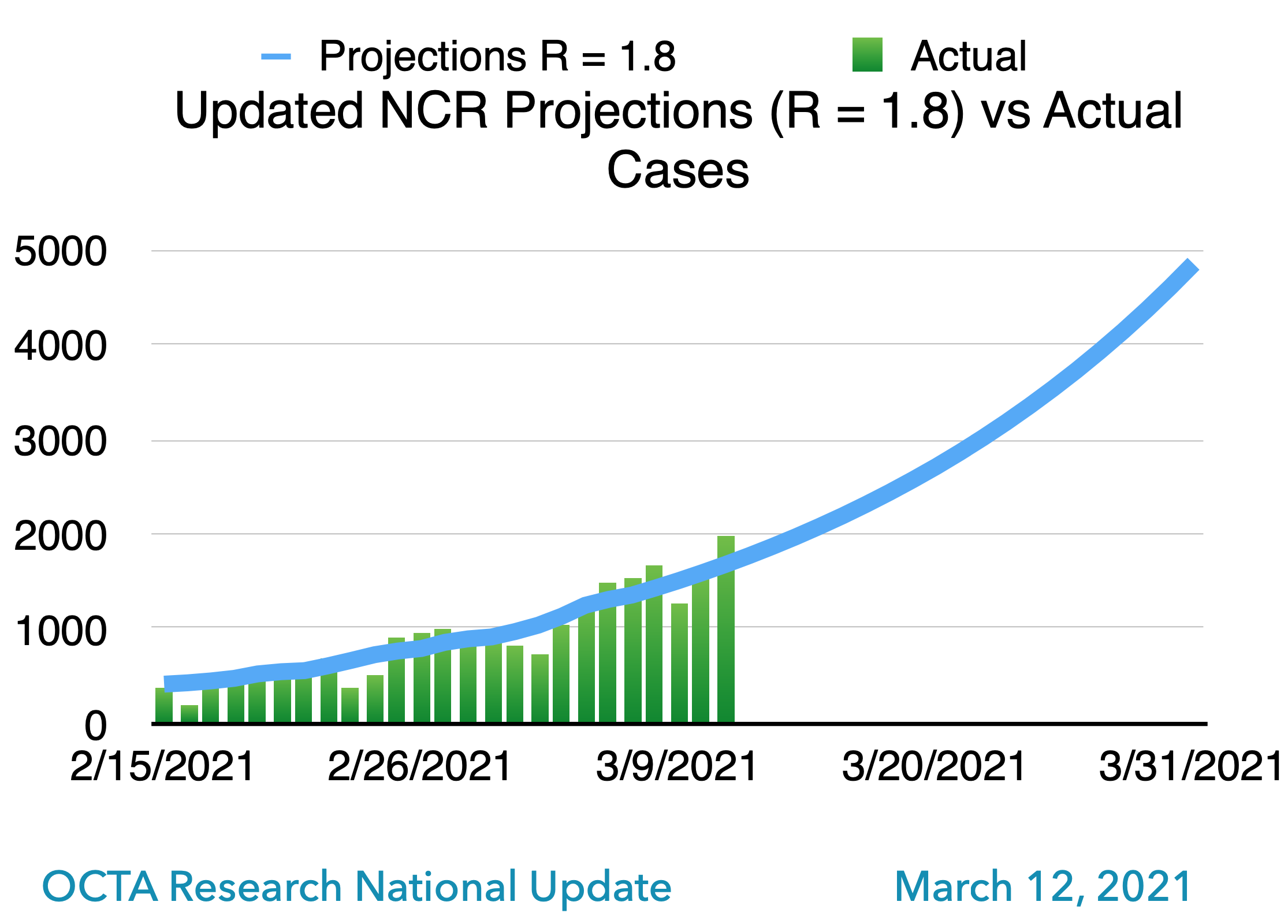 "It is important that the increase in new cases in the NCR be curbed in order to avoid a high number of new cases in NCR and to prevent overwhelming the hospitals of NCR and the regions surrounding NCR (Cavite, Rizal, Bulacan). Localized lockdowns have been shown to be effective in slowing down increasing trends in new cases," the Octa Research Group said.
New cases in Metro Manila reached 1,975 on Thursday, March 11, bringing its 7-day average to 1,546 new cases per day. This prompted Metro Manila mayors to impose uniform curfew hours for two weeks, from 10 pm to 5 am, starting Monday, March 15.
Aside from curfews, the Octa Research Group also recommended additional restrictions such as border controls, reduced capacity in certain establishments, limitations in social gatherings, continued compliance with health protocols by residents, and strict monitoring and implementation of the protocols by the local governments.
The group said these measures would "hopefully slow down the rate of infection in NCR and put an end to this surge."
Metro Manila is under general community quarantine until March 31.
– Rappler.com