Results of a Pulse Asia survey show that only 16% of respondents would have themselves vaccinated
As COVID-19 cases continue to rise in the country, vaccine hesitancy among Filipinos remain high, a recent survey from Pulse Asia showed.
The survey, conducted from February 22 to March 3, showed that the greatest number of respondents at 61% would say "no" to getting inoculated with a COVID-19 vaccine if the shot was available during the polling period.
This is an increase from the previous Pulse Asia survey released in January 2021, when 47% of Filipinos said they were unwilling to get vaccinated if a COVID-19 shot was available.
The latest survey results released on Friday, March 26, also found that only 16% of respondents would have themselves vaccinated, while 23% said they "cannot say" if they would have themselves vaccinated. 
Pulse Asia conducted face-to-face interviews with 2,400 Filipinos aged 18 years old and above for its survey fieldwork. The survey has a 95% confidence level with a ±2% margin of error. 
The survey was conducted just as the Philippines was beginning to roll out COVID-19 vaccines donated by the WHO through the COVAX Facility (AstraZeneca doses), and by China (Sinovac doses) on March 1.
Safety
Among those unwilling to get vaccinated, the survey found that the respondents' top three reasons for refusing a vaccine were the following: 
"Not sure of its safety" – 84%
"Vaccine might not be effective" – 7%
"A vaccine is not needed to combat COVID-19" – 6%
Concern about the safety of a vaccine was higher in virus epicenter Metro Manila (90%) and Balance Luzon (86%) compared to the Visayas (80%) and Mindanao (80%).
Aside from this, 1% of survey respondents said they would not have themselves vaccinated as the vaccine "might not be free," while another 1% said they would not get vaccinated because it "might be costly or expensive."
Preferred vaccine brand
The survey also found that the vaccine developed by Pfizer was the most preferred by those willing to get vaccinated against COVID-19.
"Among Filipino adults inclined to get a COVID-19 vaccine, 52% choose the vaccine developed by Pfizer – a view echoed by small pluralities to huge majorities across geographic areas and socioeconomic groupings (38% to 73% and 48% to 73%, respectively)," the Pulse Asia report said.
Only 22% of the respondents favored the vaccine developed by Chinese drugmaker Sinovac.
"Other COVID-19 vaccines preferred by at least 1% of those willing to get vaccinated against the disease are those made by AstraZeneca (6%), Gamaleya Research Institute (3%), Johnson & Johnson (1%), Sinopharm (1%), and Moderna (1%)," the the report said.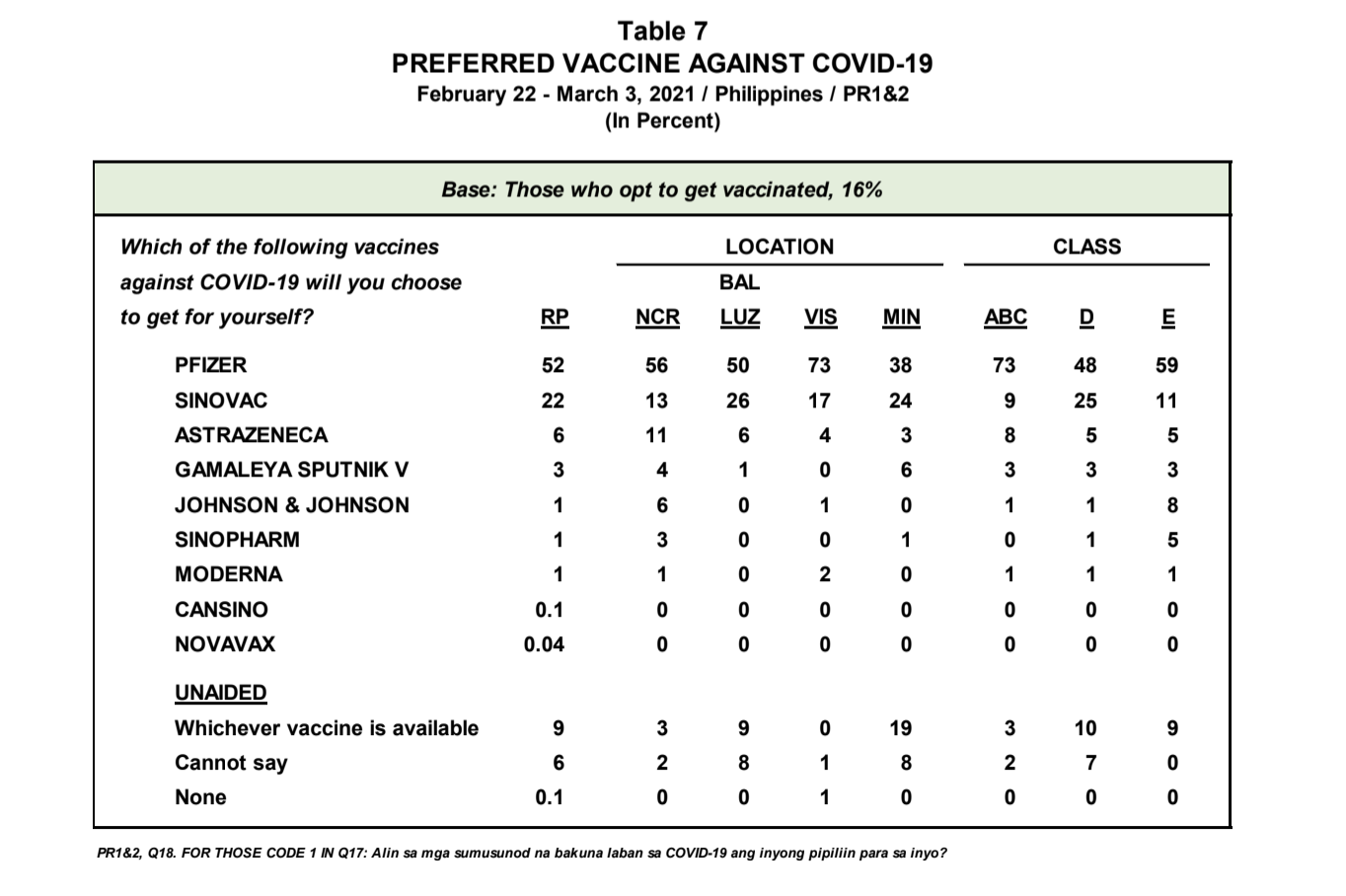 Why this matters
The number of respondents unwilling to get vaccinated against COVID-19 underscores the challenges health officials still need to confront in boosting demand for the highly scarce and coveted product.
Vaccine fears fanned by the Dengvaxia scare had pulled down immunization rates in the country, even for proven vaccines.
In 2017, Dengvaxia manufacturer Sanofi Pasteur revealed that those inoculated with the vaccine who had never had dengue were at risk of contracting a more severe form of dengue. Public opinion formed that Dengvaxia killed a number of children who were administered with it, although there are still no proven links between the vaccine and the deaths.
The Philippines on Friday reached a grim milestone as active COVID-19 cases in the country breached the 100,000-mark after the Department of Health reported a record-high 9,838 new COVID-19 infections. This brings total cases in the country to 702,856. – Rappler.com