The groups add that Duterte helps in whitewashing the crimes committed by the late dictator
On the 49th anniversary of the Martial Law declaration, various groups and institutions pointed out the tyranny of late dictator Ferdinand Marcos lives on through the leadership of President Rodrigo Duterte. 
In a statement on September 21, the Philippine Alliance of Human Rights Advocates (PAHRA) said "never again," a slogan used to criticize Martial Law, has become more significant under the Duterte administration.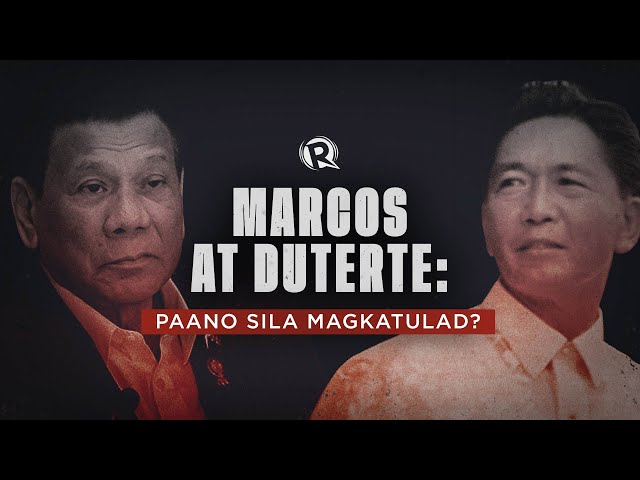 "Forty-nine years has not dimmed the memory of the brutality and monumental greed of the Marcos dictatorship. Today we face tyranny and thievery. Today we raise our voices again – end tyranny, end thievery, and end the madness!" Task Force Detainees of the Philippines chairperson Fr. Christian Buenafe said.
The Asia Pacific Research Network (APRN) also said that Duterte is responsible for rehabilitating the Marcoses return to power. The group added that the current administration contributed to the whitewashing of crimes committed by the late dictator. 
"Despite massive literature and verifiable sources on the Marcos atrocities, Duterte has helped the dictator's family to peddle a different version of history," APRN acting general-secretary Mara Medrano said.
For Council for People's Development and Governance spokesperson Liza Maza, Duterte has justified repression as a requisite for development, just like Marcos: "Dissent and criticism are maligned as destabilization. Those who stand up and speak out are red-tagged to deny them platforms for meaningful discourse. This is Marcosian to the core."
To stay in power, late dictator Ferdinand Marcos declared Martial Law on September 21, 1972. The tyrannical rule, which lasted for over 10 years, caused thousands of deaths and human rights abuses.
Revising history
The Ateneo de Manila University (ADMU), which houses the Ateneo Martial Law Museum, said that there are now individuals who deliberately revise history to favor the Marcoses.
"But for the past few decades the memories of that period have been slowly receding in our rear-view mirror…The main actors are now back in the spotlight, working hard to blatantly revise history," the ADMU said in a statement on Tuesday.
Ateneo also said that its biggest challenge now is to ensure that the horrors of Martial Law will not be forgotten.
"That is why, as an educational institution, this is now one of our biggest challenges: to make sure that we, as a nation, will never forget…Together, we need to keep the memory of Martial Law so that we won't make those same mistakes again," the university added.
Historians and rights groups considered the Marcos regime as one of the darkest chapters in Philippine history. From 1972 up to 1981, rights group Amnesty International recorded a total of 3,340 people killed, 70,000 imprisoned, and 34,000 tortured at the hands of Marcoses. – Rappler.com