The presidential bet proposes using phytosanitary standards to lessen rice imports hurting incomes of Filipino farmers
From putting up cold storage facilities in every province to making a department for fisheries, Manila Mayor Isko Moreno explained his platform to improve agriculture and food security during a dialogue with Tarlac farmers.
Moreno, running mate Willie Ong, and senatorial bets Samira Gutoc, Carl Balita, and Jopet Sison visited Barangay Banaba in Tarlac to speak to around a hundred farmers and agricultural workers.
Tarlac is Moreno's second major gathering since filing his candidacy for president. The week before, he was in Lipa City, Batangas, showing his campaign team's focus on Luzon.
The presidential bet kept his speech below six minutes, saying he wanted to devote more time to answering questions from the farmers themselves.
Here is a video showing the entire question and answer portion between Moreno and the farmers.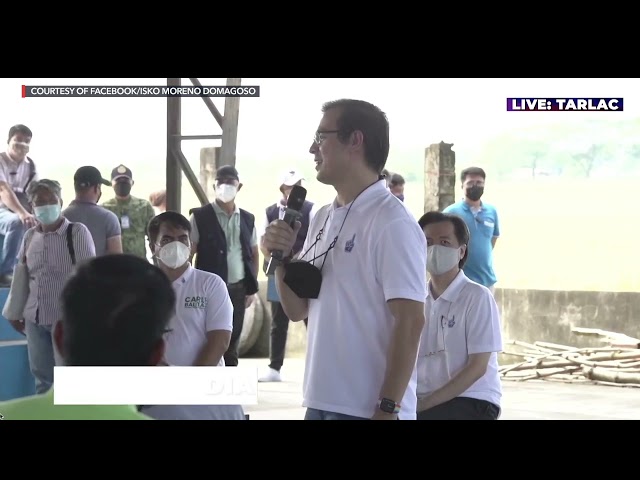 Four farmers took the microphone: Marlon Lacsina of Sibul Tarlac Farmers and Irrigators' Association, Samson Velasco of Sembrano Climate Resilient Farmers Cooperative, Rocky Gutierrez of Comillas FFS Agricultural Cooperatie, and Roy Pascua, a fisherman.
They asked questions like how will Moreno help increase farmers' income given the flooding of cheaper imported rice and price manipulation by traders? How will he help vegetable farmers who don't earn as much when their crops are sold cheaply because they are wilted or of low quality when they reach cities?
Below is a summary of what Moreno said:
Put up cold-storage facilities in all provinces on National Food Authority land: Moreno claims all provinces have idle land owned by the National Food Authory. He proposes building cold storage facilities on them which can be used by farmers to keep excess vegetables, pork, chicken, fish, or other products so that they can retain freshness and high quality, allowing them to be sold at higher prices. This means higher income for farmers and fishermen.
Slash oil and electricity taxes by 50%: This would lower production cost of farmers and fishermen since they use fuel-dependent machines for their livelihood. It would also reduce their transportation costs, ultimately helping them earn more.
Reduce rice imports by imposing higher quality standards: Because the Philippines has signed international agreements that it would not restrict the quantity of rice imports, one way Moreno proposes to reduce rice imports is to be stricter in the quality of imported rice allowed to enter the country. He mentioned using the power of the government to issue phytosanitary certificates, which ensures that rice is free of pests. "Paparaanin natin sa butas ng karayom (We will make them through the eye of a needle)," said Moreno.
Government to import only enough for a 30-day rice reserve readied for calamities, disasters
Crackdown on illegal rice importation: "Bilang na araw ng smuggler (The days of smugglers are numbered)."
Rice price "floor" and subsidies for farmers: There should be a minimum price for palay to give farmers more certainty and give less room for traders to manipulate prices, said Moreno.
Separate fisheries from the mandate of Department of Agriculture: The Bureau of Fisheries and Aquatic Resources is currently under the Department of Agriculture. Moreno wants a new entity to supervise over just fisheries. "Parehong may atensyon, then may kapanatagan ang tao na mayroon siyang machichicha." (If both get attention, then people will not worry if they will have something to eat.)
Put up "silos" so that farmers don't need to dry their crops on the road
Before declaring his presidential bid, Moreno had consulted a slew of economic and governance experts to help him craft his platform, sources privy to discussions told Rappler.
Yaps attend Isko event
Tarlac Governor Susan Yap and Tarlac 2nd District Representative Victor Yap were present at Moreno's event, but did not speak during the program.
As of 2019 data, Tarlac is home to 840,000 voters. The home province of the late president and Liberal Party leader Benigno Aquino III, the 2016 presidential race in Tarlac went to then-LP standard-bearer Mar Roxas. In second place was Grace Poe, followed by Rodrigo Duterte. – Rappler.com