(1st UPDATE) 'Kayo na naman? Thirty years na kayo magkaaway, umunlad ba Pilipinas?' asks Isko Moreno, putting his own spin to populist messaging against political elites
In 2016, a tough-talking Davao City mayor pitted himself against "disente" (decent) politicians associated with the Liberal Party.
In 2021, a smooth-talking Manila chief is echoing the same message, but with a twist all his own.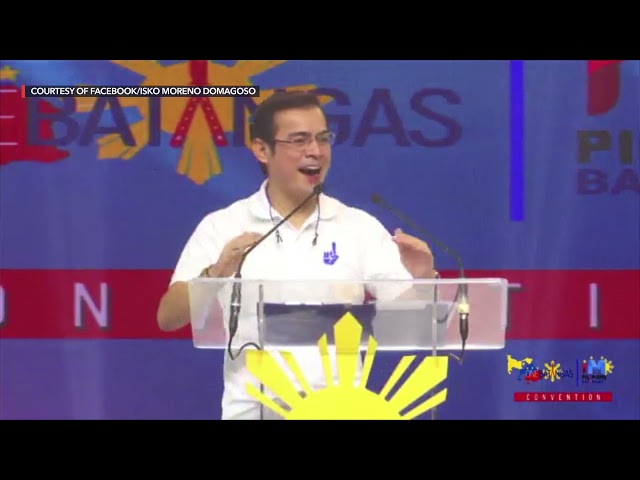 Presidential bet Isko Moreno, smarting from criticisms of fence-sitting and an international news headline that called him a "porn star," hit at political elites for rejecting him.
In his narrative, he has been chewed up and spat out because of his humble origins and his lack of a powerful surname.
"Maraming nagsalita sa akin nang 'di maganda, masakit. Hindi niyo malalamon, lahat ng masakit na sinabi sa akin. Kahapon lamang tinawag pa akong porno star," said Moreno on Friday, October 15, in a packed events center in Lipa City, Batangas.
(Many spoke hurtful things against me. You wouldn't be able to stomach all the things they said about me. Just yesterday, I was called a porn star.)
"Ang sakit eh. Para bang 'pag mahirap ka, wala ka nang karapatang umangat dahil hindi ka katanggap-tanggap sa kanila na mga moralista, mga disente. Disente kuno," he added, his voice shaking, visibly emotional.
(It hurts. It's as if, if you are poor, you don't have the right to better yourself because you are not acceptable to them, the moralists, the decent. The supposedly decent.)
It was President Rodrigo Duterte himself who, in August, publicly belittled Moreno for his past sexy roles and photos. Though Moreno did star in a few movies with racy scenes, he is not a porn star. His time working in government, 23 years, also surpasses the years he spent in showbiz.
Without mentioning any specific politician or family, Moreno derided elites for treating Filipinos as "puppets" to be fooled and toyed with.
"Kayo na naman? Thirty years na kayo magkaaway, umunlad ba Pilipinas? Umunlad ba ang tao? (You again? You've been fighting for 30 years, did the Philippines prosper? Did the people prosper?)" asked Moreno who keeps promising to be a "healing" president.
For days, Moreno has alluded to the fight between the Marcoses and opposition, simplifying it as mere political bickering. But many groups in the opposition reject the Marcoses because of the human rights abuses and plunder during the Marcos dictatorship.
In the same speech, Moreno promised past abuses would never be forgotten and that he would hold accountable anyone who stole from public coffers.
Classic populist messaging
Moreno's messaging is classic populism, in which a politician appeals to peoples' grievances and channels them against a certain group, usually labeled as "elites" or, as with Duterte, "oligarchs."
In a Rappler podcast, Gideon Lasco, who wrote about populism during a pandemic, said divisiveness is a key aspect of populist messaging.
"The logic on populism rests on not just saying what people want to hear, but also to sustain this divisive logic of populism you have to blame people for problems, or you have to really ascribe culpability to a certain group," he had said.
In 2016, Duterte pitted him and Filipinos against the political elites in Metro Manila and the businessmen who backed them. But Duterte, though outside Manila political circles at the time, was a political elite himself, growing up the son of a governor and Marcos Cabinet member.
Moreno, who picked trash as a boy in the slums of Tondo, wields the populist narrative with credibility.
In his Friday speech, he spoke of a destitute drunk who binges on alcohol to forget his hunger to illustrate the "judgement" of those who never knew poverty.
"Yan ang buhay sa kalsada. Hindi natin sila kinukunsinti pero tama ang katwiran nila. Mayroon silang karapatan sa katwiran nila. 'Pag kaming mahihirap, nangangatwiran, bastos? Aba, ikaw na ang marangal. Ikaw na ang mapunta sa langit," said Moreno.
(That's life in the streets. We don't allow that but that's their justification. They have a right to their justification. We, who are in poverty, are pigs when we try to explain ourselves? You are the noble one. You will go to heaven.)
Will Moreno's messaging capture many Filipinos, as Duterte's messaging did in 2016? The Manila mayor made his speech in Batangas, a province where Duterte won as president.
Isko vs. Robredo, Marcoses… Dutertes?
Is Moreno's refusal to mention specific politicians or families a calculated move? The vagueness leaves tantalizing blanks.
While it was Duterte who made "disente" (decent) practically a bad word, Moreno hits all politicians who can bank on famous family names. In some speeches, he sounds like he is including the Dutertes in his indictment.
Take his speech at the launch of his presidential bid on September 22.
"First, I don't belong to a large clan. I am neither son or a daughter of a president," said Moreno, at a time when administration allies were pushing Duterte's daughter Sara to run for chief executive.
"You won't see the face of my ancestors in peso bills. No avenues named after them… I have pulled myself out of the gutter with no Daddy Warbucks helping me along," he continued.
Among the prominent names in the 2022 presidential race, only two others can credibly claim to come from poverty – boxing icon Manny Pacquiao and labor leader Leody de Guzman.
Vice President Leni Robredo, asked about Moreno's recent tirades on Friday, responded this way: "Magpapaka-gentleman na lang ako, ha? Ayoko nang pumatol. Kasi mas malaki ang mga problema natin."
(I'll be a gentleman, okay? I will not engage because we have bigger problems.) – Rappler.com