Mayors and governors must decide based on which kind of aid will be faster to distribute, says Malacañang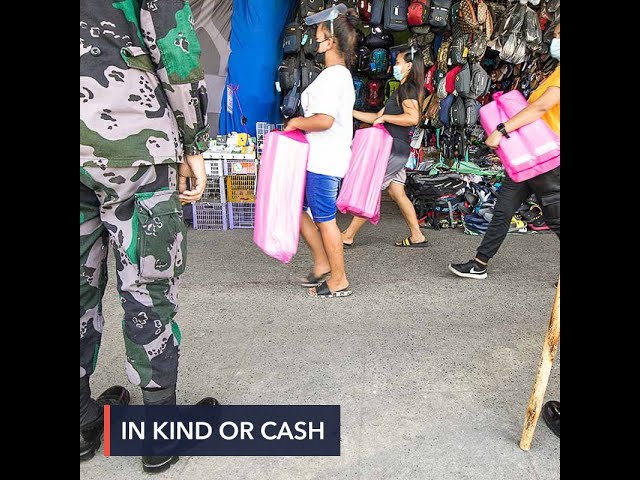 After Budget Secretary Wendel Avisado said that the P1,000-assistance for low-income individuals in "NCR Plus" would be "in kind," Malacañang said that President Rodrigo Duterte ended up signing a document that allows local governments to distribute the aid in cash.
"The memorandum signed by the President is silent whether in cash or in kind," said Presidential Spokesman Harry Roque said during a news briefing on Tuesday, March 30.
Asked by Rappler if the change was a last-minute modification by the President, Roque was vague. He only said that the written document Duterte signed was "different from what was announced" by Avisado.
"Well, let's just say that originally the concern was that the aid should really go to food but we realized, in a pandemic, it should be faster. LGUs should be given, somehow, leeway," said Roque.
"If they can assure they can buy in-kind fast, then no problem. But if they have to buy and it will take longer, then better if cash," he added in Filipino.
Some 22.9 million individuals, all a part of the low-income population of Metro Manila, Bulacan, Cavite, Rizal, and Laguna, are set to receive the aid through their local governments.
Each individual will be entitled to P1,000 worth of aid or cash while families can receive a maximum of P4,000 worth of aid or cash.
Ready for a lockdown extension?
Asked if the government will also prepare aid for small businesses and workers affected by the one-week enhanced community quarantine (ECQ), Roque said such aid is "continuously" being given with additional funding from the 2021 national budget.
If the lockdown were to be extended until April 18, as some government experts are recommending, Roque said it's possible that the Duterte administration will ask Congress for a supplemental budget for aid.
But Roque said such an extension is a "last resort," expressing confidence that the one-week lockdown has given hospitals time to adjust.
However, vaccine czar Carlito Galvez Jr, said an extension may be the only option if cases continue to rise "exponentially." The pandemic task force is set to meet on April 3, Black Saturday, to discuss a possible extension.
On Monday, new COVID-19 cases breached the 10,000-mark, the highest spike in transmissions since the pandemic began. – Rappler.com