Defense Secretary Delfin Lorenzana insists the fabricated posts have basis
Defense Secretary Delfin Lorenzana defended fabricated Facebook posts spread by Philippine military units and officers, arguing that the posts "have basis."
On Tuesday, September 8, Kabataan Representative Sarah Elago confronted the Department of National Defense (DND) during its budget briefing before the House of Representatives, flashing posts of Armed Forces of the Philippines (AFP) units that spread false statements to smear her name.
"Mariin nating kinokondena hindi lamang ang pagkakalat ng fake news pati pagwawaldas ng pondo at ang negligence…. AFP na mismo ang naging fake news purveyor," Elago said through Zoom.
(We vehemently condemn not only the spreading of fake news, but also the wasting of funds and negligence…The AFP itself is becoming the purveyor of fake news.)
Lorenzana replied, saying, "these published materials of the Armed Forces, they do not publish without basis…Those have basis because we have documents as basis." (READ: Lives in danger as red-tagging campaign intensifies)
What did the fake posts say?
The fabricated posts placed Elago in unflattering edits with fabricated statements that appear to have been crafted to incite public anger and to red-tag her.
"Bakit ako manghihinayang sa walang kwentang buhay ng NPA (New People's Army) kung marami naman ako pwedi(sic) irecruit na mga tangang estudyante (Why would I commiserate with the worthless lives of NPA rebels if I have a lot of dumb students I can recruit?)," said one of the false statements.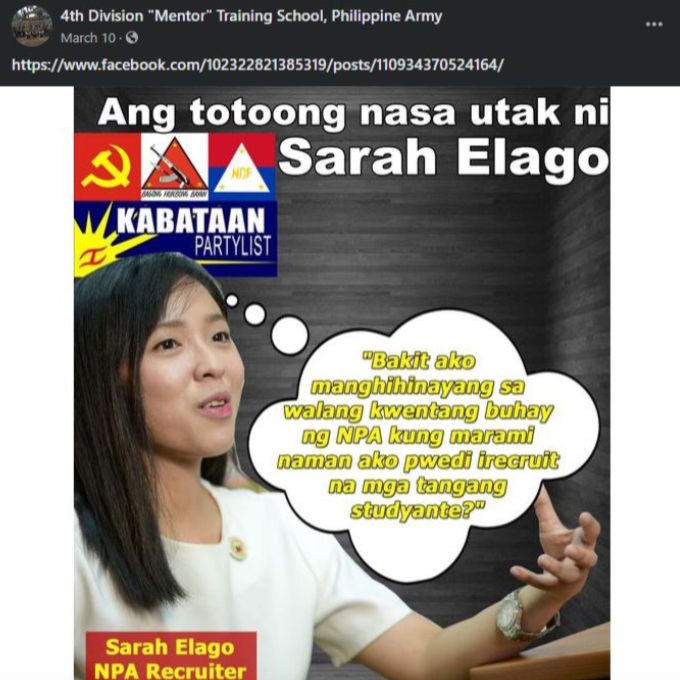 Another edit showed showed a post of the Kabataan party calling for donations for the burial of slain Anakpawis chairman Randall "Randy" Echanis. (READ: [PODCAST] KRIMINAL: The life and death of Ka Randy)
"Mag-donate na kayo at wala na kaming pondo (Donate now because we no longer have funds)," said the false quote attributed to Elago, suggesting that the money would be spent for Kabataan and other leftist organizations and not for Echanis.
The first post was made by the 4th Division "Mentor" Training School of the Philippine Army, while the second post was made by the 802nd Infantry Brigade, under the 8th Infantry Division of the Philippine Army.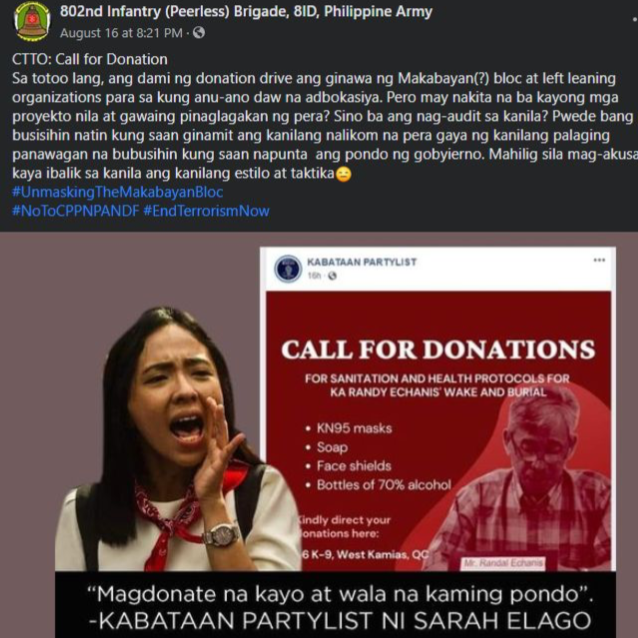 Why does this matter?
Lorenzana, who administratively oversees the AFP, effectively condoned the behavior of these military commands and justified the red-tagging of Elago.
He said that if Elago and her colleagues have problems with the AFP's posts, they should file cases against them.
These false posts are not unique to the AFP.
Other government social media accounts have been used to spread false posts to target journalists, critics, and activists. (READ: Gov't platforms being used to attack, red-tag media)
The defense chief said the military's social media accounts are monitored by the AFP Civil Relations Service as well as the Presidential Communications Operations Office, which is under President Rodrigo Duterte.
Lorenzana's defense comes after AFP chief General Gilbert Gapay called for the regulation of social media through the anti-terror law and amid the government's aggressive use of the cyber libel law in threatening and arresting critics of the Duterte administration. – Rappler.com