Defense Secretary Delfin Lorenzana also says he asked a friend to facilitate a meeting with University of the Philippines President Danilo Concepcion
Defense Secretary Delfin Lorenzana on Sunday, January 24, said the Armed Forces of the Philippines (AFP) will apologize after it falsely tagged some University of the Philippines (UP) alumni as New People's Army (NPA) members.
In a message to reporters, Lorenzana said the now-deleted post by the AFP Information Exchange on Facebook was an "unpardonable gaffe."
"The AFP will apologize," he said when asked about Free Legal Assistance Group lawyer Raffy Aquino's statement saying he and others named in the list deserved an apology.
"What reason will [the AFP] give? I do not know," Lorenzana added.
A Facebook post by the AFP Information Exchange falsely listed 27 people as "UP students who became NPA (died or captured)." It has since been taken down but not before it spread online.
At least 7 of those named in the list joined a virtual briefing on Saturday, January 23, where they denounced the post. They are also considering filing a cyber libel complaint.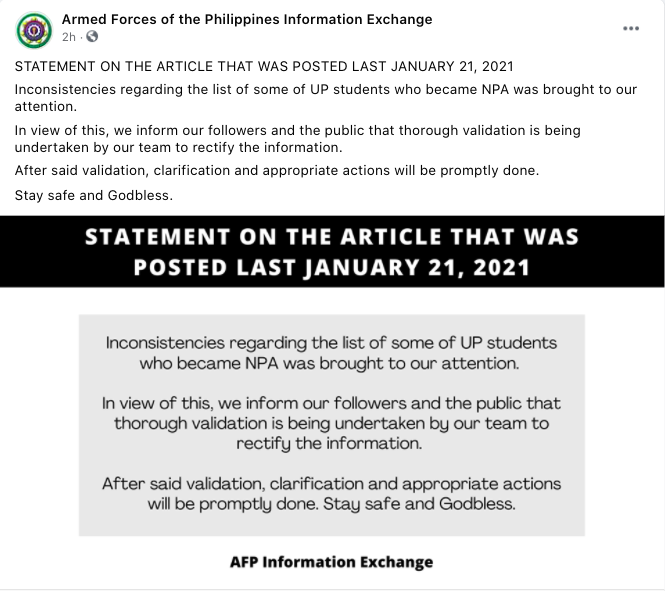 Meanwhile, the AFP Information Exchange said on Sunday that "thorough validation is being undertaken by our team to rectify the information."
"After said validation, clarification and appropriate actions will be promptly done," it said.
Lorenzana said he also asked a friend to facilitate a meeting with UP President Danilo Concepcion next week.
The false list was posted after the Duterte government terminated the 1989 UP-Department of National Defense accord, which prohibits the police and military from entering the state university's campuses without prior coordination with the university administration.
Groups denounced this move as the latest in President Rodrigo Duterte's crackdown on dissent, which has targeted not just activists but also media and the youth.
– Rappler.com