Contact tracing czar Benjamin Magalong tells a House panel that in many areas in the country, contract tracing does not go beyond the household of COVID-19 cases
A year into the COVID-19 pandemic, contact tracing in the Philippines is "deteriorating" in various regions, Baguio Mayor Benjamin Magalong, the country's tracing czar, said on Tuesday, March 30.
Speaking before the House health panel, Magalong showed statistics with dispiriting figures: contact tracing ratio across regions were mostly worsening.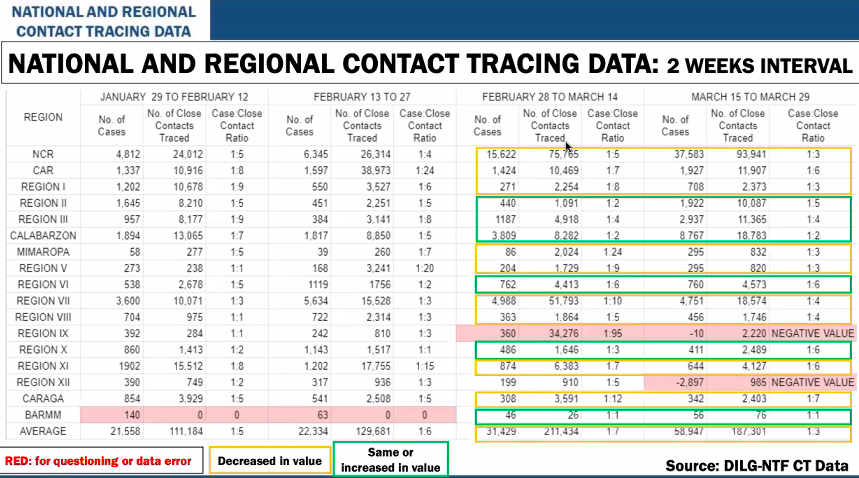 On the national average, comparing the time periods of February 28 to March 14, and March 15 to March 29, the contact tracing ratio fell from 1:7 to 1:3.
This means that for each COVID-19 case detected, the close contacts who were traced decreased from 7 to 3 within a month.
"Technically, there is no contact tracing there," Magalong said, referring to some regions.
Magalong explained that for many areas in the country, contact tracing does not go beyond the household of the detected COVID-19 case.
Ideally in urban settings, the contact tracing ratio is between 1:30 and 1:37.
What's the problem?
Magalong presented the following challenges to improving contact tracing in the Philippines a year on:
Lack of uniform data collection tool among local government units
The COVID KAYA and Tanod Kontra COVID projects are ineffective
Lack of trained contact tracers
Problems in encoding data
Many LGUs do not go beyond first generation of close contacts – the household
Contact tracing analytical tools are not used by many LGUs
Many LGUs do not coordinate with uniformed personnel for contact tracing
The Stay Safe contact tracing application is not yet in full use, and has not been fully acquired by the government.
Magalong's report comes as the Philippines reimposed a lockdown in Metro Manila and the surrounding provinces of Bulacan, Rizal, Laguna, Cavite, and Laguna, following saw a sharp increase in COVID-19 cases.
Lockdowns are ideally used as opportune times for contact tracing, but Magalong noted that many local government units need to reevaluate their contact tracing systems. – Rappler.com