The new alert classification will stay in place until November 21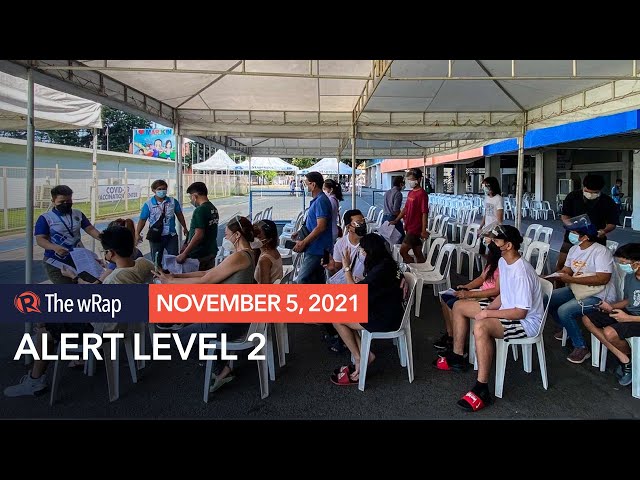 Barely a week after announcing that the National Capital Region (NCR) would remain under Alert Level 3, Malacañang on Thursday, November 4, said that the government body tasked to manage the COVID-19 pandemic decided to "de-escalate" the capital region's alert status.
In a statement to media released late Thursday, Presidential Spokesperson Harry Roque said the Inter-Agency Task Force (IATF) for the Management of Emerging Infectious Diseases approved the move to place Metro Manila under Alert Level 2 beginning Friday, November 5.
Resolution No. 147 from the IATF stated that the alert level will stay in place until November 21.
Roque had announced on October 29 that NCR would remain under Alert Level 3 despite the decreasing number of new COVID-19 cases as a precautionary measure ahead of the move to increase public transportation up to 100% beginning November 4.
On Wednesday, November 3, the Philippines recorded its lowest single-day tally of new coronavirus cases in eight months at 1,591 new cases. The low tally was attributed partly to the lower number of tests conducted and the non-submission of testing data from seven labs. But it also followed a recent trend of declining cases since a surge in September driven by the Delta variant.
What does this mean?
The new Alert Level means restrictions in the country's capital region are further loosened.
Metro Manila has been under Alert Level 3 since October 16. This meant that businesses such as cinemas, theaters, theme parks, swimming pools, libraries, museums, and other tourist attractions, as well as venues for social gatherings like weddings, parties, and debuts were allowed for the first time in over a year.
Like the previous alert level, Alert Level 2 means there are no age-based mobility restrictions in the metro. Alert Level 2 also allows an increased capacity for businesses and activities such as restaurant dine-in, beauty salons and the like, and religious activities, among other things.
According to the IATF, intrazonal and interzonal movement is allowed under Alert Level 2. Local government units may also impose further restrictions as long as they are not stricter than higher alert levels. This is also subject to the evaluation of their respective regional IATFs (RIATFs).
The IATF, according to Roque, also approved the following:
Basing alert levels on "data that is nearest to the implementation date";
Alert level assignments will be determined every 15th and 30th of the month beginning December 1, 2021;
Escalations of alert levels may be decided on at any time during the implementation period as warranted. De-escalation, however, may only be done at the end of the two-week assessment period;
The National Task Force Against COVID-19 or NTF, as well as the regional task forces and RIATFs, are to give "weekly feedback on the progress and implementation on all areas identified for alert level system rollout to the IATF";
Amendment of the guidelines on the implementation of alert levels system for COVID-19 response in pilot areas "to clarify the allowed movement of persons under varying alert levels"; and
Measuring the success of Phase IV of the National Action Plan Against COVID-19 based on the following indices: "number of severe and critical cases per month, time gap from detection to isolation, and tests per case; for vaccine rollout, the indices are the total vaccines administered per capita, new vaccine doses administered per capita, and fully vaccinated individuals; and finally, for socioeconomic recovery, the indices are the purchasing manager' index by IHS Markit, google mobility to retail and recreation, and number of commercial airline passengers."
– Rappler.com