Presidential Spokesperson Harry Roque says the decision to lock down Metro Manila was 'painful' but necessary due to the Delta variant of COVID-19
Metro Manila will return to lockdown mode from August 6 to 20, with a period of additional restrictions the week before, to prepare for a possible surge in COVID-19 cases due to the Delta variant.
This was announced by Presidential Spokesman Harry Roque on Friday, July 30, in a televised address.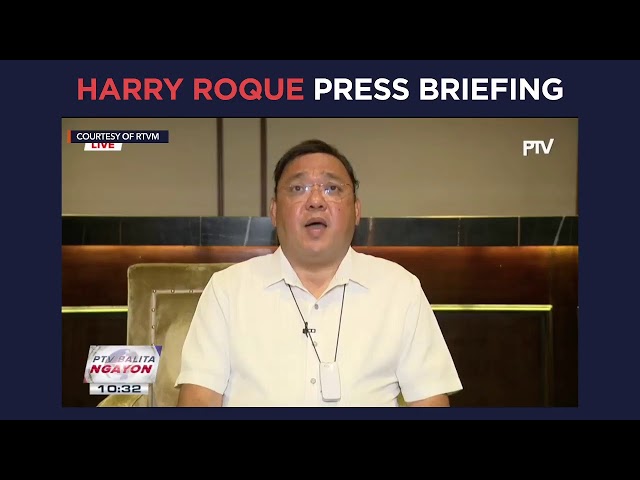 The schedule of new restrictions is as follows:
General Community Quarantine (GCQ) with heightened and additional restrictions – July 30 to August 5
Enhanced Community Quarantine (ECQ) – August 6 to 20
ECQ means that only essential establishments and industries will be allowed to operate. Hospitals, groceries, courier and delivery services, certain manufacturing firms, business process outsourcing will remain fully operational.
Banks; veterinarian clinics; telecommunications; dental, optometry, and other medical clinics; power and energy; internet services; water and sanitation services; teachers; certain legal services can operate with a skeletal workforce. Public transportation will be suspended. However, Roque said it's possible for the transportation department to allow limited use of public transportation.
Read all about ECQ in the Omnibus Guidelines for the Implementation of Community Quarantine (starting at page 4).
The stricter GCQ period triggers the following additional restrictions:
Dining in restaurants is prohibited, only take-out and delivery allowed (Operations of restaurants on July 30 allowed to continue until end of business hours)
Only 30% capacity in personal care services establishments allowed
Only authorized persons can travel out of NCR Plus (Metro Manila plus Cavite, Rizal, Bulacan, Laguna)
Indoor sports venues and indoor tourist attractions must close
Only 30% capacity in outdoor tourism attractions allowed
Physical religious gatherings not allowed, virtual only
Wakes, funerals, necrological services allowed, only for immediate family members
Public transportation allowed
Roque said the decision to go back to lockdown was "painful," but had to be done due to the more transmissible nature of the feared Delta variant. Local transmission of the variant was confirmed last July 22.
On Thursday, or the day the national government decided to return the capital region to ECQ, 97 more cases of the Delta variant were reported, bringing the total to 216. – Rappler.com