(4th UPDATE) For the second time in the last 12 months, the big city is sealed by a tight quarantine
Presidential Spokesperson Harry Roque on Saturday, March 27, said that the Greater Manila area would be placed under an enhanced community quarantine in a bid to cut down the skyrocketing spread of COVID-19 infections.
Roque said the strictest quarantine level will be implemented in Metro Manila, Bulacan, Cavite, Laguna, and Rizal from Holy Monday, March 29 to Easter Sunday, April 4.
An 11-hour curfew will also imposed over the entire bubble from 6 pm to 5 am.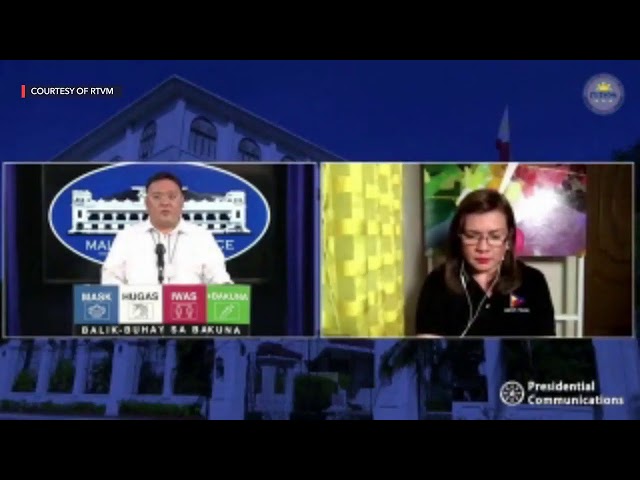 "The daily average rates exceeded 200%. So halos lahat ng lugar sa Metro Manila ay either nasa red zone na or nasa critical level. So [this] justifies 'yung higher classification," said Roque.
(The daily average rates exceeded 200%. So almost all areas in Metro Manila is either in the red zone or already at a critical level. This justifies the higher classification.)
"Sa mga nagsasabi na kasalanan po ito ng IATF, siguro naman po yung karanasan ng buong mundo na dumadami ang mga kaso ng COVID-19 dahil sa mga bagong variant ay magpapatunay na yung virus po ang kalaban. Hindi po ang gobyerno. Hindi po ang IATF," Roque said.
(For those who keep saying that the IATF should be blamed, I guess we can say that the world's experience of rising cases due to the new variants is the proof that the virus is our enemy. It's not the government. it's not the IATF)
Roque said that authorized persons outside of residence, workers, cargo vehicles, and public transportation are not covered by the 11-hour curfew.
As this will happen during the Holy Week, the previous announcement of "one activity per day" would no longer hold. Holy Week activities in the Greater Manila area should be cancelled, Roque said.
On public transportation, Roque added that the Department of Transportation would release guidelines on capacity and protocols during ECQ. In 2020, when the Philippines was first placed under lockdown, the government banned mass transportation.
The government prohibits gatherings of more than 10 persons outside of residence, as well as indoor gatherings with persons outside of immediate family.
Malls are not allowed to operate, except for essential stores such as groceries and pharmacies. Restaurants can only offer take-out and delivery orders only.
During the one-week lockdown, essential industries such as hospitals, frontline services, agricultural activities, and delivery services transporting food, medicine, and essential goods can operate at full capacity.
Private establishments and the media can operate at 50% capacity. The rest should operate with skeleton staff.
Cash aid
The presidential spokesperson said that cash aid will be given to those who will be affected by the lockdown.
He did not expound on who exactly would receive, but he said that there would be "assistance given but it will be given to individuals who were not able to work during the one-week lockdown."
The details on the cash assistance are still being finalized, Roque said.
'Hoping for improvements'
Meanwhile, the Healthcare Professionals Alliance Against COVID-19 on Saturday night welcomed the reimposition of a lockdown.
Dr Anna Ong-Lim said in the online briefing that the recommendation to the government was to impose a stricter quarantine level for a "minimum of 1 week" to minimize the impact on the slowly recovering economy.
Asked whether it's reasonable to implement a 14-day lockdown, citing the incubation period of the virus, Ong-Lim agreed that that would have been a better length of time.
"14 days is quite reasonable…. What's working right now is minimum of 7 days so that implies there's the option to extend this at some point," Ong-Lim said.
"But hopefully when we get by the end of the week there will have been significant improvements so we won't have to extend," she added.
HPAAC also has some recommendations for the current lockdown, as well as to "future-proof" the government's response should another surge in cases happen.
Expanding the One Hospital Command Center into a One COVID-19 referral network,
Integrated response from contact tracing, testing, isolation, and treatment,
Fair and efficient vaccine rollout, which would make non-priority individuals who had been inoculated held accountable;
For the government to ensure there is an enough public transportation supply;
Affected people by the lockdown should be given the appropriate financial aid.
On an integrated contact tracing scheme, Dr Aileen Espina agreed that it would be difficult to do it in the middle of this surge.
"I agree it's too late for us for this surge," Espina said.
But she added that the government could still put an integrated contact tracing system for possible spikes in the future. This system, she said, should integrate data from consultation, health records, laboratory records, contact tracing and up to admission in the hospital.
She also reiterated calls for a central repository of data from contact tracing apps so that the data team at the Inter-Agency Task Force will be able to crunch it and make data-driven actions.
"We are future-proofing our COVID response so this surge will not happen again in the coming days.… It is not too late for us to put this thing in place," Espina said.
On Saturday, the Philippines logged a record 118,122 active COVID-19 cases, with over 9,500 new cases.
For 10 straight days, the country has been tallying over 5,000 new cases. – Rappler.com