Only 19% of Filipinos say they are willing to have themselves vaccinated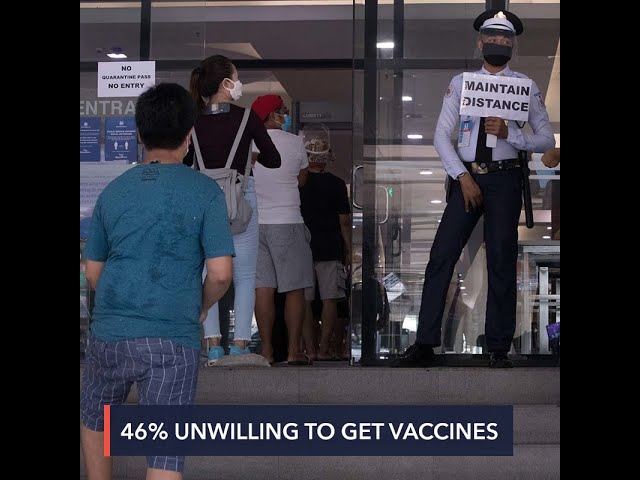 While the Philippines awaits the arrival of coronavirus vaccines necessary to tame the pandemic, a survey of the Octa Research Group showed a great number of Filipinos are still unwilling to have themselves vaccinated against the disease.
The survey, conducted from January 26 to February 1, 2021, showed that if a safe and effective vaccine were available during the polling period, the greatest number of respondents at 46% said, "I will not have myself vaccinated."
The survey released on Wednesday night, February 24, also found that only 19% of respondents said they would have themselves vaccinated, while 35% said "can't say" if they will have themselves vaccinated.
The Octa team based findings on face-to-face interviews with 1,200 Filipinos aged 18 years old and above. It has a 95% confidence level with a ±3% margin of error.
Safety top concern
Among those unwilling to get vaccinated, the survey found the respondents' top 3 reasons for refusing a vaccine were the following:
"Not sure if it is safe" (73%)
"Not sure if vaccine is effective" (29%)
"A vaccine is not needed to combat COVID-19" (9%)
Concern about the safety of a vaccine was higher in Mindanao (78%) and Balance Luzon (76%) compared to Metro Manila (69%) and the Visayas (64%). Along with this, concern about vaccine effectiveness was highest in the Visayas (46%), followed by Metro Manila (34%), Mindanao (27%), and Balance Luzon (21%).
Aside from this, 6% of survey respondents said they would not have themselves vaccinated as the vaccine "might not be free," while another 6% said they would not get vaccinated because it "might be costly or expensive."
The survey found class D (74%) and E (73%) were more concerned with the safety of vaccines compared to class ABC (46%). It was the reverse for concern over efficacy of vaccines with class ABC (33%) reporting the highest concern about this as compared to class D (28%) and E (29%).
For respondents who would reject a vaccine, disapproval was highest among class D, with 46% of the respondents saying they would not have themselves vaccinated. This was followed by class ABC at 45% and class E at 44%.
Balance Luzon and the Visayas also recorded the highest percentage of those unwilling to get a vaccine at 47% each, followed by Metro Manila and Mindanao at 43% each.
Vaccine acceptance was highest among class ABC and E (23% each), while class D was slightly lower at (18%).
Of the 35% of respondents undecided about the vaccine, uncertainty was highest in Balance Luzon (39%), while Metro Manila, the Visayas, and Mindanao were "almost at par" at 31%, 33%, and 32%, respectively. Among those undecided, 32% were from class ABC, 36% from class D, and 33% from class E.
Low trust in China vaccines
The Octa survey found only 1 in 10 or 15% Filipinos trusted vaccines coming from China, while 4 in 10 (41%) trusted those coming from the United States.
In between these, 25% said they trusted vaccines coming from the United Kingdom, followed by 20% from Russia, and 17% if coming from India.
The 5 countries cover a portfolio of at least 7 vaccine companies the Philippines has been in advanced negotiations with to purchase vaccines. This included Pfizer and BioNTech, Moderna, Novavax, Johnson & Johnson (Janssen Pharmaceutica), AstraZeneca, Sinovac, and the Gamaleya Research Institute.
Why this matters
The number of respondents both unwilling and reluctant to receive a vaccine underscores the challenges health officials still need to confront in boosting demand for the highly scarce and coveted product.
This comes on top of issues in vaccine acceptance in the Philippines, which took a hit after the Dengvaxia scandal in 2017 tanked immunization rates of public vaccination programs largely done among the indigent sector.
The Philippines so far has been the last in the Southeast Asia region to start rolling out vaccines, after paperwork and limited global supply delayed the delivery of doses secured in negotiations that started only sometime in November 2020. – Rappler.com