This is AI generated summarization, which may have errors. For context, always refer to the full article.
The government has identified 35 million Filipinos who will be given the first batch of COVID-19 vaccine doses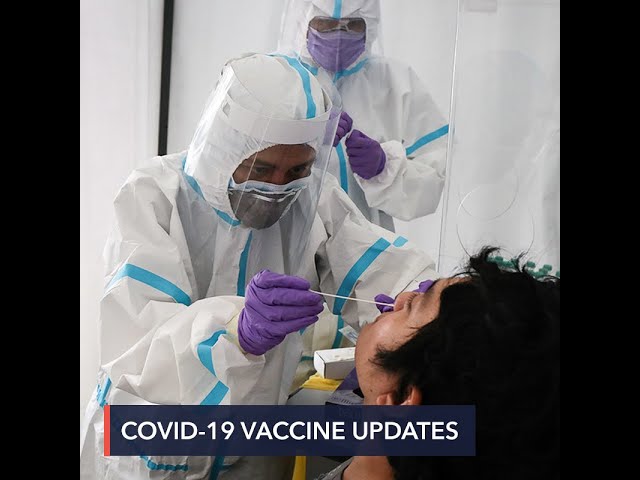 Once a COVID-19 vaccine is approved by Philippine authorities, the government aims to vaccinate around 60 million to 70 million of its citizens in 3 to 5 years, said the country's vaccine czar Carlito Galvez Jr.
"More or less 60 to 70 million [people], we will do this in a 3- to 5-year period," he said in a virtual press briefing on Wednesday, November 25.
This number of people corresponds to roughly 60% to 70% of the country's 107 million population.
The government is capable of vaccinating only 20 million to 30 million Filipinos a year, he added.
Going by the government's "best case scenario" estimate that a vaccine will become locally available by April to June 2021, it would mean that 60% of the population should have been vaccinated by 2024 to 2026.
But Galvez's "worst case scenario," which he also termed as the "realistic scenario," is that the government's vaccine distribution will start late 2021 or early 2022.
35 million Filipinos in 'priority list'
With this schedule in mind, the coronavirus national task force has already come up with a list of 35 million people who will get the vaccine first.
"We have a list of more than 35 million Filipinos who are in the priority list. That was given by the DOH (Department of Health), based on the guidance of our President," said Galvez.
The list includes healthcare workers, frontliners like police, soldiers, and essential workers of the social welfare and education departments, poor households, and indigents, he added.
President Rodrigo Duterte previously said he wanted to foot the bill of COVID-19 vaccination for all Filipinos. But Finance Secretary Carlos Dominguez III only announced a funding target of P73.2 billion to inoculate 60 million people.
Preparations for cold storage
Galvez said the task force is negotiating with a consortium of companies that can provide ultra cold storage facilities required to distribute some vaccines, like those being developed by Pfizer and Moderna.
The next 6 months, he said, would be spent preparing the logistics of this equipment, as well as storage facilities for vaccines that would need only 2 or 8 degrees Celsius to keep.
What the task force is busy with is ensuring that there is adequate funding for vaccination logistics.
Galvez said the task force is asking lawmakers to include P150 billion for logistics and distribution in the 2021 national budget, which is now being threshed out in the Senate. This P150 billion amount was first proposed by Senate President Pro Tempore Ralph Recto.
"We spoke with Congress and the Senate. It should be included there because the P2.5 billion initial [fund] is just for an initial 3 million vaccines for essential health workers," said the vaccine czar.
The Philippine Food and Drug Administration is now waiting for countries like the United States, China, and India to approve the vaccines being developed by their firms. Only then can the FDA also issue emergency use approval, as ordered by Duterte.
While the government is securing supply for priority sectors of the population, private companies are also moving to secure doses for their employees. It's likely that Filipinos willing to pay for vaccination could get inoculated even before the government's vaccination efforts reach them. – Rappler.com