'As it is, workers are already having difficulty accessing their constitutional right to organize, collectively bargain, and strike. What more if this policy is implemented?' says labor leader Josua Mata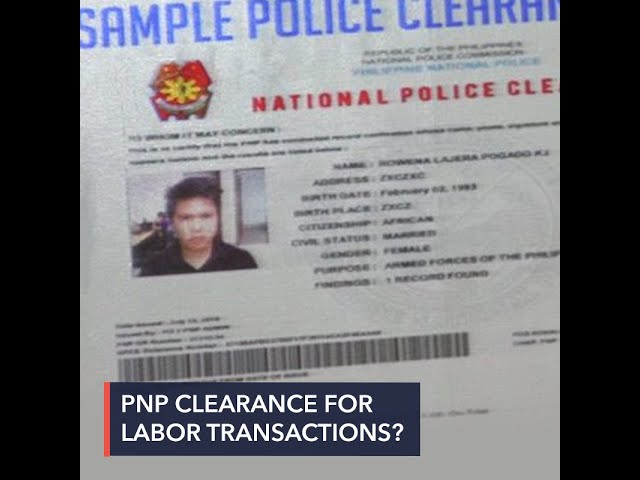 The Philippine National Police (PNP) asked the Department of Labor and Employment (DOLE) to require national police clearances for "various transactions," a request that comes amid the aggressive red-tagging of unionists and activists.
In a letter acquired by Rappler, PNP chief General Debold Sinas proposed the additional bureaucratic layer which would supposedly help DOLE gain "broader information" on an individual.
"In using the NPC (national police clearance), the DOLE will have a much broader information as to the character of an individual because of its much larger scope, coverage, and databases relied upon, and at the same time, will be able to further contribute to our endeavor of attaining a safer place for the Filipino people and do business," Sinas said in the letter.
While Sinas did not expound on labor transactions for which national police clearances would be helpful, the PNP chief said cops were able to arrest 55 individuals – who had outstanding warrants of arrest – after applying for the document.
The Department of the Interior and Local Government said in September 2020 that the National Police Clearance System "crosses out the likelihood that a person with a criminal record in one place will be able to obtain a police clearance in another area," since the data will be centralized.
Asked about the PNP's proposal, Labor Secretary Silvestre Bello III said the department will conduct consultations before deciding whether to adopt the requirement.
"We replied and informed the PNP chief that we will study the proposal and after consultation with our stakeholders," Bello told Rappler.
"We will wait for the inputs from the Bureau of Labor Relations, Social Protection, and other stakeholders," Bello added.
According to a memorandum seen by Rappler, concerned DOLE bureaus have until May 4 to submit comments on the PNP's proposal.
But for Josua Mata, secretary-general of labor group Sentro, implementing such a requirement would violate the constitutional right to organize.
"I find it preposterous that Secretary Bello [would] even go through the motions of having this policy proposal vetted when he should know that such would violate the Constitution," said Mata.
Unionists have been on the receiving end of red-tagging by the Philippine government. In March, labor leader Dandy Miguel was shot dead 3 weeks after a number of his colleagues were arrested and killed during a crackdown on progressive groups.
Police-led seminars, which red-tagged unions, were also conducted with workers as attendees, in violation of the 2012 guidelines banning the police and the military from labeling workers and organizations as members of armed groups or fronts.
"As it is, workers are already having difficulty accessing their constitutional right to organize, collectively bargain, and strike. What more if this policy is implemented?" Mata said. – Rappler.com