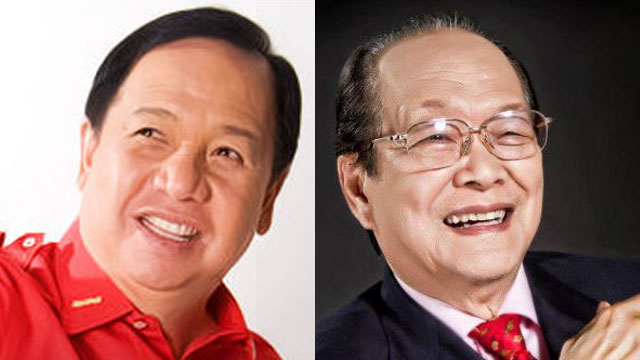 MANILA, Philippines (UPDATE) – Nine down, 3 to go.
Vice President Jejomar Binay's United Nationalist Alliance (UNA) is fielding former Senators Richard Gordon and Ernesto Maceda as senatorial bets in the 2013 midterm polls.
UNA Spokesperson JV Bautista made the announcement in an interview on ANC, the ABS-CBN News Channel, on Tuesday, August 28. Bautista was a guest on ANC Presents: Road to 2013.
"These are two very competent leaders that we have. Senator Gordon is almost a sure winner. Senator Maceda, he can pull out surprises. He's been out of politics for some time but he's a political genius. He is very well aware of the new media despite his age and he's been going around the country," Bautista said.
UNA is an alliance between Binay's Partido Demokratiko Pilipino-Lakas ng Bayan (PDP-Laban) and the Pwersa ng Masang Pilipino (PMP) of former President Joseph Estrada and Senate President Juan Ponce Enrile.
Maceda, an ally of Estrada, was a member of the Nationalist People's Coalition (NPC) but Bautista said he joined the PMP in July. Maceda, 77, is a former Senate President and a former Ambassador to the United States, having been appointed by Estrada.
Gordon ran for president in 2010 under his Bagumbayan party. He is a former Tourism Secretary and former chairman of the Subic Bay Metropolitan Authority.
The announcement brings to 9 the official candidates of UNA. Now, there are only 3 remaining slots in the alliance.
UNA earlier announced the following senatorial candidates:
Joey de Venecia, PDP-Laban executive vice president
Cagayan Rep Juan Ponce "Jack" Enrile Jr, NPC and son of the Senate President
San Juan Rep Joseph Victor "JV" Ejercito, PMP and Estrada's son
Sen Gregorio Honasan II (independent)
Resigned Senator Juan Miguel "Migz" Zubiri (PMP)
Zambales Rep Milagros "Mitos" Magsaysay (PDP-Laban)
Cebu Governor Gwen Garcia (PDP-Laban)
Gordon and Maceda have long been rumored to be UNA senatorial bets. The alliance was supposed to make an announcement on its additional candidates in July but deferred this, saying it needed time to finalize its list.
Gordon is running alongside Magsaysay despite a rivalry between their families in Zambales. UNA has said that the two will have to resolve their differences.
Loren in final 3
In the interview, Bautista said re-electionist Sen Loren Legarda will be part of the last 3 candidates to be announced by UNA.
"It will be announced in a grander manner. Senator Loren is one of the topnotchers in the survey and many of us in UNA would also like to see her top the elections. Topnotchers like her are the heavyweights that you are trying to prepare the announcement to be major."
While Legarda is a member of the NPC, Bautista said she already asked NPC founder Eduardo "Danding" Cojuangco permission to run and exclusively campaign with UNA.
Bautista said another survey topnotcher, Senator Francis "Chiz" Escudero, is also being eyed. Escudero used to be a member of NPC but resigned in 2009 after Cojuangco reportedly refused to fund his planned bid to run for president in 2010.
"He is seriously being considered [but] we have to lay the groundwork for the relationship of Senator Chiz with UNA. We do not see the slate as a slate of convenience where you adopt candidates and after the elections, they are going to leave you," said Bautista.
Escudero, an ally of both Binay and President Benigno Aquino III, is also being eyed by Aquino's coalition.
Bautista said the other contenders for the last slot are:
Valenzuela Mayor Sherwin Gatchalian
Former Senator Jamby Madrigal
Nancy Binay, UNA deputy secretary-general and daughter of Binay
Bayan Muna Rep Teddy Casiño
Election lawyer Romulo Macalintal
Alma Moreno
Cavite Rep Lani Mercado-Revilla
Pimentel: On leave or not?
Bautista also announced that Sen Aquilino "Koko" Pimentel III took his leave of absence as PDP-Laban president. Pimentel has decided to run as guest candidate of the administration slate in 2013. Yet Pimentel denied this in a text message to Rappler, saying taking a leave of absence never crossed his mind.
Reacting to why Bautista made the announcement, the senator said, "I don't know with JV, maybe he has an agenda."
Pimentel was initially an UNA senatorial bet but left the coalition over the inclusion of Zubiri. Pimentel filed an election protest against Zubiri over the 2007 senatorial polls and was only able to assume his Senate post last year when he won the protest.
"The situation is really very untenable …. You cannot tolerate a situation where one of the leaders of UNA and then president of PDP-Laban for that matter will run in another political party that is the rival of UNA," said Bautista.
Bautista explained that PDP-Laban leaders requested Pimentel to take a leave for the 2013 polls.
"At the very least, if Senator Pimentel already announced he will be running with the LP coalition and not with UNA, the most decent thing he can do is take a leave from PDP-Laban and he did."
Bautista, also executive director of PDP-Laban, said party chairman Binay and secretary-general Jose "Peping" Cojuangco are now taking charge of PDP-Laban.
The UNA spokesperson said PDP-Laban will not sign Pimentel's certificate of nomination because he is running with the ruling Liberal Party (LP).
Bautista said, "We cannot enter into an election where you have PDP-Laban allied with the PMP to form UNA which signed a covenant of unity among its leaders and one of those who signed that was Senator Koko Pimentel."
(For background on UNA, read our special reports: Binay and the politics of firsts and UNA vs LP: What's the difference?)– Rappler.com
View the Elections 2013 Microsite here.
More in Rappler's Elections 2013 Coverage: