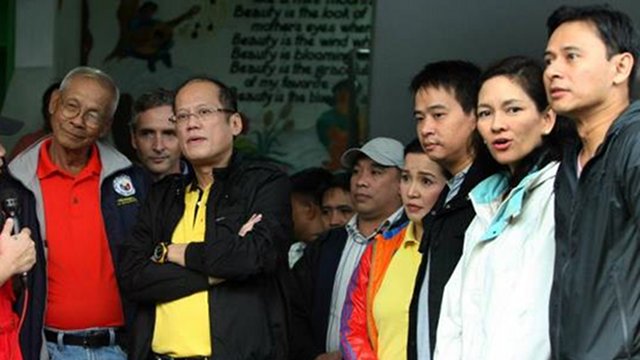 PNOY'S ANOINTED: In the past months, President Aquino has been going around with rumored senatorial candidates
MANILA, Philippines - The administration coalition as of Tuesday, September 18, has finalized 10 of the total 12 senatorial slots up for grabs in the May 2013 elections. This is based on statements of President Benigno Aquino III and interviews with Liberal Party (LP) stalwarts and Aquino's non-LP allies.
They are the following:
1. Former Senator Ramon "Jun" Magsaysay Jr
2. Senator Aquilino Pimentel III
3. Aurora Rep Sonny Angara
4. Movie and Television Review and Classification Board (MTRCB) chairman Grace Poe Lamanzares
5. Former Akbayan Rep Risa Hontiveros
6. Customs Commissioner Rufino Biazon or his father Muntinlupa Rodolfo Biazon
7. Senator Francis Escudero
8. Senator Alan Cayetano
9. Senator Antonio Trillanes IV
10. Former Las Piñas Rep Cynthia Villar
The President named the first 6 in Russia although the ruling party is leaving it to Mandaluyong Rep Rodolfo Biazon and son Customs Commissioner Rufino Biazon to decide on who between them will run for the Senate.
While President Aquino has refused to comment on the status of his friend Sen Francis Escudero, Rappler sources in Malacañang say he is assured of a slot. Based on the current direction of talks, however, Escudero may be a special case. He will also carried by the opposition group United Nationalist Alliance (UNA) of Vice President Jejomar Binay. (Escudero endorsed Aquino and Binay in the 2010 elections.)
The 3 other senatorial candidates who made it to the initial list of 10 are members of Sen Manuel Villar's Nacionalista Party (NP), a coalition ally of LP. Former Surigao del Norte Gov Robert "Ace" Barbers was the supposed 4th NP in Malacañang's original short list.
NPC's awkward situation
The other coalition ally, Nationalist People's Coalition (NPC), is in an awkward situation.
While LP and NPC are making headway in arbitrating conflicts in the local level, its two senatorial candidates are likely to join the UNA ticket.
Senate President Juan Ponce Enrile has confirmed that his son and namesake Cagayan Rep Juan Ponce "Jack" Enrile Jr is running under UNA.
But Senator Loren Legarda's status has yet to be announced. As of Tuesday afternoon, September 17, LP stalwart Budget Secretary Florencio "Butch" Abad said Legarda remains on the administration ticket.
Legarda has hinted that she would be joining UNA. She said she has been talking to UNA leaders and that no one from the LP has approached her. The ruling party has been in talks with the NPC leadership, which earlier made a commitment that Legarda will be running under the administration ticket.
Legarda topped the latest Pulse Asia senatorial survey released on Monday, September 17.
LP's position is she can be a guest candidate of UNA but if she wants the administration to carry her, she has to commit that she will only campaign with the administration.
Leeway for Escudero
Escudero, who is close both to Aquino and Binay, was not given the same strict conditions. But an LP source said they expect Escudero to focus more on the administration campaign. (Escudero, who bolted NPC in 2010, has returned to the party's good graces. But he remains, technically, independent.)
NPC spokesperson Valenzuela City Rep Rex Gatchalian said they are "finalizing the arrangments."
"We are still working on the details. We're finalizing the arrangements. At this point, I cannot pre-empt the results of the ongoing talks," Gatchalian said.
NPC Sen Vicente Sotto III was earlier quoted as saying that the party could bolt the administration coalition because of issues in the local level, but Gatchalian immediately corrected this. "We want to stress that the NPC is steadfast in its coalition with the LP for the upcoming 2013 midterm elections. In fact, talks are ongoing and we are already in the process of threshing out the finer details of the framework of our alliance," Gatchalian said.
Bottom dwellers
The remaining names on Malacañang's original short list of 16 are Quezon Rep Lorenzo "Erin" Tañada, Technical Education and Skills Development Authority (TESDA) director-general Joel Villanueva, presidential cousin Paolo Benigno "Bam" Aquino, and former Sen Jamby Madrigal.
"There's nothing final yet until PNoy approves the slate. I would rather not speculate," said Abad Tuesday morning, September 18, when asked if decisions were made after the survey.
LP sources said party leaders have been asking Tañada to drop his senatorial bid – if his numbers don't improve. It's better for him to get a position in government. He can aim for the next elections, the source added. He ranked 26-35 in the latest Pulse Asia survey. Tañada said there's no final decision yet on his senatorial bid.
It was President Aquino who floated Villanueva's name as a possible LP senatorial bet earlier this year. His name was no longer part of the administration's latest list. According to reports, he is offered to head a bigger department. He ranked 24-32 in the survey.
Presidential cousin Bam Aquino is the son of Paul Aquino, brother of the late Sen Ninoy Aquino and a veteran of several presidential campaigns. Bam Aquino's senatorial bid is backed by President Aquino's sisters. He ranked 17-23 in the latest Pulse Asia survey.
Former Senator Jamby Madrigal, on the other hand, is being supported by LP President Manuel "Mar" Roxas II. Madrigal ranked 12-17 in the same survey.
Candidates will file their certificates of candidacies (COCs) in October. – Rappler.com
View the Elections 2013 Microsite here.
More from #PHVote, Rappler's 2013 Election Coverage: