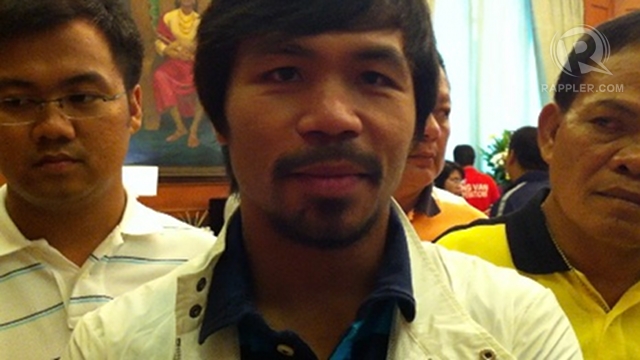 'NO PROBLEM.' Sarangani Rep Manny Pacquiao does not see any problem so far in his 2013 reelection bid. Photo by Ayee Macaraig
MANILA, Philippines – Sarangani Rep and world boxing champion Manny Pacquiao is set for round two of his political battle in Sarangani.
In an interview on the sidelines of a meeting of the United Nationalist Alliance (UNA), Pacquiao said his 2013 reelection bid is so far, so good.
"Okay na sa ngayon, wala naman tayong nakikitang problema at wala pa tayong nakikita kung sino ang kalaban. Okay naman," said Pacquiao on Monday, September 24. (It's okay, we don't see any problems so far and we don't know who will be our opponent. It's okay.)
During the meeting at the office of Vice President Jejomar Binay, Pacquiao brought with him Sarangani Vice Gov Steve Chiongbian Solon and 4 mayors from Mindanao.
Pacquiao initially planned to run for Sarangani governor in 2013 but he decided to support Chiongbian's gubernatorial bid instead.
"Pagbigyan naman natin ang iba na mag-gobernador like Steve Chiongbian Solon, siya ang nilagay ko. Ang naisip ko, doon pa rin sa posisyon ko kasi 1st term ko pa lang," Pacquiao said. (Let's give others a chance to be governor like Steve Chiongbian. He is the one I chose. I thought of running for reelection because this is still my first term.)
Pacquiao is a new member of Binay's Partido Demokratiko Pilipino-Lakas ng Laban (PDP-Laban), a coalition partner of UNA. He switched from the Nacionalista Party of Senator Manny Villar in April.
Pacquiao lost an earlier political battle in 2007: the congressional race in South Cotabato. Former Rep Darlene Antonino-Custodio then beat Pacquiao.
The boxing champion pledged support for UNA in 2013. "United kami dito, lahat nagkakaisa kami kaya napakasarap sa UNA." (We are united here that's why it's good to be a part of UNA.)
When Pacquiao arrived at the meeting, Estrada joked that he would be UNA's financier.
The athlete later told reporters, "Mas mayaman pa sa akin iyon." (President Estrada is richer than I am). – Rappler.com
View the Elections 2013 Microsite here.
More from #PHVote, Rappler's 2013 Election Coverage: