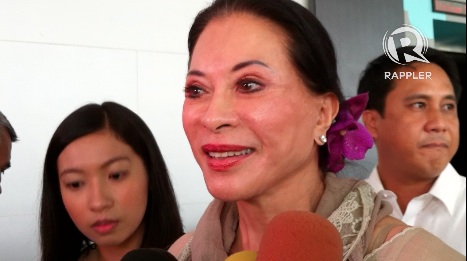 'FAMILY INTACT.' Former Tarlac Governor Tingting Cojuangco says the Cojuangco family is intact even if she is running under the slate that will rival her nephew-in-law's senatorial ticket. Photo by Ayee Macaraig
MANILA, Philippines (UPDATE) – Vice President Jejomar Binay said she is 99.9% sure of running for senator but Margarita "Tingting" Cojuangco erased any doubt about her senatorial bid.
In an interview on Thursday, September 27, the former Tarlac governor confirmed that she will run for senator under Binay's United Nationalist Alliance (UNA).
Cojuangco said she consulted her nephew-in-law, President Benigno Aquino III about seeking a seat at the Senate under the so-called "constructive opposition" that is UNA.
She denied her senatorial bid will cause bad blood in the family.
"Oh, not at all. The President and our family are intact, very much so. The family is the most valuable institution and if there's anybody who practices that, it's really the Cojuangcos. We're very close," Cojuangco told reporters on the sidelines of the Liga ng mga Barangay National Convention at the Mall of Asia.
She added, "What he says is within the family."
Cojuangco said she did not seek support from Aquino but just informed him about her plans.
Asked if she will welcome any help from the President, she said, "Well, naturally, he's the President. He's not just our nephew now. He's also our president."
Cojuangco's confirmation completes the UNA senatorial slate:
Joey de Venecia, PDP-Laban executive vice president
Cagayan Rep Juan Ponce "Jack" Enrile Jr, NPC and son of the Senate President
San Juan Rep Joseph Victor "JV" Ejercito, PMP and Estrada's son
Sen Gregorio Honasan II (independent)
Resigned Senator Juan Miguel "Migz" Zubiri (PMP)
Zambales Rep Milagros "Mitos" Magsaysay (PDP-Laban)
Former Senator Richard Gordon
Former Senate President Ernesto Maceda (PMP)
Senator Loren Legarda (NPC - guest candidate)
Senator Francis Escudero (Independent - guest candidate, final announcement to be made soon)
Grace Poe-Llamanzares (guest candidate - final announcement to be made soon)
'Helping farmers'
Cojuangco said she, Binay and her husband, UNA Vice President Jose "Peping" Cojuangco Jr thought hard about her senatorial bid.
"Actually, I'm coming in a little bit late so it's just the time element [that is the consideration]," Cojuangco said.
Yet she said it should not come as a surprise that she is running under UNA because her husband helped form its coalition partner, the Partido Demokratiko Pilipino-Lakas ng Bayan (PDP-Laban).
Mr Cojuangco is PDP-Laban secretary-general while Binay is chairman of the party.
"Oh, in 1992 when I ran in Tarlac as governor, yung party, I was already PDP-Laban. Si Peping organized the PDP-Laban with VP Binay, many years ago, during Cory's time. Nothing new, talagang nandoon na kami." (We are really with PDP-Laban.)
Cojuangco said her platform will be to push for farmers' welfare.
"I would like to take care of the farmers. I believe that marketing is very, very important for the farmers and I also believe that the problem now is the economy. I'd like to raise the economy so I'm doing it through the farmers."
Cojuangco is expected to file her certificate of candidacy on Monday, October 1, along with the rest of the UNA senatorial candidates.
Another Aquino relative, the President's cousin, Bam Aquino, is also running for senator but with the administration coalition.
The labor group Kilusang Mayo Uno (KMU) criticized Cojuangco's senatorial bid, saying it is meant to keep her family's ownership of the sugar-estate Hacienda Luisita. KMU chairperson Elmer Labog said the Cojuangcos want to retain ownership of the land despite a Supreme Court ruling ordering its distribution.
"Hacienda Luisita is the symbol of the decades-old exploitation and oppression of the country's farmers. The Cojuangco-Aquinos have become the faces of landlord exploitation of farmers," Labog said in a press statement.

"The Cojuangco-Aquinos want to reap powerful positions while their relative is still president. [What] is he in power for, right?" he added. – Rappler.com