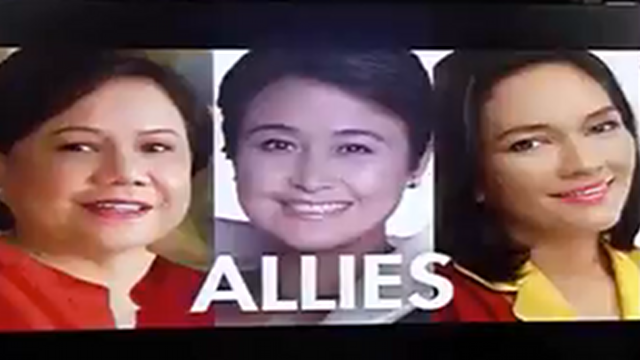 MANILA, Philippines - Like its rival United Nationalist Alliance, the Liberal Party senatorial line-up saw former bitter enemies linking arms.
Rappler Carmela Fonbuena reports.
What a difference 3 years make.

Foes in the 2010 elections are now allies. Cynthia Villar joins her husband Senator Manny Villar's fiercest critics Jamby Madrigal and Risa Hontiveros in the administration's Rainbow Coalition.
CYNTHIA VILLAR, CANDIDATE FOR SENATOR: No problem. No problem.

MANNY VILLAR, PHILIPPINE SENATOR: We have moved on. 2010 is over. We are looking at 2013 now.
Presidential candidate Madrigal ran a campaign largely attacking Villar for alleged corruption.
Senatorial candidate Hontiveros ran the "Villaroyo" campaign claiming that Villar was the secret candidate of unpopular President Gloria Arroyo.
Madrigal and Hontiveros say they don't have issues sharing the campaign stage with Cynthia Villar.

JAMBY MADRIGAL, CANDIDATE FOR SENATOR: I had differences with Senator Villar, not Mrs Villar. I don't think it should affect our being in the slate. I hope we will put the past behind us.
Hontiveros says she's happy that Cynthia decided to support President Aquino.
For the politicians, it's forgive and forget. 2013 raises the bar in the politics of convenience. Question is, will the voters care?

Carmela Fonbuena, Rappler Manila. - Rappler.com
---
More from Rappler's 2013 Philippine elections coverage: