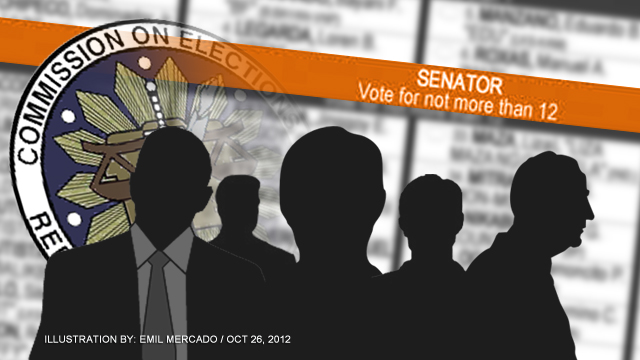 MANILA, Philippines - The Commission on Elections (Comelec) has added 5 more aspirants in its official list of senatorial candidates for the 2013 elections. This brings the total and final number of qualified senatorial bets to 32.
Comelec chairman Sixto Brillantes Jr said there won't be additions anymore in the list, which he said would be released on Monday.

The poll body on Friday, October 26, said the following are qualified to join next year's senatorial race:

Samson Alcantara
77 years old
lawyer/professor

Ricardo Penson
60 years old
business executive/social activist

Greco Antonious Beda Belgica
34 years old
businessman/pastor

Christian Señeres
36 years old
NGO worker

Baldohero Falcone
68 years old
business consultant

Alcantara finished third in the 1957 Bar exams, and is now a law professor at the University of Santo Tomas. He is the founding chairman and president of ABAKADA Guro Party-list. He will run under the Social Justice Society party.

Penson is the president and chief executive officer of Ausphil Tollways Corp. He will run as an independent candidate.
Belgica is the son of former Manila councilor Grepor "Butch" Belgica, while Señeres is the son of former Ambassador Roy Señeres. They, along with Falcone, will run under the newly-accredited Democratic Party.
This brings to 32 the total number of senatorial candidates vying for the 12 Senate seats that are up for grabs next year. On October 12, the poll body initially allowed 27 out of total 84 aspirants to run for senator in 2013. They are:
AKBAYAN
Hontiveros, Ana Theresia N.
ANG KAPATIRAN
De Los Reyes, John Carlos G.
Llasos, Marwil N.
David, Rizalito Y.
LABAN NG DEMOKRATIKONG PILIPINO (LABAN)
Angara, Juan Edgardo M.
LIBERAL PARTY
Aquino, Paolo Benigno IV A.
Madrigal, Maria Ana Consuelo A.
Magsaysay, Ramon Jr., B.
MAKABAYAN
Casiño, Teodoro A.
NACIONALISTA PARTY
Cayetano, Alan Peter S.
Trillanes, Antonio IV F.
Villar, Cynthia A.
NATIONALIST PEOPLES COALITION
Enrile, Juan Ponce Jr., C.
Legarda, Lorna Regina B.
PDP- LABAN
Pimentel, Aquilino Martin III D.
UNITED NATIONALIST ALLIANCE (UNA)
Binay, Maria Lourdes Nancy S.
Cojuangco, Margarita R.
Ejercito, Joseph Victor G.
Gordon, Richard J.
Honasan, Gregorio B.
Maceda, Ernesto M.
Magsaysay, Maria Milagros Esperanza H.
Zubiri, Juan Miguel F.
INDEPENDENT CANDIDATES
Escudero, Francis Joseph G.
Llamanzares, Mary Grace P.
Hagedorn, Edward S.
Montaño, Ramon E.
The 5 recently qualified bets were among the 59 aspirants called to a hearing on October 18 and 19 "to justify the legitimacy of their candidacies." - Rappler.com