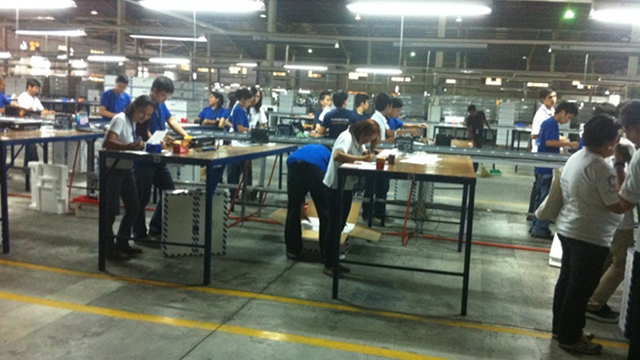 MACHINE INSPECTORS. PCOS machines undergo scrutiny at Smartmatic's warehouse in Cabuyao, Laguna. File photo by Reynaldo Santos Jr
MANILA, Philippines – The Commission on Elections (Comelec) is filing charges against several individuals who were caught tampering with election paraphernalia in a rented warehouse last week, poll chief Sixto Brillantes Jr said Monday, January 14.
The group that breached security was apparently sent by Power Serve Inc (PSI), the company with which the Comelec is locked in a property dispute, the chairman said.
The unspecified number of individuals allegedly tampered with a conveyor in the warehouse for precinct count optical scan (PCOS) machines in Cabuyao, Laguna.
"'Yung long-term lessee ng warehouse, medyo nanggugulo, at may ginawang hindi tama noong minsan.... Baka niluluwagan ang mga turnilyo," he said, refusing to give specifics. (The long-term lessees of the warehouse, they're messing with the set-up, and did something anomalous. They may have been loosening screws.)
The break-in happened barely two weeks after the Biñan Regional Trial Court Branch 25, also in Laguna, issued a writ of possession in favor of the Comelec.
PSI holds the long-term lease on the property from a certain Benny de Guzman; it sub-leases it to the Comelec. However, PSI threatened to evict the Comelec after the latter insisted on renting the property for only 7 months, the duration for which it will need the warehouse. The company wanted to lock the poll body in a 3-year contract.
An eviction would have imperiled the storage of over 79,000 PCOS machines, Brillantes said. Without such a warehouse, he had said, "we go back to manual" elections.
The writ of possession issued by the court has allowed the Comelec to occupy the warehouse until June 2013 even without a contract. The elections will be on May 13.
Changing security
Brillantes said the Comelec may cite for contempt of court and file an election-related case against the men who broke in and tampered with the PCOS machines.
The Comelec has also removed its security head in the Cabuyao warehouse, he added.
Asked how security was breached, Brillantes did not give a direct answer: "Kaya nga kami nagpalit ng security." (That is why we changed our security.) He also said the Comelec has decided to further tighten security in the area, adding more police, military, and security guards.
The Comelec chair, however, downplayed the effects of the alleged tampering.
"Nakita na namin na hindi malaki ang nangyari. Maliit na bagay, pero kung hindi naman nahuli kaagad 'yon, hindi namin nalaman, baka lumala 'yon," he said. (We saw that it was nothing major. It's minor, but if we didn't foil it soon enough, if we didn't find out about it, it may have been worse.) – Rappler.com