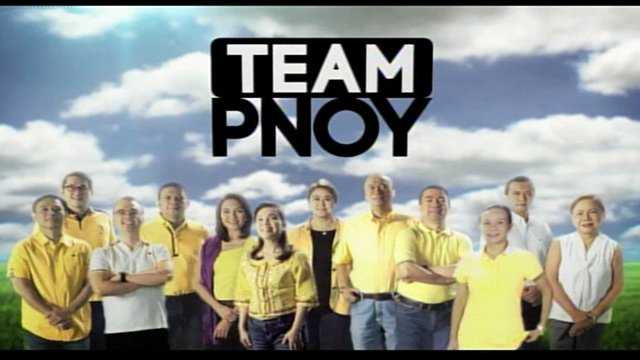 SCREENSHOT of the Team PNoy commercial
MANILA, Philippines - If there was ever any doubt that the President would be involved in the senatorial campaign for the May elections, Liberal Party (LP) stalwarts are putting that to rest. They said President Benigno Aquino III will be visible on the campaign trail.
In a press conference on Tuesday, January 29, Eastern Samar Rep Ben Evardone said Aquino will be present in campaign sorties "as long as his schedule permits."
"The President will not only be visible in ads. He will also be very active during the campaign but, of course, without sacrificing governance," Evardone said.
In the first television advertisement of the LP-led coalition, which started airing on Monday, January 28, the senatorial candidates of the LP-led coalition were introduced as "Team PNoy." Although Aquino did not appear in the ad, he can be heard doing the voice-over to introduce all the candidates.
"The philosophy behind it is we want to see that they are working as a group endorsed by the President," Marikina City Rep Miro Quimbo said in the same press conference. "It sends the message that this is a united team under the administration," Quimbo added.
Quezon Rep Lorenzo "Erin" Tañada reiterated Aquino's stance that the 3 guest candidates that LP shares with the United Nationalist Alliance (UNA) may not appear in UNA's ads or sorties.
The 3 "common candidates" -- Sen Chiz Escudero, Sen Loren Legarda and Grace Poe -- all appear in the "Team PNoy" advertisement. They did not appear in the UNA ad, which aired first.
Tañada said the party believes Aquino's presence in the campaign sorties will be "enough" to boost their candidates' chances in the 2013 elections.
In the latest SWS survey, 7 out of the top 12 candidates are from the LP-led coalition, including the 3 guest candidates. However, the only candidates who are sworn members of the Liberal Party -- Bam Aquino, Jun Magsaysay and Jamby Madrigal -- all failed to crack the Magic 12 in the same survey, placing 15th to 17th, respectively. - Rappler.com