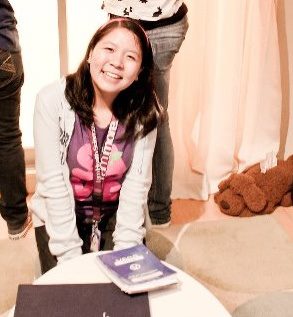 MANILA, Philippines – I live in a barangay (village) that is officially named Brgy. 330, Zone 33 of District III of the City of Manila. In fact, I never knew this until I took this picture of our barangay stone marker, and I doubt any one of my neighbors knows either.
After a bit of research, I found a master list of barangays in the Philippines on the internet and I discovered that all barangays in Manila are just coded numbers from 1 to 905—none of them labeled with proper nouns.
With the barangay as the smallest local government unit, it may seem quite practical for the city mayor or larger divisions such as the Metropolitan Manila Development Authority to use numbers to settle issues and organize information at the barangay level. But this gives the residents of the barangay no sense of where they live and where they belong, and no sense of shared identity among fellow residents of the barangay.
Personally, when asked where I am from, I would say "somewhere close to Binondo," because I associate myself more closely with what Binondo is known for -- Chinatown and Chinese culture -- than Barangay 330, which means nothing to me.
This directly affects the political culture of our barangay, and is probably why nothing ever happens here that makes people want to get up and spend time with the neighbors. We don't have traditions like barangay-wide fiestas or any other event. Most of us would rather spend holidays with people we already know, like family. Political socialization in the barangay occurs solely with relatives and extended family members, and people will never interact with political cultures outside of their family traditions.
This leads to an even more pressing problem: who to vote for during local elections? Do I vote for whoever my parents vote for because this candidate supports small businesses? Do I vote for the Chinese candidate because he would help us families with similar Chinese heritage?
I have no idea who Angel "Joy" Rivero Jr. is, neither do I know any of the kagawads (councilors) enumerated below. Judging by the peeling paint on the crumbling stone marker, I believe I am among the many people who do not care about these officials, or the barangay in general. This is Barangay 330.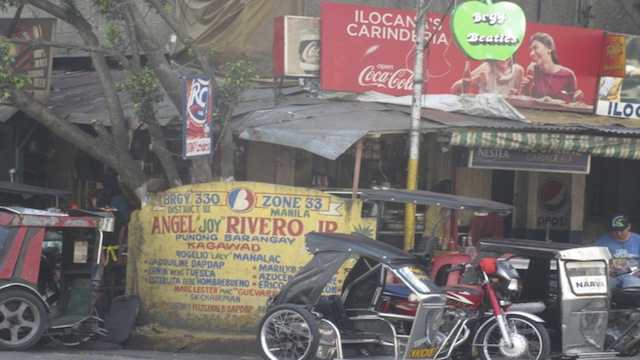 Incidentally, the focus of this photograph is not the stone marker, but the green apple-shaped lantern on the upper right corner that says Brgy. Beatles.
I first encountered this name in a poster stuck on a galvanized iron fence around an empty lot. At first, I thought it was a joke. But about a dozen of these green apple lanterns were put up very recently to light up the streets during the Christmas season. Every night, I walked home under these lanterns and smiling to myself what a funny story it would be if I told my friends I lived in a place called Brgy. Beatles.
It made an impact on me, and I found myself wanting to belong to a community that had something to call itself. I wanted to share this amusing change in my barangay to my friends, and also to you, through this article.
Now, the barangay has albeit an unofficial name that everyone can call it, thanks to Barangay Chairman Rivero. Brgy. Beatles may be a name to never be taken seriously, but I'm sure, like me, every person in our barangay appreciates to finally have an identity we can all share. While this is a very small change, it can hopefully make the people in our barangay more involved with the problems the barangay faces.
And then, of course, the barangay officials must also take this opportunity to take action. Perhaps giving the barangay a name is the first step. Next, I would recommend they organize an event to gather the people in the barangay to really talk about the barangay. Our barangay has quite a number of problems to deal with, such as, as seen in the photograph, the problem of tricycles parking anywhere from corners of intersections to almost blocking up half of one-way roads, and also the problem of waste management.
I know this next step is a large undertaking, but at least the barangay is currently looking into less serious activities for the residents to get into, such as setting up basketball tournaments once a year for a few months. This gets people to meet new people outside of their comfort zones, and this is the first step into truly making our barangay a clean, well-organized, productive barangay.
I believe our barangay is a small representation of the Philippines as a nation. The country does not have a true Filipino identity that encompasses all languages and ethnic groups. People tend to wander around their own private circles without ever involving themselves in a "public" life.
Just like every person in our barangay, every Filipino should be given a reason to want to get involved to make a country stand tall, and then make them work together and get involved. – Rappler.com
Ms. Chong is a health sciences student at the Ateneo de Manila University.