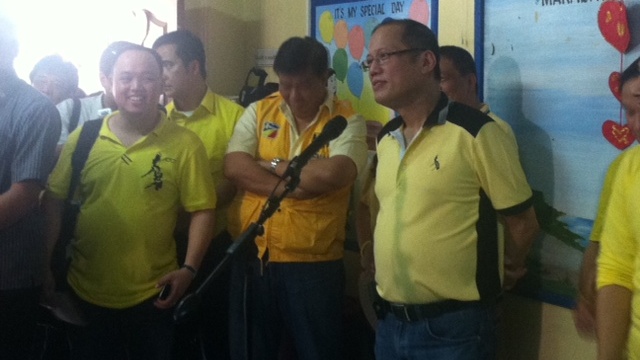 RESPONSE TO UNA. President Aquino with Team PNoy in San Pablo City, Laguna. Photo by Natashya Gutierrez
LAGUNA, Philippines - President Benigno Aquino III brushed off criticisms from the opposition United Nationalist Alliance (UNA) that the economic growth accomplished by the administration benefits only the wealthy.
Instead, he challenged them to offer solutions rather than slam his reforms. In a press conference in Laguna after a Team PNoy proclamation rally on Thursday, February 14, Aquino accused the opposition of downplaying his achievements, just to make themselves look good.
"Since they are the ones who have separated from us, I can't blame them for downplaying our achievement so they could say that if they were in power, it would be even better. So I hope that instead of criticizing, they can show how they can do better," he said.
Aquino also explained that the trickle-down effect of economic growth takes time to be felt by the people. He said his administration is focused on reforms that are long lasting and will be appreciated by the country even long after he has left office.
Vice President Jejomar Binay, one of the stalwarts of UNA, criticized Aquino's reforms in their proclamation rally on Tuesday, February 12 in Cebu. Binay said the current economic growth has not trickled down to the masses.
When asked if the elections would affect his relationship with Binay, Aquino said it is unlikely. "As long as the VP is doing his job… I have no problems with him. In fairness to him, he has done a good job," he said.
Common candidates
Aquino showed little concern when asked about the common candidates of Team PNoy and UNA, senators Chiz Escudero and Loren Legarda, and former censors chief Grace Poe.
On Wednesday, February 13, Binay threatened to drop the 3 from his slate for failing to appear in their sorties so far. The 3 were present in Aquino's proclamation rally in Plaza Miranda, and in Batangas, the first stop of Team PNoy on the campaign trail.
"It's clear what we talked about with our common candidates. We endorse them because we believe in them. Now whatever the other group decides, we have no say how they run their campaign," he said.
"The only thing that's clear is that our view and the view of the other group, all the colors are there already. But when our team faces the public, we only have one message so it's clear what we want to partake to the people: that in the tuwid na daan, we will progress."
When asked if he specifically asked his candidates not to appear in UNA's stage, Aquino said, "I think their actions speak for themselves."
Only Poe was present in San Pablo City with Aquino, while Escudero and Legarda were absent. (Poe skipped an earlier Laguna sortie in Biñan.)
Drilon told reporters it was UNA's choice if it wanted to drop the 3, and asked media not to make a big deal of Escudero's and Legarda's failure to personally attend the rally, especially because Legarda sent her father Tony in her place.
He joked Escudero is probably with girlfriend Heart. Aside from Valentine's Day, the actress is celebrating her birthday today.
Love life
Questioned about his love life, Aquino laughed when asked about his plans for the night.
He joked about trying to find a date tonight, perhaps through the Internet. He added, "So it's not always just Josh and me."
Josh is his nephew, the son of his younger sister, television personality Kris Aquino.
He said he would probably spend the night catching up on reading, like the 5-inch thick Atimonan summary and the report on how to deal with the USS Guardian still stuck on the Tubbattaha reef.
With a smile, Aquino said he was not giving up on his love life.
"As long as there's life, there's hope," he said. - Rappler.com