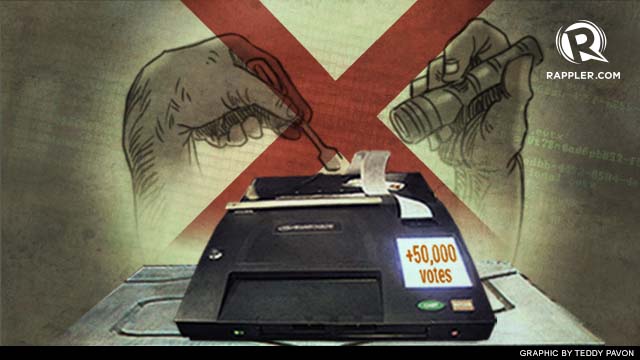 FOILED ATTEMPT. Investigators arrest two suspects who allegedly offered to rig PCOS machines. Graphics by Teddy Pavon
MANILA, Philippines (2nd UPDATE) – The Commission on Elections (Comelec) on Tuesday, February 19, bared an offer to manipulate ballot-counting machines in a small town in Mindanao, and said authorities have arrested the suspects.
In a press conference on Tuesday, Comelec chair Sixto Brillantes Jr said the National Bureau of Investigation (NBI) caught the suspects through entrapment operations. The NBI said it conducted the entrapment on Monday evening, February 18, at Century Park Hotel in Malate, Manila.
The suspects, who introduced themselves as engineers from Smartmatic, offered to rig precinct count optical scan (PCOS) machines for P5-M. The suspects proposed this to a local candidate in Simunul, Tawi-Tawi, Brillantes said, adding the government may file estafa charges against them.
Comelec bought from Smartmatic its PCOS machines, which the poll body also used in 2010.
In a letter to Brillantes, the NBI identified the suspects as Hadji Omar Masiding y Radango and Sultan Pundatoon Bagul, both from Lanao del Sur. The NBI accused them of estafa and usurpation of authority.
The complainant was Abdulsalam Hadji Harun, a mayoralty candidate of Simunul, Tawi-Tawi, incidentally the origin of the Filipinos who recently went to Sabah to assert a territorial claim.
"It was disclosed that subjects Masiding and Bagul represented that they worked with Smartmatic as engineer and hence, had the power and capability to manipulate election results in his favor in consideration of P5,000,000," said NBI director Nonnatus Caesar Rojas in theletter.
"Thereafter, Masiding and Bagul demanded an initial payment of P100,000 purportedly to encode his name in the precinct count optical scan machines," Rojas said.
The NBI arrested both Masiding and Bagul after receiving marked money from Harun.
But Brillantes said: "They cannot do anything, because first of all, the PCOS cannot be manipulated." He said the Comelec bared this information to deter similar offers to rig PCOS machines.
Minimizing 'swindlers'
Brillantes explained it is possible that similar swindlers come from a syndicate. "Maybe this would minimize the number of swindlers," he said in Filipino, adding that the poll body isn't threatened that they can rig the elections.
If they do not pose a threat, however, why deter them in the first place? (Watch more in the video below.)
Brillantes explained: "Kasi naghahanapbuhay nga eh; niloloko nga ang mga tao eh. Eh merong mga tao sa malalayong lugar, nagpupunta yan sa maliliit na munisipyo, diyan nanloloko ng mga kandidato diyan na kaya nila. Gusto n'yo bang hindi namin i-announce para continuous pa rin sila na manloko ng mga tao? Kaya nga tayo humuhuli eh."
(Because they're making this their livelihood; they're fooling people. There are people, in faraway places, who go to these small municipalities to fool the candidates there. Do you want us not to announce this so they can still continuously fool people? That's why we're arresting them.)
Election watchdogs, however, have cast doubt over the Comelec's PCOS machines.
One of their concerns involves the source code, or set of instructions for the PCOS, which international experts have certified but which local groups cannot review. This is because of a legal dispute which, the Comelec said, will not affect the elections after all. – Rappler.com