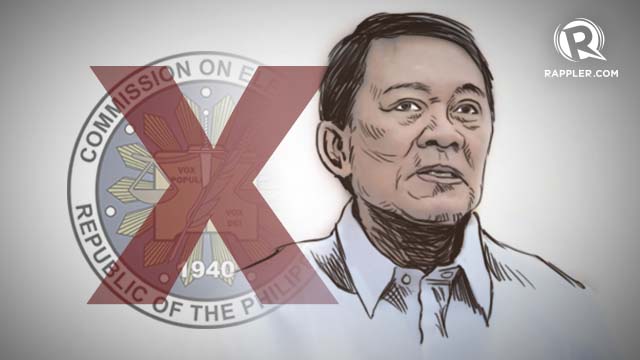 'WITH DEEP REGRET.' Ex-poll lawyer Macabangkit Lanto declines his Comelec appointment. Graphic by Teddy Pavon
MANILA, Philippines (2nd UPDATE) – Hounded by controversy, former Lanao del Norte Rep Macabangkit Lanto on Monday, March 11, said he declined his appointment as Commission on Elections (Comelec) commissioner "with deep regret."
In a letter to President Benigno Aquino III dated Saturday, March 9, Lanto said: "After a thorough consultation with my family, I have arrived at this decision, owing in large part to the controversy that surrounded my appointment."
The other appointee to the Comelec, election lawyer Maria Bernadette Sardillo, had earlier declined the post too. She cited her family's desire for her to continue in her private practice, but sources said her appointment was opposed by Commissioner Grace Padaca and the latter's election lawyer, now Justice Secretary Leila de Lima, who had a case against Isabela Gov Benjamin Dy, Sardillo's client.
A former ambassador, Lanto got unseated as Lanao del Norte's second district representative in 1994 due to alleged poll fraud. The House of Representatives Electoral Tribunal (HRET) ruled that he cheated to win the elections. (Read: New poll official and the ties that bind.)
He also used to work for Team PNoy campaign manager Sen Franklin Drilon, who endorsed him as officer-in-charge of the Autonomous Region in Muslim Mindanao in 2011. Drilon and Lanto are said to be fraternity brothers at the University of the Philippines, and Lanto's brother was a lawyer for the Liberal Party.
Lanto admitted last week that it was also Drilon who recommended him for the Comelec post.
Government insiders said Drilon is part of Malacañang's search committee. While it was Aquino who signed Lanto's appointment, he reportedly got upset over the committee's failure to seriously consider the controversies that hounded him.
Thus, the President on Friday, March 8, ordered trusted lieutenants to persuade Lanto to decline his appointment. Lanto agreed immediately, according to the same source.
Lanto has claimed he was a victim, not a perpetrator, of poll fraud. He said he is "no Virgilio Garcillano," referring to a Comelec commissioner who allegedly helped rig the 2004 elections in favor of then President Gloria Macapagal-Arroyo.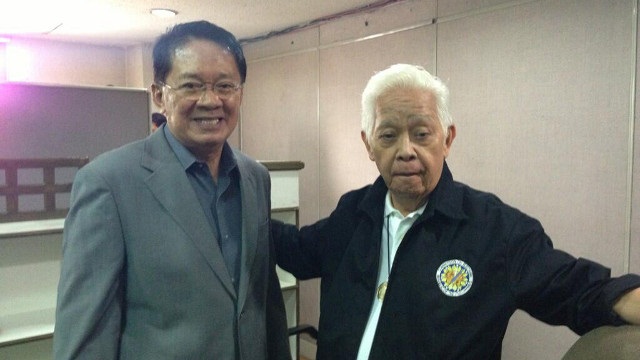 'VICTIM' OF FRAUD? Ex-poll lawyer Macabangkit Lanto says he didn't benefit from cheating, contrary to claims. Photo from Comelec chair Sixto Brillantes Jr's Twitter account
"The past few days have been difficult for me and my family," Lanto said. "The incessant media focus on my HRET case 20 years ago has unfortunately overshadowed my public service record and as a result, I will find it extremely difficult to pursue my advocacy for electoral reforms in the Comelec."
Earlier, Lanto vowed to foil cheating operations, especially in his home province, because he knew exactly what they do. (Read: New Comelec exec bad news for Lanao cheats.)
Lanto's move means Aquino will have to look for two new Comelec commissioners again. On Saturday, former election lawyer Bernadette Sardillo also declined the position of Comelec commissioner. A reliable source told Rappler she did so due to politics.
In an interview on ANC on Monday, Comelec chair Sixto Brillantes Jr said he hopes Aquino would appoint new commissioners within the week. Brillantes said he prefers a Comelec insider to fill one of the two vacancies. – with reports from Glenda M. Gloria/Rappler.com