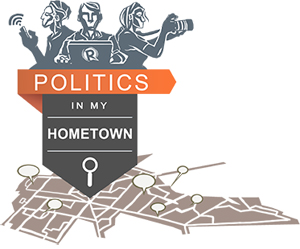 "Politics in My Hometown" is the reader's corner on #PHvote, a space for first-person accounts on how campaigns and elections, governance, and service delivery are in your locality. Send to phvote@rappler.com your 800-word essay, collection of photos, videos, or any medium through which you can best tell your story. A photo and note about yourself will be a good idea.
MARIKINA CITY, Philippines – I live in Marikina. Though it is already classified a city, it will always be that warm, friendly, and fuzzy provincial town to me. Belle from Beauty and the Beast would probably hate to live here.
People know each other. They bounce around the street and greet each other with a broad smile and an enthusiastic "Good Morning!" On the way to somewhere, people would stop in their tracks whenever they chance by a familiar face, and have a little chit-chat. "Uy! Ano'ng balita sa 'yo?"
Or we would talk about the news from the town crier (it's the car with the megaphone that roams around). This may be regarding the death, the birth, or the awarding of someone, which translates to a sugalan, party, or reunion somewhere.
With this degree of familiarity among people, families in Marikina are intimate. Each has this great amount of interest, information, and influence on others. It is a strong society composed of old citizens, all compadres and comadres. When one makes a decision, the other swiftly adopts it. It's all peaceful when the town is happy, satisfied, and unified.
We're all very inter-related. During elections, candidates in Marikina spend a lot of money on merchandise and a lot of time roaming around with Kuya Tagapayong. They wave, shake hands, and kiss the elders' hands (or mano). They knock on every door, ring on every bell, and tap on every window just to get people out of their houses to talk them into voting for candidate so-and-so. It's very Filipino, this face-to-face interaction to garner votes.
Discipline in candy wrappers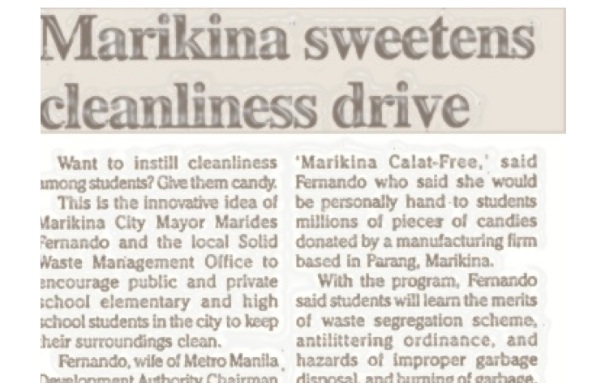 Tradition is something held onto by most Marikeños. They like it when the mayor follows or upholds tradition, and that person will most likely be the one to "traditionally" win. This was what kept the Fernandos in office for almost two decades.
(Bayani Fernando, son of a former mayor, himself served as mayor from 1992 to 2001. He was succeeded by his wife, Marides Fernando, who served from 2001 to 2010. – Ed.)
The relationship between them and the people was thorny at first. They signed ordinances that prohibited people from strutting in public half-naked, or hanging their laundered underwear where it could be seen by passersby, or gathering for a round of drinks at the local store.
One of the most famous ordinances employed was Ordinance No. 73, also known as the "Anti-Littering Code of Marikina." Violators of this ordinance were charged with fines, committed to public humiliation, or forced to do community service. Everyone complained at first, but the Fernandos crafted brilliant campaigns that slowly won people over to their side.
I remember receiving free candy whenever I bought something from the school canteen. On the wrapper, there was this cartoon that said, "Munting basura, ibulsa 'nyo."
They also encouraged recycling, and everyone kept those candy wrappers to make recycled decorative flowers for projects. (I used mine to decorate my monggo plant cup!)
Eager to pay taxes early
Another ordinance that made its mark in Marikina was the ordinance on real property tax. Come the start of the year, the munisipyo (it's the city hall, but we still prefer to call it "munisipyo") is usually congested with early taxpayers. Yes, early birds – because if a citizen paid his real property tax before March, he would get a discount.
It got a little grander around this year – half off. Who wouldn't be motivated to pay their taxes early?
It's positive and negative reinforcement. Marides Fernando pointed this out in a conference with high school students she called last 2008. Mrs. Fernando once invited students to their house to talk about politics and government in Marikina. I was part of this conference and she asked us if we had ideas on how certain things can run more effectively.
We all gave our insights and comments, and what struck me was that she noted down what we were saying – with her pen, on that notebook, with her hand! Legit! I was already happy that I was able to voice out my own opinion on city government, but it made me even happier to have seen that our mayor wrote my ideas down. It made us, young citizens, feel that we were part of how well the city was running.
It was all about treatment. The Fernandos ruled with iron fists before, but that was because they had to instill discipline in the residents. It was necessary – and it later eased – to allow the government to do what it was supposed to do. The officials created systems that appealed to values and the beautification of the little town everyone loved.
And Marikina adapted to change. It rode the waves of urbanization and technology serenely because the sail of people cooperated with the government's steering wheel. They now complement each other: a strong, firm government hand-in-hand with a strong society. The officials and the people are partners in maintaining and improving the city.
Here in this little town, not a Belle bellowed, "There must be more than this provincial life." We like that it's warm, friendly, and fuzzy here with everyone knowing each other. The politics here: the people are very much part of government; systems and decisions are made with consultations.
When the city government of Marikina writes notes and letters, these close with "Thank you for your cooperation." Here, cooperation is expected, and wholeheartedly given. We all have one concern: the betterment of this little town. – Rappler.com
Felyne Siao is a communications student at the Ateneo de Manila University.