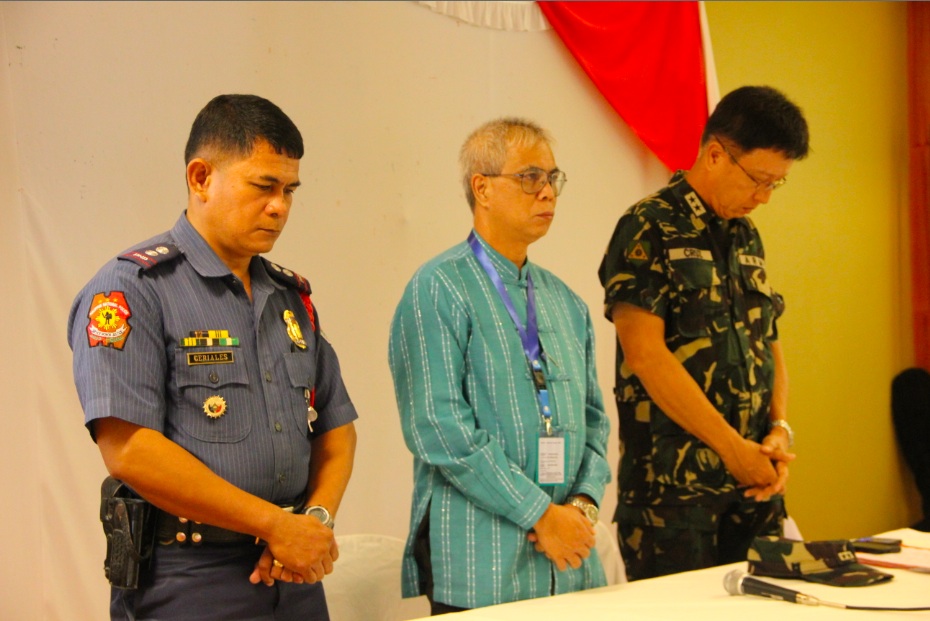 THE ORGANIZERS: (From left) Police Supt Devin Ceriales, deputy provincial commander; Atty Tomas Valera, provincial election supervisor; and Maj Gen Ricardo Rainer Cruz III, commander of the Army's 1st Infantry Division. Photo by Gualberto Laput
DIPOLOG CITY, Philippines – More than half of candidates for provincial and congressional posts in Zamboanga del Norte snubbed the peace covenant signing organized by the poll body, the police, and the Army on Monday, March 25, while the few who showed up doubted it would achieve its purpose.
Candidates of the Liberal Party (LP) and the Nacionalista Party (NP) are engaged in intense rivalries here.
At the most, said LP candidate for board member Angel Carloto, the pact for peaceful elections " is just a media stunt for government agencies."
The activity was spearheaded by the local offices of the Commission on Elections (Comelec), the Philippine National Police (PNP), Department of the Interior and Local Government (DILG), and the Army's 1st Infantry Division (1st ID). They invited candidates for governor, vice governor, representatives, and board members for Zamboanga del Norte's 3 districts.
Army Maj Gen Ricardo Rainer Cruz III, 1st ID commander, said: "Zamboanga del Norte has, in the past, been identified as one of the country's hotspots during elections, but as long as we are here, we will reverse that. If needed, we will bring in additional battalions from other places to ensure a secure and fair election here."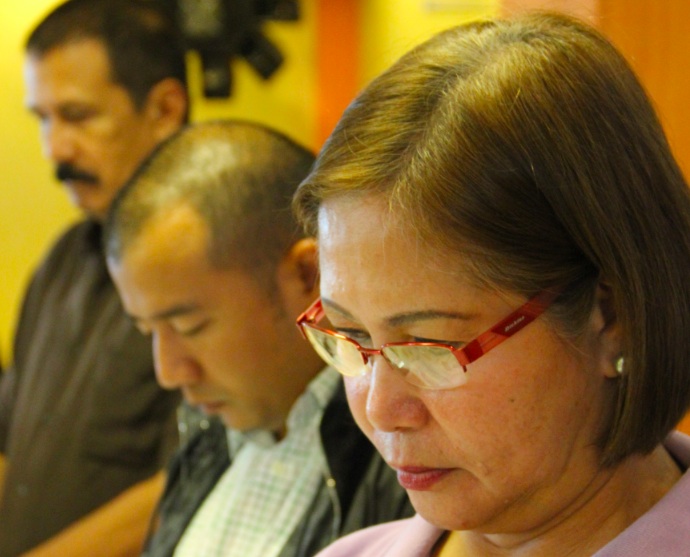 NACIONALISTA BETS. (From right) Dapitan City Vice Mayor Patri Chan, Rep Seth Frederick Jalosjos, and gubernatorial bet Rep Cesar Jalosjos. Photo by Gualberto Laput
But Rep Cesar Jalosjos, who is running for governor under NP, said he does not believe that the peace covenant will bring peace to the elections in the province.
"I'm not really that encouraged. It is nice to see our opponents in a peaceful environment, though. But that's only for this day. Once we get out, everything is likely to go back to being vicious," he said.
LP candidates here have been accused of sowing terror against their rival candidates from NP and the United Nationalist Alliance (UNA).
Gov Rolando Yebes (UNA), who is running for congressman of the 2nd District, said: "They (LP candidates) are the province's Team Patay," because of the recent killings and strafings suffered mostly by leaders and supporters of NP and UNA candidates.
So far, 26 unsolved killings have been reported mainly in Dipolog City. LP leaders here have denied being behind the killings, citing police reports that the victims were police characters.
At the peace covenant signing, only LP gubernatorial candidate Roberto Uy gave full confidence in the covenant, but did not elaborate.
Meanwhile, 1st District Rep Seth Frederick Jalosjos of NP said that he signed the peace covenant "just for compliance."
He added that peace covenants in the past did not work: "By all indications it is not working this coming elections either. It is not working here in Zamboanga del Norte, and it is not working in the Philippines."
He explained that there are still a lot of killings going on and the police has yet to come up with suspects or a report on the progress of their investigations.
"After we sign this peace covenant will there be an assurance that the killings will stop?" he asked.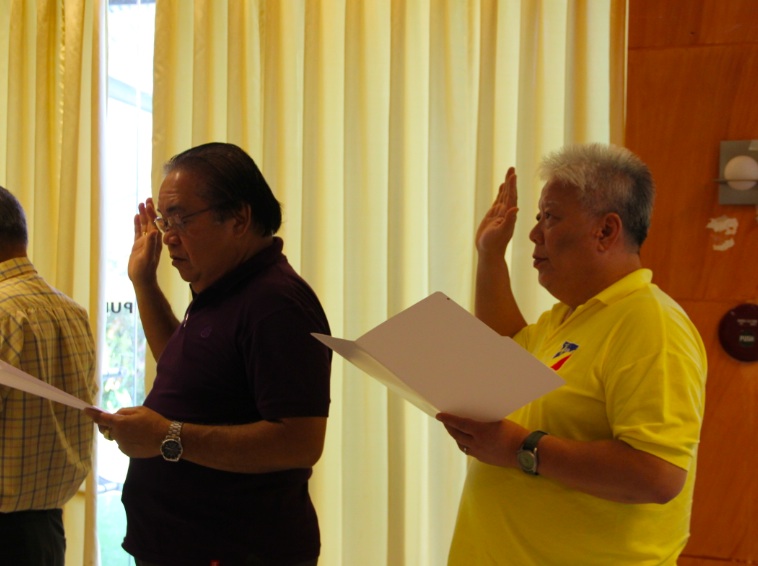 LIBERAL BETS. Gubernatorial candidate Roberto Uy (right) and running mate Dipolog City Vice Mayor Senen Angeles. Photo by Gualberto Laput
Uy's supporters, however, are pointing to the Jalosjoses camp as having armed men who are ready to sow terror among voters. The LP bet has also complained with the Comelec that a suspicious increase in voters' population in the 3rd district has been recorded to favor his rival Cesar Jalosjos.
The PNP's Provincial Director for Zamboanga del Norte failed to attend the peace covenant signing too, but his representative – Deputy Provincial Director Devin Ceriales – tried to appease everyone that everything is normal. "Intense political rivalry is a sign that democracy is working," he said.
"I just hope that this election will not be the reason for the further deterioration of the province's peace and order situation," Ceriales said
Carloto is not as optimistic: "The provisions of the peace covenant are good, but only if followed by those who signed it. All we can do as of now is to prepare for the worst and hope for the best."
Dapitan City Vice Mayor Patri Chan of NP added: "There should also be a provision in the peace covenant ensuring that government agencies will not take sides in the elections." – Rappler.com