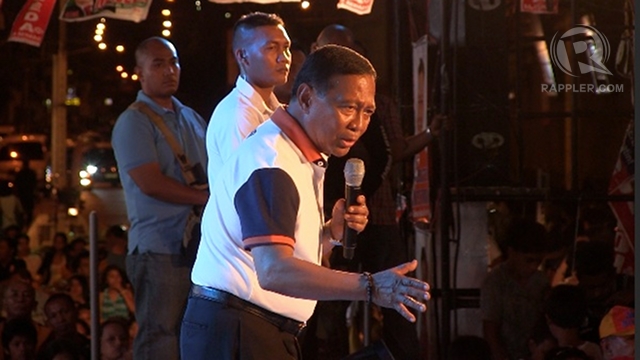 THE PATRIARCH. Vice President Jejomar Binay defends his 3 children seeking public office, saying they have done him and Makati proud.
MANILA, Philippines – A senator, a congresswoman, a mayor, and the country's vice president will likely share one last name after the May polls: Binay.
Still, Makati's political family is unapologetic for fielding 3 candidates. The patriarch, Vice President Jejomar Binay, even hailed his children as a source of pride.
Binay led the proclamation rally of his son, re-electionist Makati Mayor Junjun Binay, on Wednesday, April 3. Joining them on the campaign stage were two other Binays running for office: re-electionist Makati 2nd District Rep Mar-Len Abigail Binay-Campos, and senatorial bet Nancy Binay.
In his speech, Binay made a pitch for national and local candidates of the opposition United Nationalist Alliance (UNA) but devoted time to campaign for his children. With Nancy's accidental candidacy, the Binays face criticism of expanding their dynasty from Makati to the national scene.
The Vice President, though, sought to address the charge, first by citing Nancy's popularity.
"Si Nancy na hinahamak-hamak nila, ito ay nung pinaplano-plano, noong gustong patakbuhin, ang unang survey 19%. Tapos ako noong makalaban ko si Mar Roxas, 54% against 2%. Kada survey, pataas nang pataas hanggang sa manalo ako. Biro 'nyo, 54-2, si Nancy 19%," the Vice President said.
(Nancy, who they have been criticizing, started out in surveys with a score of 19%. When I ran against Mar Roxas in the 2010 vice presidential race, he started 54% against my 2%. In every survey, I went up until I won. Imagine, 54-2 but Nancy is already at 19%.)
Binay endorsed his eldest daughter to his long-time constituents. He was mayor of Makati for over 20 years. His wife, Elenita, became mayor for 3 years when he was sitting out his term limit.
"Meron na tayong maipagmamalaki. Ang Makati, may senador na ngayon." (We already have something to boast of. Makati will now have a senator.)
The Vice President also pushed for the candidacy of his two other children. He praised Mayor Binay's leadership, saying "the son is better than the father." He also commended Rep Binay for being deputy majority leader in the House.
"They only make an issue out of dynasties in the context of violence and cheating and bad practices in politics, but in a clean and honest election, why not allow the people to vote," Binay said in Filipino.
The proclamation rally was a family reunion of sorts for the Binay clan, with the vice president even starting his speech by introducing each of his grandchildren on stage.
In an interview with Rappler, Mayor Binay also said having 4 Binays in government is not a consolidation of power.
"Even if my two sisters win, one congresswoman and one senator, it doesn't mean we already hold Congress. My siblings will be just two out of many lawmakers. It doesn't mean we can manipulate the Senate and Congress," he said.
Mayor Binay added: "They will be there, represent the people and use Makati as a model. That's what we always say, 'If we did it in Makati, we can do it in the entire country.'"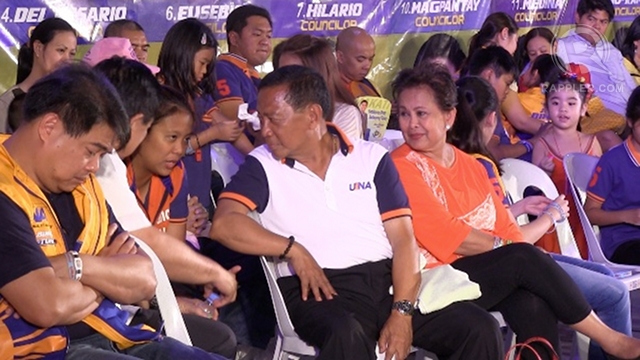 FAMILY HUDDLE. Vice President Jejomar Binay talks to daughter senatorial bet Nancy Binay before taking the podium at the UNA proclamation rally in Makati.
UNA sweep in Makati?
With the family's hold on Makati politics, Mayor Binay and Nancy Binay said a complete victory for UNA's 9 senatorial candidates in the city is not far-fetched.
Known as the country's financial district, Makati has nearly 400,000 registered voters.
"My father's endorsement is a big factor. We had a [local] election where we won straight 12-0 in both districts and hopefully we can replicate that with UNA's senatorial slate for a 9-0 victory," Nancy said.
She said UNA's allies in Makati will be able to focus on helping the senatorial slate because his brother is almost assured of victory.
Independent candidate lawyer Renato Bondol is Mayor Binay's lone challenger. Another independent candidate, Joel Sarza, is running against his sister, Rep Abigail Binay.
"More or less, we already [have the machinery for UNA] because my brother's rival is not that much of a heavyweight this elections," said Nancy.
Bondal, a former barangay chairman, said he is running against Mayor Binay to give voters "an option for change."
Asked about this statement, Nancy said, "At the end of the day, it's the will of the people. We are not forcing anyone. The elections where our family members won were clean and honest."
While Mayor Binay is not expecting a major challenge to his re-election, he admitted that the race is heated in the vice mayoral level.
Binay is fielding running mate Marjorie de Veyra against ally-turned-rival Vice Mayor Romulo "Kid" Pena of the ruling Liberal Party.
Both the mayor and the vice president endorsed De Veyra in the rally, praising her work as former city administrator and head of the Makati Social Welfare Department, and her loyalty to the Binay family.
Besides De Veyra, UNA candidates in Makati include re-electionist 1st District Rep Monique Lagdameo, and majority of the incumbent councilors seeking re-election.
2016 and full circle
During the speeches of both local and senatorial UNA bets, the candidates all praised Binay's leadership in Makati, and expressed support for his plan to seek the presidency in 2016.
In his speech, the Vice President waxed nostalgic, recalling that it was in Olympia, Makati, where he spoke of his presidential ambitions in the 1990s.
"Sinabi ko pagtulung-tulungan natin, pagagandahin natin ang Makati, at ang Makati ang ituturo natin 'pag nilunsad ang aking pagkakandito pagkapangulo." (I said let's help each other improve Makati, and we will point to Makati when I launch my presidential candidacy).
Binay then cited services his family's leadership pushed for in Makati like cash gifts for senior citizens, and the construction of hospitals.
"Nangampanya [ako dito noon] bilang pangalawang pangulo. Ngayong gabi, meron hong 'di makapaniwala, 'di makatulog kasi ang nakaharap sa kanila ngayon, si Jojo Binay, number two sa buong Pilipinas." (I campaigned here before for vice president. Tonight, there are those who cannot believe, cannot sleep because the one facing them is Jojo Binay, the number two official of the Philippines).
Binay capped the night by summing up his campaign pitch for his children and candidates: "Damdaming Makati, tatak Binay." (The heart of Makati, the Binay brand). – Rappler.com