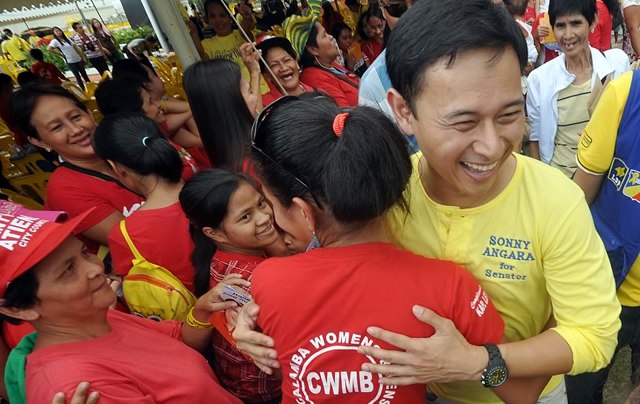 Photo from Sonny Angara Facebook page
MANILA, Philippines - Hit them where it hurts most.
"No work, no pay" is not the best punishment for absentee lawmakers, said Team PNoy senatorial bet Juan Edgardo "Sonny" Angara. It should be: "No work, no vote."
The 3-term representative of Aurora province supported calls for voters to junk candidates known to be absentees in Congress.
"Before we push for the implementation of a 'no work, no pay' policy in Congress, let's start with 'no work, no vote.' 'Huwag natin iboto ang mga kandidatong hindi nagtatrabaho (Let's not vote for the candidates who have not been working)," Angara said.
The senatorial candidates are mostly incumbent senators or representatives. Angara said voters should look into the record of candidates.
"Halal kami ng bayan, dapat naninilbihan kami para sa bayan. Hindi kami dapat naglalakwatsa o pa-petiks-petiks lang. Voters should elect candidates who would uphold their sworn duties," he added.
Attendance record in the House of Representatives show that Angara attended 50 of the total 61 sessions last year, from January to December 2012. Out of the 11 absences, he was "deemed present" in 5 session days, meaning he only had 6 unexplained absences. A lawmakers is deemed present when he's doing functions outside the session hall.
The "no work, no pay" campaign is an old advocacy that was revived last week after the House of Representatives released the attendance record of the members of the 15th Congress.
But it's a proposal that has not been seriously considered. Lawmakers argue that attendance does not measure the accomplishments of a lawmakers. UNA senatorial bets also questioned it.
Various other proposals have been made to address the chronic problem of absenteeism in Congress. The late Sorsogon Rep Salvador Escudero III wanted the House plenary locked so representatives cannot leave the hall after they've registered their attendance.
Bills have always been delayed because of problems with the lawmakers' poor attendance, especially in the bigger chamber that is the House of Representatives. There are 287 representatives. To constitute a quorum, 144 lawmakers are needed in plenary so they can proceed tackling bills. - Rappler.com