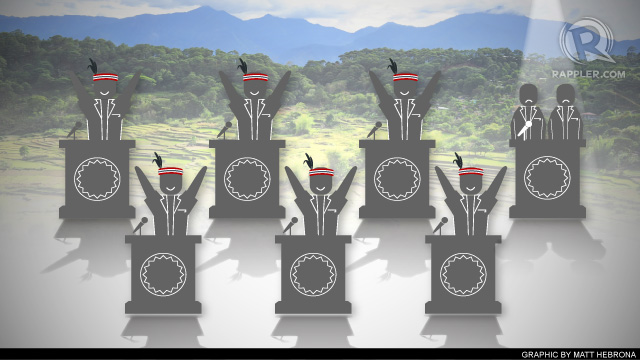 APAYAO, Philippines – In this northern Philippine province, elections are practically over.
Except in one municipality – Pudtol – the mayors in the rest of the localities are running for re-election without any opponent. Apayao has 7 municipalities.
The unopposed mayoral candidates are:
Elias Bulut Sr (NP) of Calanasan;
Joseph Amid (LP) of Kabugao;
Leonardo Dangoy (LP) of Conner;
Efren de San Jose (LP) of Flora;
Betty Verzola (LP) of Luna;
Idol Guiang (LP) of Sta. Marcela.
In 4 of their towns, the vice mayoral candidates are also running unopposed:
Martin Lawat (NP) of Calanasan;
Randy Begtang (NPC) of Conner;
Rodolfo Juan Sr (NPC) of Flora;
Evelyn Martinez (NPC) of Sta. Marcela.
In Pudtol, the race is a one-on-one between Barry Laoat, son of the outgoing Mayor Batara Laoat, under the Liberal Party (LP), and Ronald Almazan under the United Nationalist Alliance (UNA).
Among the 6 unopposed mayoral candidates, Bulut Sr of Calanasan has been in power, holding different posts, since Apayao was carved out of Kalinga in February 1995.
Once identified as the poorest congressman in the country, Mayor Bulut Sr is now patriarch of the only political dynasty in the Cordillera Administrative Region. His son Elias Bulut Jr is running for his second term as governor under LP against Mading Almazan of UNA.
The patriarch's daughter, Eleanor Bulut-Begtang of the Nationalist People's Coalition, is running for her second term as congresswoman in the lone district of Apayao against Ambaro Sagle of UNA.
Bulut Sr is also on his second term as mayor of Calanasan under the Nacionalista Party (NP).
Since 1995, the Buluts had been shuffling the posts of congressman, governor, and Calanasan mayor among themselves. – Rappler.com