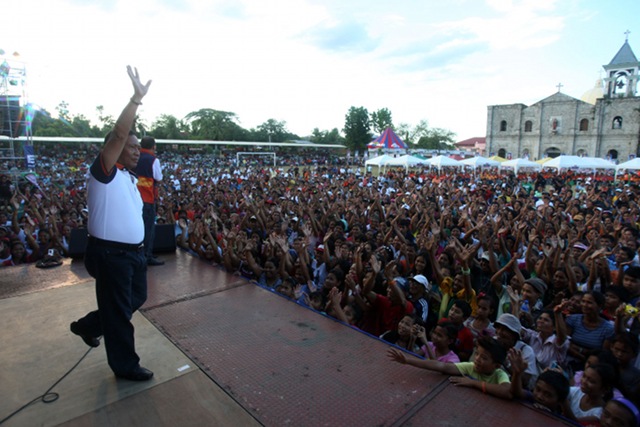 'RUNNING SCARED.' Vice President Jejomar Binay says Team PNoy is running scared that is why the slate visited Iloilo twice since the start of the campaign period. Photo courtesy: UNA Media Bureau
ILOILO CITY, Philippines - The United Nationalist Alliance - UNA - campaigns in Western Visayas – a region the administration claims as a bailiwick.
With Team PNoy campaign manager Frank Drilon promising a sweep for the administration slate, UNA candidates go on the offensive.

Ayee Macaraig reports.
JEJOMAR BINAY
VICE PRESIDENT
Balita ko ang mga kandidato sa kabila they're all running scared so they really have to work double time.
Vice President Jejomar Binay is in fighting form as he and his senatorial candidates enter yellow turf.
Binay leads the opposition's campaign in vote-rich Iloilo, the home province of Team PNoy campaign manager Senator Frank Drilon.
UNA's founder lost to the Liberal Party's Mar Roxas in the province and the rest of Western Visayas in 2010.
After all, it is Roxas' home region but in politics, Binay says there are no permanent friends and bailiwicks.
This time, Binay counts on new allies in Iloilo.
He is fielding the Biron clan against the LP's troika: the Defensors, Tupases and Garins.
With Drilon promising a sweep for Team PNoy in Iloilo, Binay's allies go on attack mode.
REP FERJENEL BIRON
UNA GUBERNATORIAL BET
In 2010, Sen Frank Drilon endorsed my opponent, Gov Niel Tupas. The results of his endorsement? Tupas lost by 50,000 votes. That's how strong his endorsement is.
Even in UNA's proclamation rally in Barotac Nuevo, Drilon and his projects get a beating.
REP AUGUSTO SYJUCO JR
UNA REELECTIONIST
Drilon bridge is falling down, Drilon bridge is falling down, Drilon bridge is falling down.
UNA's senatorial candidates admit winning in the region is an uphill battle.
They come together to visit Iloilo, Aklan, Antique and Negros Occidental, criticizing Team PNoy for deserting President Aquino in the administration's recent sortie in Iloilo.
Yet UNA bets say, in the coming weeks, they will have also have to go on their own.
NANCY BINAY
UNA SENATORIAL BET
Eventually baka magkanya-kanya din kami individually as a candidate like ako, may mga probinsya na mas priority sa akin compared to the other candidates. Ang aim is to win.
Cagayan Representative Jack Enrile says the candidates will focus on areas where they are strong.
With less than a month left before the polls, UNA campaigns in waterloos like here in Western Visayas to win or at least narrow the margin with Team PNoy.
But as the race tightens, the opposition admits the game is boiling down to every candidate for herself.
Ayee Macaraig, Rappler, Negros Occidental. – Rappler.com