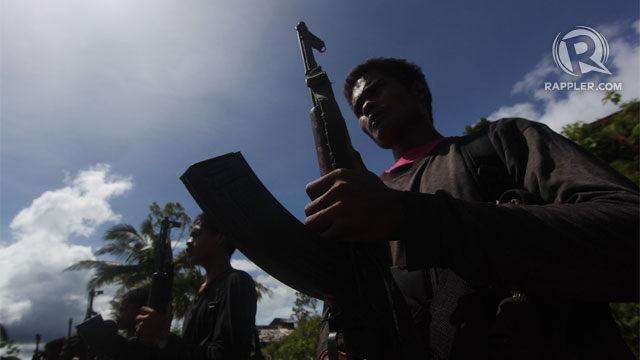 REBEL TERRITORY. NPA guerilla fighters performing a military drill somewhere in the mountains of Laak town in Comspotela Valley. Photo by Karlos Manlupig
MANILA, Philippines – The New People's Army said Thursday, April 18, it has intensified checkpoint operations in its territories to "ensure peaceful conduct of elections."
"Candidates must coordinate closely with the concerned territorial command of each area and observe the revolutionary policies," said Alan Juanito, spokesman of NPA's North Central Mindanao Regional Operations Command.
These policies, according to him, include:
Prohibiting traditional politicians' vote buying, fraud and terrorism;
Prohibiting the use of firearms and armed escorts;
Strict prohibition of the use of the electoral campaign as a front for intelligence operations aimed at spying on the activities of the NPA and revolutionary mass organizations;
Ensuring that poor voters will not be intimidated or pressured by politicians.
"The putting up of checkpoints by the different units of the New People's Army under the North Central Mindanao Regional Command in the areas of their operations is in accordance with these policies," Juanito noted.
He explained that the checkpoints would also ensure that "despotic, anti-people and counterrevolutionary candidates and party-list groups will not be able to campaign freely within the guerrilla zones." He said examples of these individual and groups include large-scale mining operators, land grabbers, loan sharks, illegal drug traders, and criminal coddlers, among others.
Checkpoints 'necessary'
Juanito appealed to the public for understanding, saying what they're doing is necessary to protect the interest of their communities.
"We beg for the understanding and consideration of the affected passersby for the minor inconvenience."
While the group has criticized the electoral system, Juanito said elections are "an opportunity for the people to voice out their issues."
"Thus, we open our guerilla zones to candidates and partylists who recognize the red political power and respect the revolutionary policies to present their platforms and programs."
NPA policies 'absurd'
Colonel Leopoldo Galon Jr., chief of the military's 5th Civil Relations Group, called NPA's policies absurd, claiming most violent incidents are perpetrated by the rebel group.
"Ridiculous! All the recorded violent incidents are their handiwork," he said.
The military has condemned the checkpoint operations being conducted by the communist fighters.
Majority of cops, soldiers and government militias captured by the NPA in Mindanao were seized in these checkpoints.
The Eastern Mindanao Command also reminded politicians not to give in to the alleged extortion activities of the group. - Rappler.com